How To Switch To A Green Energy Supplier At Home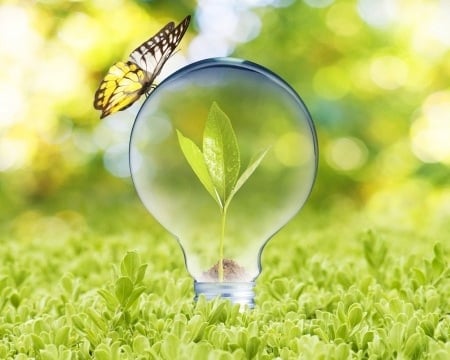 Many of us recycle at home. We separate bottles, glass, paper and cardboard every week. We teach our children to respect Mother Earth and to follow our lead in doing their part. But is recycling our weekly trash really enough? We can easily make a greater impact on reducing pollution while saving money on outrageous utility bills at the same time by using a green energy supplier at home.
Deregulation passed in Massachusetts in 1997. With deregulation consumers are allowed a choice of who supplies their energy. Utility companies like Eversource (formerly Nstar) and National Grid will continue to deliver your energy and maintain utility poles, but deregulation put an end to utility companies making a profit off the supply and restricted their profit to the delivery only. You wouldn't let the government tell you what telephone service to use for your cell phone service, so why would you want them to choose your energy supplier?
Nstar and National Grid partner with many competitive energy suppliers. Many green third party suppliers are available who can increase the green energy use in your home by 50% with solar, wind and hydro power while saving you money on your electric bill.
I must admit that just two years ago I also had no idea what deregulation was. Like most of you, I paid my electric bill every month and never gave a second thought to choosing my own supplier. Then a friend approached me and explained that I had a choice and that I could even choose a green energy supplier and save money on my electric bill. It has been a little over two years now since I have made the switch and my only regret is that I didn't do it years prior.
Making the switch to a green energy supplier is easy. Be sure to educate yourself before you switch. Take a few moments to look at your utility company website and click on "competitive supplier list." This will give you a full list in alphabetical order the suppliers that they recommend for customers, but watch for suppliers that are no longer in business. Pay attention to the suppliers that offer a green option if you are looking to help reduce pollution in the air. Follow these tips for switching:
Be sure the supplier is not charging you a fee to switch.
It is helpful to find a supplier that works with your utility so all billing goes through the utility company and you will only have one monthly bill to pay.
Check the rates offered. A fixed rate is best to lock in a rate for a few years. Rates are best if they are the same or less than your current utility rate.
The supplier should offer the option of at least 50% green energy.
Most will have an early termination fee of $150 which is understandable if they are offering you a fixed rate for a duration of time. Check to be sure it is not more than $150.
I am not an energy expert nor do I claim to be. I am a consumer interested in sustainability and living a healthier lifestyle. Utility prices have skyrocketed and it has greatly effected many families and residents. With a little research we can find a way to help increase our green energy usage, reduce pollution and make a huge impact. It is up to us to do our part in reducing the pollution in the air.
Please email Maureen Fromm at mgreenenergy@gmail.com for more information.
See also:
'Impossible Becoming Possible' As Clean Energy Surges
Avatar Director James Cameron has Designed Solar Sun Flower