In Pictures and Video: Highlights From the #NationalStudentWalkout
"What you are doing is of national significance," Sen. Bernie Sanders (I-Vt.) told students in D.C. "You're leading this country in the right direction."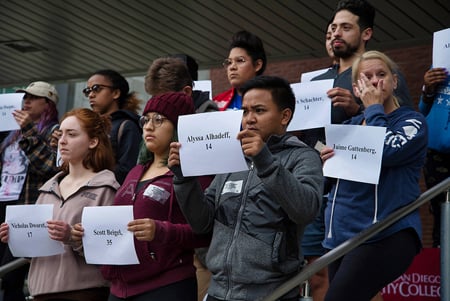 Students, parents, and teachers walked out of thousands of high schools across the country on Wednesday to demand legislative action to address gun violence in the United States.
The national "Enough" walkout is part of a student-led movement to call for gun control reform after 17 people were killed at a high school in Parkland, Florida last month—just the latest in a series of deadly mass shootings. Students will also head to Washington, D.C. for the "March for Our Lives" on March 24 and are planning a second nationwide walkout for April 20, the 19th anniversary of the Columbine High School shooting.
Using the hashtags #Enough, #NationalSchoolWalkout, and #NationalWalkoutDay, protesters and journalists shared on social media photos, videos, and anecdotes from Wednesday's demonstrations.
Parkland, Florida
Students at Marjory Stoneman Douglas High School—the site of last month's massacre—filed out into the football field for a 17-minute moment of silence.
WATCH: Students at Marjory Stoneman Douglas High staged a walkout to demand gun reform on the one-month anniversary of the shooting.

Tune in to @MSNBC for continuing coverage of #NationalWalkoutDay. pic.twitter.com/ojPgX2gxXo

— NBC News (@NBCNews) March 14, 2018
Atlanta, Georgia
In Atlanta, about 600 students at Booker T. Washington High School left their classrooms to "take a knee" in a silent protest, taking inspiration from a number of famous athletes who have protested police brutality and institutionalized racism in recent months.
Students at Booker T Washington High School in Atlanta talking a knee as part of the #NationalWalkoutDay protests. pic.twitter.com/bZpU8kQNjl

— Jamiles Lartey (@JamilesLartey) March 14, 2018
Boston, Massachusetts And Portland, Maine
Many students in New England, including in Boston and Portland, Maine, attended protests despite their schools being closed after heavy snow on Tuesday and Wednesday. Boston students marched to the State House to demand their legislators enact tougher gun control laws.
A snow day not stopping these students in the Boston are from participating in the Walk Out for Action. Marching to state house now @NBC10Boston pic.twitter.com/ZXxTG180sb

— Abbey Niezgoda NBC10 Boston (@AbbeyNBCBoston) March 14, 2018
School was canceled in #PortlandME today but students from King Middle School and Portland High School are using their snow day to demand tougher gun laws. pic.twitter.com/Bsw1NpldDn

— The Portland Phoenix (@PortlandPhoenix) March 14, 2018
Granada Hills, California
In Granada Hills, California, students and teachers arranged themselves on the football field at Granada Hills Charter High School to spell out the word "ENOUGH," while a gong sounded 17 times for the 17 people who were killed in Parkland.
Students enter their field at Granada Hills Charter High School to spell ENOUGH for #NationalWalkoutDay California #walkout pic.twitter.com/ZqJXBaHiOM

— Sarah Reingewirtz (@sarahimages) March 14, 2018
Littleton, Colorado
At Columbine High School in Colorado, the site of an infamous mass shooting in 1999, students walked out and released balloons in memory of those killed in Florida.
WATCH: At Columbine High School, students release balloons one at a time in honor of the 17 victims of the MS Douglas High shooting. #NationalWalkoutDay pic.twitter.com/bPOzrlOOPc

— MSNBC (@MSNBC) March 14, 2018
New York, New York
Students in New York City gathered outside one of President Donald Trump's hotels, and shouted: "Hey hey, NRA, how many kids did you kill today?"
Students outside Trump Tower in Manhattan chant "Hey, Hey, NRA, how many kids did you kill today." pic.twitter.com/m89Ebr2YPF

— Robert Maguire (@RobertMaguire_) March 14, 2018
Walking out alone…but not really alone
Rosa Rodriquez, a sophomore at Sayreville War Memorial High School in New Jersey—which reportedly threatened to suspend participants—was interviewed by local media about being the only student from her school to walk out.
Under threat of suspension just one student walked out of Sayreville HS this morning #1010wins. Administrators warned students not to walk out pic.twitter.com/AEEFiThf7O

— glenn schuck (@glennschuck) March 14, 2018
And Justin Blackman, a student at Wilson Preparatory Academy in Wilson, North Carolina, also walked out by himself to mark the day.
Wow I'm literally the only one #NationalSchoolWalkout pic.twitter.com/2F95qY2vTI

— Justin Blackman (@JustinIBlackman) March 14, 2018
Washington, D.C.
As Democratic members of Congress joined students outside the U.S. Capitol Building in D.C., the demonstrators greeted Sen. Bernie Sanders (I-Vt.) with cheers. Addressing the crowd over chants of "Bernie, Bernie," Sanders said: "I am absolutely delighted and proud that you are here today. What you are doing is of national significance. You're leading this country in the right direction. Thank you all."
The end of @SenSanders 1st speech in DC #NationalWalkoutDay pic.twitter.com/zaBWoaGrCS

— People For Bernie (@People4Bernie) March 14, 2018
This article was republished from Common Dreams.
See also:
Two Simple Laws Could Solve America's Epidemic Of Violence
Are Dead Children The Price Of Freedom?