Inspiring Olympian Ibtihaj Muhammad Does More To Combat ISIS Than Anything Trump Proposes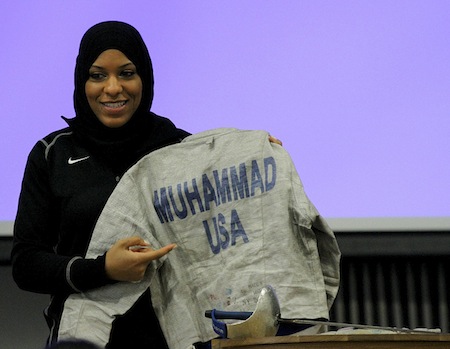 Being Muslim in America—especially if you wear your Muslimness openly—is no doubt a complicated thing. Beyond the travails of practicing a minority faith, looking Muslim makes one especially vulnerable in a time when Donald Trump got where he is to a significant degree by exploiting Islamophobia.
It is no coincidence that hate crimes against Muslims in America are on the rise since Trump began running for president a year ago. Just last week, a New York City Muslim imam named Alauddin Akonjee, along with his assistant, Thara Miahand—both of whom were dressed in religious garb—were assassinated in the street. The assailant was charged with first-degree murder. The prosecutor called the act "coldblooded and premeditated."
Ibtihaj Muhammad has come along at just the right time.
Ms. Muhammad is a member of the U.S. Olympic fencing team. She competed in Rio as an individual, winning her first match before being eliminated, and also helped the U.S. to win a bronze medal in the team competition. She appeared in my post last Sunday because Hillary Clinton praised her for being the first American Olympian to compete while wearing a hijab.
This past week, after Muhammad had finished competing, she gave a number of interviews in which she spoke about her life, her journey, and what it means to be an American. Her words speak for themselves.
"This is the America that I know and I love. The America that is inclusive, that is accepting and that encompasses people from all walks of life."
"This is who I am. I embrace every single facet of my life….I want youth out there to…love themselves…be accepting of themselves."
"One of the amazing things…about being American is that, regardless of your faith, your ethnicity, we can achieve our dreams."
"Follow your dreams. Don't let other people dictate your future for you. I remember being told that I didn't belong in my sport because I was black…because I was…Muslim…or that I shouldn't do sports because I was a girl…Sport has done so much for me…I just feel very thankful and blessed….to be able to represent Team USA."
To those who share her faith, Muhammad demonstrates that you can be a Muslim, even an observant Muslim, and thrive in the United States. To those who are not Muslim, she offers yet another reminder—for anyone who, after watching the Khans at the Democratic National Convention, still needs one—that Muslim Americans love our country and identify strongly as members of the American community. And while it is not hers or any other Muslim American's responsibility to do so, there is tremendous value in sharing that message over and over again. Not only does it influence how non-Muslims view their Muslim neighbors, it also provides more support for Muslims themselves to embrace and proclaim their Americanness.
Muhammad epitomizes one of two visions of Islam in America competing right now in the media. The other is that presented by Trump. Last Monday was intended to demonstrate Trump's "seriousness" as a candidate, as he delivered a prepared set of remarks about terrorism and national security. His supposedly serious speech centered on a portrayal of Islam that indirectly branded the entire Muslim faith and culture as dangerous and oppressive, one that poses a direct threat to the United States.
Trump says his approach is the only way to defeat ISIS, to "make America safe again." In reality, Trump's hateful, anti-Muslim rhetoric helps ISIS, and it makes America less safe:
Al Shabaab, the East African affiliate of the al-Qaida terrorist group, released a 51-minute video telling "Muslims of the West" that they are not welcome in countries like the United States. Ten minutes into the video, it says the United States has a history of "slavery, segregation, lynching, and Ku Klux Klan, and tomorrow, it will be a land of religious discrimination and concentration camps."
It then cuts to Trump calling for a temporary but "total and complete shutdown of Muslims entering the U.S," according to SITE Intelligence Group, which studies jihadist propaganda, as reported by the Wall Street Journal. It urges American Muslims to leave the United States and join the group.
Later, on March 24, Newsweek reported that an ISIS video released in the wake of the Brussels attack featured an audio clip from Trump.
Ms. Muhammad's message is the antidote to this ISIS pitch—one that says Trump speaks for an America that doesn't want you here, doesn't accept you as an equal, and in fact looks down on you. Whereas Trump shows up in ISIS recruitment videos, Ms. Muhammad's public statements are a recruitment video for America.
The word "ISIS" or any of the other monikers used to refer to that murderous group may never have crossed Muhammad's lips. The words she has used—whether or not she intended them for this purpose—will do a great deal to help the country she loves win the hearts of minds of those whom ISIS targets.
Ibtihaj Muhammad's message of inclusion—her embrace of an America that embraces her—presents to Muslims here and around the world the exact opposite image of our country to Donald Trump's. Is there any doubt which one does more to help the United States, and which does more to hurt it?
Ian Reifowitz is the author of Obama's America: A Transformative Vision of Our National Identity (Potomac Books).
See also:
After Orlando, LGBTQ Muslims Call For Resistance To 'Forces of Hatred'
From Rio, Olympic Refugee Team Urges Compassion For Displaced People