Is Your Bank Funding DAPL? Here's How To Find One That Isn't
There's an entire industry of ethically minded banks and financial institutions out there to choose from.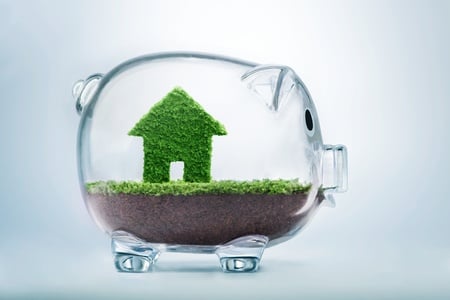 Every day in December has been declared a day of action for those protecting sacred ground and water from the construction of the Dakota Access pipeline. While most of us can't be there in person, a growing number of supporters are taking action by breaking up with banks that are funding the pipeline. As an act of solidarity with the water protectors at Standing Rock, this also helps put pressure on the banks to change their practices now and in the future. But closing your megabank account raises the question: Where should I move my money?
Luckily, there's an entire industry of ethically minded banks and financial institutions out there to choose from. While they aren't always guaranteed to have a clean environmental record, they do invest locally and in underserved areas. And they are also almost certainly not funding DAPL and trampling on indigenous sovereignty.
The easiest way to identify banks in your area is by looking for institutions that are locally rooted and mission-based. Credit unions, for example, are member-owned, nonprofit financial institutions that provide a wide array of financial services and generally invest in local communities; community development financial institutions are private financial institutions that are primarily dedicated to providing loans to local, low-income, and underserved communities. (One word of caution is that these banks may have megabanks as investors, so be sure to read the fine print.)
A few years ago, I started helping fellow New Yorkers find businesses that matched their values in sustainability, diversity, and living wages. We wondered how we could collectively use our power as consumers to help create an economy where we don't have to compromise our values. My organization, SWICH, built a database of businesses across the United States—over 30,000 total—that rates businesses on these social responsibility values. We use five criteria related to the business' impact on health, the environment, workers and local economies, and communities.
When considering banks, we first figure out if they are independent or have outside investors or owners. Then, we check whether they are credit unions, CDFIs, and/or have received stamps of approval by trusted third parties, such as B Lab, a nonprofit that measures whether for-profit companies meet rigorous standards of social and environmental performance, accountability, and transparency, and certifies them as B Corps.
We also ask:
Health: Does the bank offer financial literacy, debt reduction, and other such services?
Environment: What percentage of loans are made to companies involved in or related to fossil fuel projects?
Local: What percentage of loans are made to local small businesses in the community?
Workers: Does the bank pay a living wage and hire within the community?
Citizenship: What percentage of members are from the immediately surrounding community? What percentage of the bank's profits go to charitable endeavors?
So take a look at their websites, email or call contacts at the banks you're considering, talk to friends and get recommendations, and check out resources like Bank Local or SWICH.
Here are ten examples of banks that meet most of this criteria, with branches and operations throughout the country to help get you started.
San Francisco
New Resource Bank
Bank
New Resource Bank is certified as a B Corp and is a member of the Global Alliance For Banking On Values. At New Resource Bank, located in San Francisco, almost all of your deposits are used to fund sustainable businesses, organic products, clean energy, green real estate and nonprofits.
California and the Pacific Northwest
Beneficial State Bank
Community development bank
Beneficial State Bank (formerly One PacificCoast Bank) is a CDFI, a B Corp, and a member of the Global Alliance For Banking On Values. The bank is devoted to the philosophy of "harm to none" and operates under a unique ownership structure where all profits are given to the Beneficial State Foundation. BSB is headquartered in Oakland, California, but has branches in other cities in California and the Pacific Northwest, including Los Angeles, Sacramento, Portland, and Seattle.
Portland, Oregon
Albina Community Bank
Community development bank
Also owned by Beneficial State Foundation, Albina Community Bank is also a CDFI focused on creating jobs within the local Portland community. The bank offers simple personal and business banking services, free online and mobile banking, and even offers a credit card that donates a percentage of your purchases to local nonprofit organizations. To top it off, Albina is also a B Corp. (Sensing a trend yet?)
New York City
Spring Bank
Bank
The bank, also a B Corp, is especially focused on helping unbanked and underbanked members of the community, hiring locally, and paying living wages. Case in point: Its credit builder loans are specifically targeted to help those with low or no credit scores build credit while saving money at the same time.
Amalgamated Bank
Bank
Amalgamated Bank is the nation's largest union-owned bank and is known for its socially responsible efforts—from raising its minimum wage to $15 last year to committing to change its operations and portfolio to combat climate change. The latter was enough to get a shoutout from Bill McKibben. And for more street cred, the bank was the preferred bank of Occupy Wall Street, as well.
Minneapolis-St. Paul
Sunrise Bank
Community development bank
Sunrise is the last B Corp on the list. It is also the only CDFI consumer bank in Minnesota. With six locations in the Minneapolis-St. Paul area, Sunrise is family-owned and provides a full suite of personal and business banking services. And with your deposits, the bank makes over 70 percent of its loans in local, low-income communities.
Orlando and Fort Lauderdale
First Green Bank
Bank
Located in Florida, First Green Bank is a member of the Global Alliance For Banking On Values. As you can probably tell by its name, First Green Bank has an environmental and social mission. It also pays all its employees a living wage and makes 75 percent of its loans to small- or medium-sized businesses.
The South
Southern Bancorp
Community development bank
Southern Bancorp is a CDFI with a mission to create economic opportunity in rural and underserved communities. Headquartered in Little Rock, Arkansas, Southern Bancorp has 80,000 customers and 43 branches, primarily in southern Arkansas and the Mississippi Delta. The bank, which is also a member of Global Alliance For Banking On Values, provides personal and business banking services, including agricultural loans.
Everywhere
OneUnited Bank
Community development bank
Black-owned and -operated with branches in LA and Boston, OneUnited is a CDFI with a tremendous reach. As an online bank, it lets you open an account anywhere in the country and use ATMs near you that are in their network.
North Carolina, California, Florida, and Chicago
Self-Help Credit Union
Credit union
Headquartered in North Carolina, Self-Help serves more than 130,000 members and has branches in several cities in Northern and Southern California, as well as Chicago and other select locations in Florida. Self-Help focuses its membership and lending activities on reaching people of color, women, rural residents, and low-income communities via its two credit unions, a venture fund, and a nonprofit research and advocacy organization dedicated to eliminating abusive financial practices like payday loans.
Gerald Mitchell wrote this article for YES! Magazine. Gerald is the founder of SWICH, a platform that helps people become more conscious consumers and discover great businesses that share their values. Prior to starting SWICH, he invested in and advised urban, socially responsible businesses while daydreaming about becoming a farmer.
This article was republished from YES! Magazine.
See also:
7 Ways to Make an Even Bigger Impact When You Divest From DAPL
How You Can Support Standing Rock