Is Your Favorite Soy Sauce Torturing Animals?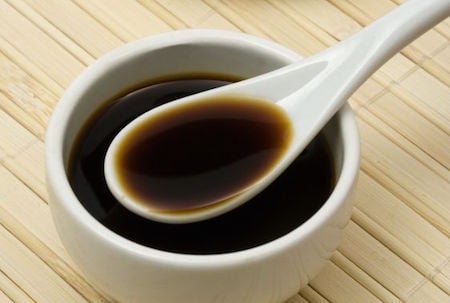 Just when you thought being vegan meant not causing any harm to animals because of your diet, PETA comes out and turns your world upside down claiming your beloved soy sauce actually came to exist at the cost of many animal lives. What's worse? Soy sauce is not the only thing you've been eating that harmed animals before it reached your plate.
According to PETA, Kikkoman Corporation has been experimenting on animals in order to make health claims about its soy sauce and other products. The animal rights group says the company has admitted in a report as recent as August 2015 to having had force-fed mice fermented soy milk, and done tests where "rabbits were fed high-cholesterol diets in order to induce heart disease and then later killed," and after force-feeding rats through surgically attached stomach tubes, the animals were "sacrificed by decapitation … followed by rapid removal of the brains."
The claims come as an even bigger surprise since the brand is so popular with vegetarians. On its website Kikkoman even has a vegetarian section in which it gives tips for cooking with its "vegan" ingredient. It has a "How Kikkoman Soy Sauce is Produced" paragraph outlining how no animal products are used at any level of production, but it fails to mention the animal tests that take place along the way.
Kikkoman, however, is not alone in its practice. Animal experiments for food companies are common practice although not as widely known by the public as the tests done for cosmetics or pharmaceuticals. Big corporations like Nestle, Yakult, Danone and Kraft Foods all test on animals so they get scientific results that back claims that consuming probiotics "may help balance your digestive system and maintain overall health" or dairy products can act as a "complement to treatments related to gastrointestinal diseases."
"The public will be shocked to learn that these well-known and familiar high street brands are involved in sickening experiments on animals," said Dr. Katy Taylor, Director of Science at Cruelty Free International. "'Proving that these products help solve artificially induced health problems in animals does not mean that they will have the same effects in humans and could be misleading to consumers."
That is why as of 2006, FDA officials determined that "a company can substantiate their proposed claim(s) based on data generated from laboratory and/or clinical studies that were conducted solely on humans."
Yet the animal testing continues.
PETA has been trying to persuade Kikkoman to stop its animal experiments since 2010 when it learned the company was doing tests like removing lab rats' knees to mimic an arthritis condition but the organization says Kikkoman "has refused to meaningfully address the issue."
Kikkoman argues that it strictly follows the animal welfare laws of Japan, where the company is based.
"At Kikkoman in Japan, we conduct the animal tests only when it is necessary to confirm the safety of certain food products," Yuchi Nakagawa, Senior Vice President of Marketing and Planning & Production at Kikkoman told Care2. "We strictly follow animal welfare laws and official guidelines established by the Japanese Society for Alternative to Animal Experiments (JSAAE)."
Meanwhile PETA has had better luck with other food companies like Barilla, Coke, Pepsi, Welch's and Ocean Spray who agreed to pursue more humane forms of research.
See also:
Never Too Late To Change The World: Why I Became Vegetarian At Age 86
Demystifying The Myths of a Plant Based Diet