Keep Fire Cider Free!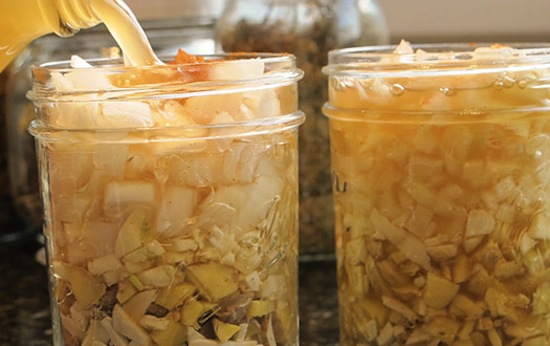 Photo: Thyme Herbal
There is a firestorm going on in the herbal community about a small company in western MA, Shire City Herbals (see Shire's response below) that applied for and received a trademark for the term Fire Cider. So what, you may ask? There are a number of issues but I think the one that initially got my attention was that herbalists on Etsy have had their Fire Cider products removed due to trademark infringement.
Fire Cider is a traditional folk recipe, made by herbalists all over the world as a remedy for colds and flus. It has been popularized by renowned herbalist Rosemary Gladstar, who has freely shared this recipe with students and in her books for decades. Rosemary has written a very gracious letter to the three owners of this small herbal company expressing her concerns that one cannot "own" a traditional and time-honored term. The company has responded by digging in and expressing their legal rights.
I think this has upset me so much because it seems the antithesis of everything herbal that herbalists learn, live and love. The basic premise of respect of the plants and each other, honoring our elders, treating each other with support (and not restricting their business) and the goal of bringing the medicine and spirit of the plants to the world is totally lacking here. I love the idea that someone made Fire Cider to sell; many people will not go through the time and effort to make it and I have no ill will towards the people in this company and wish them success in their endeavors. However all it takes is a quick Google search to see the many herbalists that make and market Fire Cider and all should be able to freely sell their product under that name. Shire City Herbals needs to remove their trademark of the term Fire Cider and return it to the herbal community.
On a larger scale, this can lead down a slippery slope; if someone can trademark the term Fire Cider, what is next? And how can someone call a basic, traditional herbal remedy "theirs"? This issue is not unique to herbalism as seen in a similar controversy over the trademarking of the terms "Urban Homestead" and "soap loaf" (where the trademark was voluntarily cancelled after objections from soap makers).
Herbalists are alarmed, concerned, angered and saddened by this trademark and see it as an affront to the very essence of herbalism. So if this strikes a chord with you, I would encourage you to get involved with the herbal community. Here are several ways:
1. In honor of this traditional remedy, make some Fire Cider on World Wide Fire Cider Making Day February 2nd with your friends! For a great recipe from Mountain Rose Herbs with a you-tube demonstration by Rosemary Gladstar, visit mountainroseblog.com/fire-cider/
2. There has been a petition started by RadHerb to revoke the trademark and there are currently over 2,500 signatures. Please sign the petition and forward it to everyone you know.
3. There is a call to boycott the product and also contact retailers that sell it asking them to stop selling it until the trademark is removed. A list of retailers can be found on this Fire Cider Facebook post.
4. There has been a Facebook page set up, about World Wide Fire Cider Making Day with updates on the controversy, what is going on, responses and many pictures from herbalists all over the country of their own Fire Cider product.
So spread the word, the herbal community is gathering together and it is quite something to be a part of!
Herbal blessings, Linda Russell
www.scentsibilities.com
www.facebook.com/scentsibilities
Linda@scentsibilities.com
Shire City Herbal's Response
Holy wow, we have been totally overwhelmed and caught off guard by the response to our trademark over the last few days. There are only three of us and we don't want to respond to anyone from a place of fear or anger.
We 100% hear your concerns! You want 'fire cider' available to everyone always and we agree with you! We trademarked the phrase with the intention of protecting our business from bigger players in the natural foods industry, not to persecute folks making home remedies and selling their remedies on a small scale. We sincerely apologize for the confusion and fear this has created. Currently, 'fire cider' is not a generic term as recognized by the USTPO. Fire Cider was not protected in any way before we registered it. That is why our application was accepted and our trademark granted.
So, what can we do? How can we safeguard the traditional use of the phrase fire cider, while at the same time protecting the businesses we have all worked to build? We need to consult with some professionals to figure out our options. We are all going to need to work together to make something positive happen. Please give us two weeks, til Feb 10th to give you a full update on what our all our options are and where we can go to resolve this in a positive way.
Thank you kindly, Amy, Dana and Brian