Largest City in Vermont Now Gets All Its Power From Renewables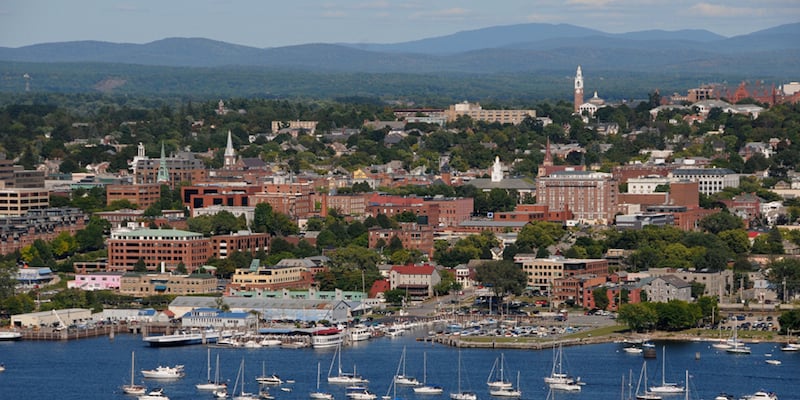 The 42,000 people living in Burlington, Vermont can now feel confident that when they turn on their TVs or power up their computers they are using renewable energy. With the purchase of the 7.4 megawatt Winooski One hydroelectric project earlier this month, the Burlington Electric Department now owns or contracts renewable sources — including wind, hydro, and biomass — equivalent to the city's needs.
"We're now in a position where we're supplying Burlington residents with sources that are renewable," said Ken Nolan, manager of power resources for Burlington Electric Department, earlier this month. "The prices are not tied to fossil fuels — they're stable prices — and they provide us with the flexibility, from an environmental standpoint, to really react to any regulation or changes to environmental standards that come in the future."
According to Nolan, the utility will get about one-third of its power from the Joseph C. McNeil Generating Station, one-third from wind energy contracts, and one-third from the hydroelectric stations Winooski One and Hydro-Québec. The McNeil power station is a biomass facility that primarily uses wood chips from logging residue leftover from the harvesting of wood for other products.
Vermont has a statewide goal of getting 90 percent of its energy from renewable sources by 2050, including electricity, heating, and transportation. Christopher Recchia, the commissioner of the Vermont Department of Public Service, told the Associated Press that Burlington's achievement shows that they're able to make this transition cost-effectively and "in a way that makes Vermonters really positioned well for the future."
The Washington Electric Co-operative, which has about 11,000 customers across central and northern Vermont, also reached the 100 percent renewable milestone earlier this year. Both utilities acknowledge that when renewable sources aren't readily available — if the wind isn't blowing or water levels are low — they will purchase traditional fossil fuel-generated electricity. However, when the wind is strong and water levels are high more than enough electricity is generated and the surplus can be sold to other utilities. On average, they will be selling more than they buy.
In a fancy accounting measure, both Burlington and Washington Electric sell renewable energy credits for the power they produce to utilities in southern New England, where their value is highest, before then buying less expensive credits from other sources to offset those they just sold. While this could be criticized as a questionable practice it also helps keep prices low and adheres to the rules of RGGI.
RGGI, or the Regional Greenhouse Gas Initiative, is a nine-state market-based regulatory program to cap and reduce power sector CO2 emissions across much of the Northeast and mid-Atlantic. A RGGI auction earlier this month sold almost 18 million carbon allowances and generated $87.8 million for reinvestment by the RGGI states in a variety of initiatives including energy efficiency, renewable energy, and greenhouse gas abatement programs. All of the available allowances were sold.
As Vermont takes initiative to mitigate greenhouse gas emissions, a new report by a team of University of Vermont and other scientists estimates the local impacts of climate change on the state. In an effort to downscale global climate models to convey local impacts the researchers looked at climate change in northern Vermont and southern Quebec. They found that annual precipitation will increase by between a third and half an inch per decade and average temperatures will rise by around five degrees Fahrenheit by 2050.
They also found that annual snowfall at six major ski resorts in the region could decrease around half by the late this century and that the growing season will get about six weeks longer. Vermonters may be most distraught to learn that these climate changes are likely to significantly reduce the number of days suitable for making maple syrup. Vermont is the largest producer of maple syrup in the country, providing around 40 percent of the entire supply.
See also:
German Village Generates 321% More Renewable Energy Than It Needs
Building a Wind-Centered Economy