Learning The Telltale Signs Of Drowning Could Help You Save A Life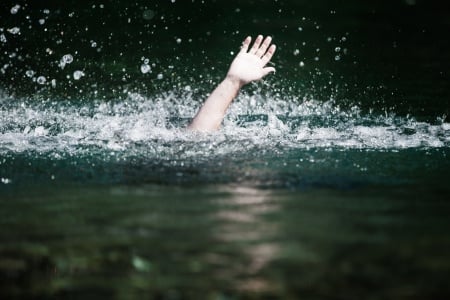 Movies and TV shows have always portrayed a drowning victim as somebody who will splash, yell, and wave for help. However, people who swallow water and enter the phases of drowning are unable physiologically speak. After a recent young boy's near-drowning in China amidst swimmers just feet away, it's a reminder to become informed on what a drowning victim actually looks like, instead of how they're portrayed for entertainment.
The Instinctive Drowning Response represents a person's attempts to avoid the actual or perceived suffocation in the water. The suffocation in water triggers a constellation of autonomic nervous system responses that result in external, unlearned, instinctive drowning movements that are easily recognizable by trained rescue crews but difficult for the general population to detect.
The Phases of Drowning
1. As a person realizes he might be drowning, there's often a large amount of panic. This leads to rapid movements and expending a lot of energy, which consumes more oxygen.
2. At the same time, if the person remains underwater, her body begins to accumulate carbon dioxide. This gas is what stimulates you to feel that need to breathe. Eventually, the victim involuntarily draws in breath.
3. When water reaches the airway, the first response is to cough or swallow the water. This typically results in more water being ingested.
4. As water contacts the lower airways, the throat spasms, trying to seal off the path to the lungs. With nowhere else to go, water frequently finds its way into the stomach.
5. The throat relaxes after the person becomes unconscious. The relaxation allows water to flow into the lungs.
Characteristics of the Instinctive Drowning Response:
1. Except in rare circumstances, drowning people are physiologically unable to call out for help. The respiratory system was designed for breathing. Speech is the secondary, or overlaid, function. Breathing must be fulfilled, before speech occurs.
2. Drowning people's mouths alternately sink below and reappear above the surface of the water. The mouths of drowning people are not above the surface of the water long enough for them to exhale, inhale, and call out for help. When the drowning people's mouths are above the surface, they exhale and inhale quickly as their mouths start to sink below the surface of the water.
3. Drowning people cannot wave for help. Nature instinctively forces them to extend their arms laterally and press down on the water's surface. Pressing down on the surface of the water, permits drowning people to leverage their bodies so they can lift their mouths out of the water to breathe.
4. Throughout the Instinctive Drowning Response, drowning people cannot voluntarily control their arm movements. Physiologically, drowning people who are struggling on the surface of the water cannot stop drowning and perform voluntary movements such as waving for help, moving toward a rescuer, or reaching out for a piece of rescue equipment.
5. From beginning to end of the Instinctive Drowning Response people's bodies remain upright in the water, with no evidence of a supporting kick. Unless rescued by a trained lifeguard, these drowning people can only struggle on the surface of the water from 20 to 60 seconds before submersion occurs.
This doesn't mean that a person that is yelling for help and thrashing isn't in real trouble – they are experiencing aquatic distress. Not always present before the instinctive drowning response, aquatic distress doesn't last long – but unlike true drowning, these victims can still assist in their own rescue. They can grab lifelines, throw rings, etc.
Look for these other signs of drowning when persons are in the water:
Head low in the water, mouth at water level
Head tilted back with mouth open
Eyes glassy and empty, unable to focus
Eyes closed
Hair over forehead or eyes
Not using legs – Vertical
Hyperventilating or gasping
Trying to swim in a particular direction but not making headway
Trying to roll over on the back
Appear to be climbing an invisible ladder
Many times a drowning victim may look like they are simply treading water and looking up. But a person who treads water will typically not submerge their head under the water line repeatedly. One way to be sure? Ask them, "Are you alright?" If they can answer at all, they probably are. If they return a blank stare, you may have less than 30 seconds to get to them. Noisy kids are a good sign, but when things go quiet, always be alert. You could save a life.
April McCarthy is a community journalist playing an active role reporting and analyzing world events to advance health and eco-friendly initiatives.
See also:
Sunscreen Manufacturers And Dermatologists Depend On You Being Misinformed So They Can Sell Their Snake Oil
How to Keep Your Cool Without Air Conditioning