MA Senate Considers Monsanto-like Wireless Utilities Bill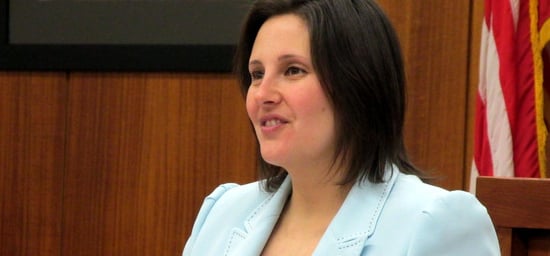 MA State Senator Jennifer Flanagan introduced the wireless utilities community-restrictive legislation Bill S 2183.
As the Massachusetts legislature approaches the end of its fiscal year, informed environmental advocates are warning residents of a Monsanto-like pro-industry bill before the Senate that will strip communities of the ability to regulate placement of wireless microwave antennas.
In a June 16 press release, the Massachusetts Municipal Association warned communities that the House already adopted a last-minute telecom/wireless industry amendment in economic development bill H 4181, Section 74 and 75.
Senator Jennifer Flanagan, a Democrat representing Worcester and Leominster, introduced the similar Bill S 2183 now being considered by the Senate. Quincy already passed a resolution in opposition on June 17th.
Who Is Going To Foot The Bill?
Worcester Opts Out has been engaged in a yearlong battle in Worcester, the site of National Grid's $48M, 15,000 smart meter and WiMax pilot program that included 242 microwave antennas and 14 proposed towers. Wireless smart utility meters installed on homes and businesses enable two-way communication between the home and the utility, punitive time of use rates, and collection of private usage data by industry. The technology introduces four additional wireless networks into the community.
Despite the fact that the pilot has not yet proven that smart meters are a reasonable investment for ratepayers who will foot the estimated $7.6B bill, the MA Department of Public Utilities issued order 12-76-B on June 12 targeting wireless meters as the cornerstone to grid modernization.
DPU commissioner Anne Berwick is the wife of gubernatorial candidate Don Berwick, who endorses smart meters.
Cost, security, privacy, and safety concerns of ratepayers raised by the Office of Attorney General Martha Coakley, also a gubernatorial candidate, have been repeatedly dismissed by the DPU and the Patrick administration.
Opposition to Smart Metering Across the US
Across the country, smart metering has been wrought with controversy, with over 130 organizations in direct opposition due to security, privacy, health, cost, and green-washing issues. Sheffield MA residents voted for a moratorium by a sizeable majority at their town meeting on May 5. A class action lawsuit for health damages is underway in California. The Maine Supreme Court ruled that Maine's Public Utilities Commission did not adequately address health concerns. The case is now under appeal. New Jersey is not deploying, and Ohio's governor has put its renewable energy and efficiency requirements on hold.
Ten out of 28 European countries have concluded that smart meter roll-out is a poor value for the money. www.rtcc.org
Rate increases have already been approved in Illinois and Maine, with lawsuits stemming from overcharges and bills doubling and tripling after meter installation in Bakersfield, CA and other communities. Many states have been embroiled in contentious opt out battles after installation.
The MA legislature failed to act on bill H2926 to proactively protect MA ratepayers from mandatory installation and opt out fees. The MA DPU has already approved docket 13-83 enabling National Grid to surcharge customers opting out of wireless gas and AMR electric meters, thereby discriminating against medically vulnerable residents.
Towns Prohibited From Blocking Installation Due to Health or Environmental Concerns
The Tory Fort substation in a bucolic Worcester neighborhood has been the flashpoint for a contentious fight between residents, Worcester Opts Out, the utility, local government, and the MA DPU. The sub-station has been in violation of sound ordinances for over a year; industrial scale sound walls have been proposed. Section 704 of the Telecommunications Act of 1996 prohibits communities from blocking installation of wireless infrastructure due to health or environmental concerns. In the Worcester pilot, the community challenged National Grid's claim that TCA 1996 was applicable to the utility for an 80-foot tower installation with 5 antennas planned 70 feet from a home in a bucolic residential neighborhood, because the utility is not a telecom provider. National Grid recently received zoning authorization to install antennas on a water tower, and stated that it did not need approval for a church steeple installation 275 feet from a neighborhood elementary school because it was co-located.
According to Patricia Burke of HaltMAsmartmeters, a statewide consumer advocacy group, "It appears that the Worcester pilot formed the basis of Senator Flanagan's bill to remove any impediments to the utility's plan to saturate communities with its own radiofrequency transmitters. As happened in California, a telecom company will install the tower or an antenna under TCA 1996, then the utility will have free reign to co-locate additional antennas. The Rt. 2 corridor is currently being targeted. Once the initial approval is granted, the utility will co-locate. It's a predatory model."
Burke continued, "It's a tragedy that the Worcester pilot was used to test the resistance by informed MA residents to what has been described as a devastating, wrong technology."
As MA voters connect the dots to see who is supporting the utility industry, a trail of decision-based evidence making, political ambition and greed is emerging. Please invest a minute to ask officials to act on behalf of voters, not industry and lobbyists. Email your senator and your rep today. Also, contact your town officials (find website here) and demand they protect your town for tomorrow and tomorrows to come.
StopSmartMetersMassachusetts.org (Danvers) and its sister organization HaltMAsmartmeters.org oppose the installation of wireless utility meters.