Massachusetts Bill Threatens Consumers' Access to Yoga, Reiki, Tai Chi and Other Services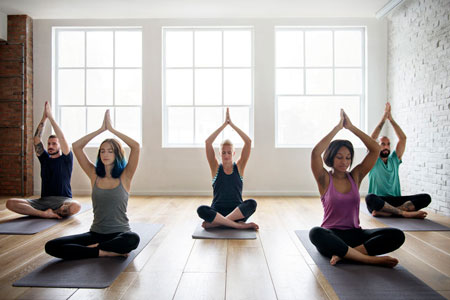 Bodywork Licensing SB 2621 Assigned to House Ways and Means Committee
Attend Lobby Day on Wednesday, July 25
Massachusetts Bodywork practitioners need your help to stop SB 2621 from moving in the MA House of Representatives!
1. Take Action here to send a message to your personal Representatives and members of the House Ways and Means Committee, AND
2. Come to the Lobby Day on Wednesday, 7/25, at 1:00 p.m. at the Massachusetts State House to Oppose SB 2621 in person! Meeting Location TBD.
SB 2621 (formerly 2599) will affect all of the diverse bodywork practitioners and energy healers in Massachusetts. Thousands of practitioners from a wide array of disciplines such as Reiki, Qi Gong, Trager practitioners and many more, are exempt from massage licensure under current law, but this bill attempts to set up an entirely new licensing process for all types of healers and bodywork vocations with vague exceptions.
SB 2621 passed the Senate last week and was referred to the House Ways and Means committee this morning (Monday, July 23). Time is of the essence to voice your opposition because legislative session ends on July 31 and legislators will be trying to move quickly to pass bills – they need to hear from you that SB 2621 should not become law.
Take Action here and come to Boston on Wednesday for an hour, or all afternoon, to visit with your legislators and the committee members about this important issue and meet fellow advocates!
How YOU Can Help
Step 1 and 2 are optional but extremely helpful
1. RSVP YES to Lobby Day, to Hilary Garivaltis at healthfreedomma@gmail.com, to come on Wednesday, July 25 at 1pm. Hilary is the President of Health Freedom Action Massachusetts. She'll reply to you with a State House building meeting room number or common area location so you know where to meet your fellow health freedom advocates. An RSVP is not required to participate.
2. Call to make an appointment with your Representative for the afternoon of Wednesday, July 25. If you don't know who represents you, you can look up your personal legislators here.
Tell the office you are a constituent who'll be participating in a lobby day hosted by a coalition of organizations opposing SB 2621, a bill requiring mandatory licensure of MA bodywork therapists and that you'd like to bring one or more additional lobby day participants with you.
Happily accept whatever they offer – you might get 5 minutes with a Legislative Assistant, or be asked to attend a meeting set-up by another lobby day participant, or be told to look for your Representative outside of a committee meeting room at a certain time – and email Hilary (above) with your appointment information.
Note if your personal representative is a Member of the Ways and Means Committee to which SB 2621 is assigned and, if so, tell Hilary this important information! Members of the House Ways and Means Committee: Jeffrey Sánchez (Chair), Stephen Kulik (Vice Chair), Elizabeth A. Malia (Assistant Vice Chair), Thomas P. Walsh, Robert M. Koczera, Thomas M. Stanley, Sean Garballey, James Arciero, Brian M. Ashe, Tricia Farley-Bouvier, Russell E. Holmes, Josh S. Cutler, Mary S. Keefe, David M. Rogers, Alan Silvia, Daniel Cullinane, Carole A. Fiola, Daniel J. Hunt, RoseLee Vincent, Evandro C. Carvalho, Carmine L. Gentile, Carlos González, Joseph W. McGonagle, Jr., Rady Mom, Paul Tucker, Adrian Madaro, Gerard Cassidy, Todd M. Smola (Ranking Minority), Angelo L. D'Emilia, Donald R. Berthiaume, Jr., Nicholas A. Boldyga, Kate D. Campanale, Shawn Dooley, Timothy R. Whelan, Donald H. Wong.
3. Show up on July 25th to lobby your legislators and members of the Ways and Means Committee to protect access to bodywork therapists. Come to: Massachusetts State House (map), 24 Beacon St, Boston, 02133. Email Hilary for Room Number. Talking points will be provided.
Come for as long as you are able! Children are welcome!
Simply showing up makes them notice how important this issue is to Massachusetts citizens and to our health freedoms overall. Exercise your rights and tell them you like the current massage law as it is and that bodyworkers who fit within the current massage law exemptions should not be forced to choose between (1) going back to school to attend certain board-approved education programs to qualify for the new state license or (2) becoming a criminal or (3) going out of business.
We are counting on you to be there! Don't forget to invite friends and family too!
4. Click Here to automatically send a message to your personal Representative and to the Ways and Means Committee members and please revisit this link throughout the week for updates on the bill's status (i.e., whether it is scheduled for a public hearing and when and how you can participate).
5. Visit hfama.org (Health Freedom Action Massachusetts) and sign-up for their email alerts and join their FB group.
What the bill does: SB 2621 seeks to mandate the licensure of all bodyworkers in MA and prohibit the use of the title "bodywork" by practitioners without the new license. There are thousands of practitioners from a wide array of disciplines this bill will affect due to the broad definition of bodywork which will include "a person who uses touch, words or directed movement to deepen awareness of patterns of movement in the body, or the affectation of the human energy system or acupoints or Qi meridians of the human body while engaged within the scope of practice of a profession with established standards and ethics;"
Massachusetts already has a very good massage law that allows bodyworkers to be exempt from licensure requirements. The exemption includes: "…including but not limited to…Feldenkrais Method; Reflexology; The Trager Approach; Ayurvedic Therapies, Rolf Structural Integration, Polarity or Polarity Therapy; Polarity Therapy Bodywork; Asian Bodywork Therapy that does not constitute massage as defined in this chapter; Acupressure; Jin Shin Do; Qi Gong; Tui Na; Shiatsu; Body-Mind Centering and Reiki." Click here to read current exemptions in Title XVI, Chapter 112, Section 228 Licensing of massage therapists – at part (b). SB 2621 attempts to create a new and burdensome licensing law for these currently exempt practitioners and force them to obtain a bodywork license instead.
There was an amendment added to the bill that may exempt some of the practitioners, via Board rulemaking, but not all. See Amendment 4 here or see lines 34-37 of SB 2621.
Health Freedom Action Massachusetts www.hfama.org endorsed by National Health Freedom Action
See also:
Tips For Successful Lobbying At The Statehouse