Moving On And Letting Go Of Everything Past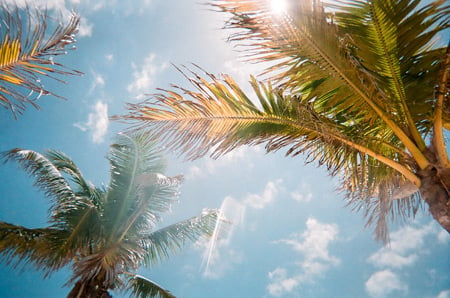 Last fall, the house where my partner Anne and I lived in Massachusetts went up for sale. We knew immediately that that For Sale sign was also a sign from God: Time to move on! A door was closing, but another was so clearly being opened. Fortunately, we had a lease that allowed us to remain in our apartment for several months after the house was sold. We had plenty of time to make decisions and then step through that open door into new possibilities. As events unfolded, we felt guided to move to Florida, where we had a number of friends, and the winters did not include snow, ice, and freezing temperatures. Also (and this was key), we discovered that buying a condo there was less expensive than the rent we were currently paying in Boston. Neon signs pointing south…
So we were excited about this brand new adventure. We flew to Florida for a visit, looked at potential places to live but didn't find exactly what we wanted. After deciding to rent for a year and keep looking, we returned home. Then, out of the blue, our realtor called us with news that a condo we had looked at that was above our price range had come down in price and she thought we could get it for even less. Long story short: we made an offer, and it was accepted. For the first time in our lives, at retirement age, we found ourselves potential homeowners.
Thus began an intense month of letting go of everything past in our lives. It was like jumping off a cliff into the unknown. Anne had lived in Boston her entire life, and although I had moved back and forth coast to coast many times, I had been in the Boston area for more than 30 years years. Time to move on. We felt some apprehension, but mostly we were excited. We felt supported by old and new friends alike in our decision. It was both energizing and at times overwhelming, but synchronicities and good fortune kept leading us forward. There was never any doubt for either of us that this was the right path.
As the date of the condo closing drew nearer, we organized a yard sale and called local groups to donate to, clearing out piles of old books, clothing, etc. Then it got down to the hard stuff—the really old memorabilia that we still had in drawers and boxes (and we are not really savers). I had one drawer and one box that condensed many years of my life. One Saturday, I spent several hours throwing out booklets, programs, articles, letters, etc. from my 20s and 30s, all of it awash with memories of a past self that was distantly familiar but not really part of my present life.
Then I opened the box that held childhood photos, report cards, high school yearbooks, and letters from my mom and dad and many dear old friends. I pitched almost everything, except a few of my parents' letters. I probably would never look at or read all these things again, so why keep them? It was like holding onto a memory of my former self. The love in those relationships was within me. Time to let go of the external.
Just as I was tearing up the last set of letters, it hit me—a dull pain in my left side. It remained for a while and then eased. At 2 a.m., however, extreme pain and nausea woke me from a sound sleep, and Anne drove me to the ER. Hours of tests and strong pain medication, and the diagnosis was a kidney stone that should pass in 48 hours. It did not.
For a week, I juggled pain and medication, trying to continue to function as we prepared for the closing. And, in the midst of it all, it suddenly dawned on me that the stone could be seen as a physical manifestation of everything past in my life that I was letting go. That insight did little to alleviate the pain I was feeling, though, or the fear that the stone would never pass. Then, after 8 days, the pain stopped. The past passed through me the day before the condo closing—perfect timing.
Sometimes life is literal and sometimes it's symbolic and sometimes it's both. We come to Earth for life experiences, soul growth, and shared evolution, and boy are we getting them! There is no one among us that is immune to the jolts and jumps that this particular time span on the planet is rich with. We are all being jettisoned into a new future, which is actually the present in disguise. We are being asked to leave behind the memory of our selves in favor of a present-moment awareness that includes all time and timelessness.
When Anne and I stepped out of our past—through the looking glass—the entire world around us accelerated and renewed itself in magical ways. It's still happening. We have no idea what's coming next, but that's part of the magic. When you let go of everything past, you are carried forward by life force, by spirit, to a destiny that only your soul and God understand fully. That is life's greatest mystery—and sweetest grace.
Peggy Kornegger is a Boston-based writer, lightworker, and the author of two books: Living with Spirit (2009) and Lose Your Mind, Open Your Heart (2014). She has written about personal and global transformation for more than thirty years, offering her perspective on the profound changes occurring at this key time in human and Earth evolution.
See also:
We're All Family Here
Second Sight