Musings: Passing of Elder Frank DeContie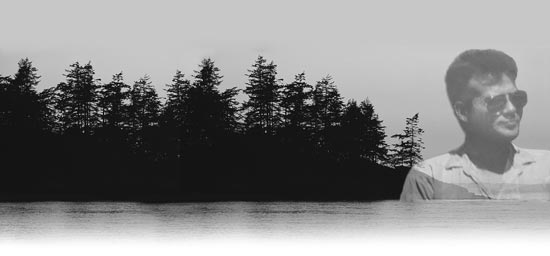 Once again, for the fourth year, I attended Grandfather William Commanda's spiritual gathering this August in Maniwaki, Quebec.
Close to a thousand people, or maybe even more, gathered this year to create together and share in the abundance of this spiritual atmosphere from which many quiet blessings, beautiful connections and other small miracles and healings flow forth. For those who attend, it is a modest event held without fanfare or celebrity, but awaited with much anticipation. Despite the lack of modern conveniences such as flush toilets and refrigeration, the people still come to set up their tents and cook and camp on an open field under the hot August sun. They are there simply to be in the company of each other and available to the healing effects or "medicine" of Spirit as it unfolds.
Through listening to elders, spending time with old friends and new, and drawing upon the healing energy, strength and purpose of the sacred fire and ceremonies during the gathering, those who attend are spiritually enriched in ways that are beyond measure and sometimes even beyond awareness. I heard it mentioned that there was as much medicine happening on the tenting field with people sharing and helping each other out as there was in the sacred, ceremonial area. Spiritual healing work often occurs where you least expect it or slowly over time. It can lie dormant for days, weeks, months or even years before its full effect can be revealed or recognized, yet the benefit of this medicine can never be lost. Unlike pharmaceuticals, it remains within the body's system permanently, able to be stirred when Spirit moves for healing to take place.
Many people today are concerned about the path of our future and the present state of the world. Air and water resources are becoming increasingly polluted, fossil fuel supplies — our main energy source — are dwindling, and diseases of all kinds are epidemic: AIDS, malaria, cancer, immune disorders, addictions, stress, racism, poverty and soul-lessness. Our Mother Earth and all Her creatures are slowly being poisoned and squeezed out of their homes, yet we, the capitalists, persist in pursuing material gains and comforts. Yes, we are comfortable in our new houses, new cars and new clothes and we are happy to be entertained with TVs, computers and plenty of celebrities, but we have also stopped caring what effect our actions might have even just one generation away — our very own children and grandchildren. Will they have a green Earth abundant with plant and animal life, fresh air and water, and uncontaminated food supplies? Our actions suggest that we really don't seem to care about the future becaus e we're too busy grabbing whatever we can get for ourselves right now. The whole population of the Earth seems to be in such a state of imbalance and poverty — both materially and spiritually — that many fear we have already moved past the point of no return and are headed towards our self-destruction. What effect, you might ask, can a small spiritual gathering like this one in Maniwaki have in the face of such huge world crises? Why bother?
For years I have been repeating the same refrain right here in this column: it does matter, you do make a difference, your individual actions make up the whole of what we experience here in the world. When you contribute spiritual awareness and healing thoughts and actions to the planetary mix, the world becomes a more positive place to live, even if just by the teeniest fraction of a degree. One less piece of garbage that you create means one less piece on the planet. Imagine six billion people creating one less piece of garbage a day; it makes a big difference! There's a story about a fellow who was throwing back starfish that had been washed up on shore. When told that there were thousands and he could only throw a few, therefore what difference will a few make, he answered, "It will make a difference to those few." Let's try!
And so it is that small groups of people all over the world gather now at this time of critical change on the Earth with the intention to increase spiritual awareness and the healing of our bodies, hearts, minds, souls and Mother Earth, Herself. As we have become more invested in increasing our material wealth rather than developing our spiritual potential, we have drifted far away from our "original instructions" on how to live in balance on this planet with all of creation. The environmental and moral decline of the planet and its population is proof enough of the precarious situation we are in. It is said that the indigenous people — those who are native by ancestry to the land on which they live — hold the cultural, cellular and spiritual teachings which can guide us back towards this balance. Not only in Maniwaki, but in communities all over the planet, these are the teachers and leaders we must look to in our future.
Sadly, just one week after Grandfather Commanda's spiritual gathering, we lost one more of those leaders. Frank DeContie, an Algonquin ceremonial medicine keeper from Kitigan Zibi Reserve in Maniwaki passed over to the spirit world on August 12, 2001 as the result of a heart attack. Many will remember Frank's interview "Seeing the Light Through the Heart of an Indian" printed just last issue in Spirit of Change and his vision and hope for all people to work together towards creating a better lifestyle on the planet. Frank worked tirelessly for the people, for the future and for the healing of the Earth. He seemed almost compelled in his duty to uphold Indian traditions, ways of thinking and spirituality to make the world a better place where healing, love and respect for Mother Earth could flourish. This, he knew, could only be accomplished through working with Spirit "in a good way," literally, giving over his whole heart and soul to the task.
It was Frank who Creator selected to travel down to Massachusetts several times a year to offer these teachings in large groups and small, including our own Harvest Gathering four years in a row. While many Indian communities are reluctant to share their spiritual traditions outside their own circle, Grandfather Commanda, the elder in Frank's community, has always encouraged non-racist teaching by his own example. Grandfather decorated the recently-completed eight-sided roundhouse for meetings and elders' councils on the Reserve in Maniwaki with colorful flags from countries around the world. Frank, as a pipe carrier from this community, was a true ambassador in that tradition as well, striving to share the teachings of Indian spirituality with all those willing to listen and learn with respect in their hearts. He often spoke of how little time was left to reverse the trends of racism and environmental destruction. These elders know that only through a united effort of all traditions could healing of the Earth be possible and they have taken courageous steps both within and outside their community to walk that talk.
The hundreds of Indian and non-Indian people who attended the funeral ceremony of Frank DeConti from throughout Canada and the United States are a testament to all those he helped and touched throughout his lifetime. We walked in procession to the cemetery behind his casket laid on a flatbed wagon pulled by Frank's horse with her foal trotting alongside. The piercing cries of song from drummers along the way marked the solemn occasion with due honor. His passing is a loss not only to his wife, Sandra and family, and their community, but the much wider circle of the world he knew, traveled and worked in. Yet, we suffer this loss as a sacrifice to bring us into even greater awareness. We are reminded how fragile our life is and how precious the bonds are that draw us together. They cannot be taken for granted. All our petty judgements of one another prevent us from embracing the love and community we find in each other when pressed together in our sorrow. "Keeping the Circle Strong." This logo appeared on the T-shirt and hat that Maniwaki elders, Maryann and Al (sister and brother-in-law to Frank) wore that day. They were conveying the next steps we are to take in bringing these teachings to light: continuing to gather, to be patient, to share with each other and let love flow. While no one can replace Frank, others will come forward to share the spiritual burdens he carried for his people, Harvest Gathering and all of humanity.
We pray the circle continues to grow bigger and stronger with those who care enough about such things to dedicate their lives to teaching, healing, growing and loving. On the day before the funeral, a magnificent rainbow appeared over Debwewin Healing Lodge where Frank's body was laid out for its final viewing in a coffin overflowing with medicine items, gifts and a lifetime of photographic memories. Its appearance gave hope to all who saw it that the medicine is still alive and strong and we are faithfully assisted on our spiritual path by loving guidance from the other side. Freed from the constraints of human experience and error through death, we might even discover a greater peace and healing strength emanating from the heart of this Indian man who so passionately and generously shared his spiritual gifts with all.
Carol Bedrosian is publisher and editor of Spirit of Change, New England's largest holistic magazine. Visit www.spiritofchange.org
Read the original interview from Jul/Aug 2001 here.