Musings: Sharing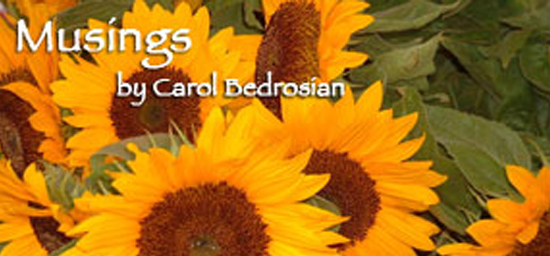 Lately, the keyword for me has been "share." Funny how that book title from several years ago really does ring true: Everything I Need to Know I Learned in Kindergarten. Sharing is one of the "biggies" we try to teach our children – share your toys, share your treats, share your time with Mommy and Daddy. So what happens when we get to be adults? Americans are not known for their generosity, either at home or abroad.
My friend, Tom Dostou, is a peacewalker who just returned from a three month walk in Japan. One of the intentions carried on this walk was to reconnect the positive healing energies between the land in New Mexico, which bore the plutonium for the atomic bomb, and the land in Japan, which was decimated by it. Tom says he has a hard time coming home to the States because "people don't share here. They haven't felt the need to be grateful in this country." The American and other international walkers enjoyed simple but easy hospitality all along the walk route in Japan. Tom has walked in countries around the world where the people had almost nothing to be thankful for except that they lived to give thanks for another day, and they were satisfied with that. Whatever little they did have, they shared with you. Not so in America where grassroots, volunteer and service projects find meager support and enthusiasm and only through great effort.
I recently watched the PBS special "What's Up With the Weather?" which examines the effects of global warming and the need to develop alternative energy resources. For me, the report was chilling, to say the least. 19th Century Cree Indian – illustration by Cath TateOne of the film's starkest realities is that Americans consume a full 25% of the world's resources – an extremely disproportionate amount for our 5% of the world population. According to the show, our excesses in energy consumption have hastened the breakdown of global ecosystems in ways which are likely to produce storms of increasing severity in the near future, the rapid spread of resistant viral infections, the loss of habitats and species, and finally, irreversible water and climate damage of unknown consequences and proportions. The film detailed the efforts of world leaders who met for a Global Warming Summit in Kyoto, Japan in 1999 at the urging of then-vice president Al Gore. Guidelines and an agreement among world nations were forged about how we should reverse the damage caused by our present fossil fuel use. Unfortunately, the United States refused to sign the agreement because a whopping 95 out of 100 of our Senators voted that it would cause too much hardship for our citizens to cut back their energy consumption to pre-1990 levels. Our leadership felt that an unfair burden for the reduction of greenhouse gases was being laid on the backs of Americans, even though we are the greatest users of energy in the world. So our country voted not to share, not to care, not to participate in being a solution to the problem. Instead we look for new resource deposits to satisfy our needs.
Around the same time I saw the PBS special, I attended a small gathering to listen to indigenous people speak about the state of the world and our environment. Two men from Sarayacu, a village of about 2,000 indigenous Quichua del Oriente people in the Amazon jungle of Ecuador had made their way to this gathering, and they shared with us (through translation) their firsthand accounts of how American oil companies were bullying and manipulating their way into gaining rights to exploit indigenous land for the oil beneath it. "We, the people of Sarayacu, have already witnessed the results of this exploration for oil with our neighbors to the north. The oil companies approach small communities and mislead them into believing that their lives and communities will benefit from their intentions. They use their economic resources and tactics to divide and conquer. In the end, the oil companies' occupation of their lands spell destruction for all of the culture and our natural way of life." Juan Gualinga and his father Sabino Gualinga had traveled all the way from their native land and families – three days by canoe just to the nearest border town – to try to find Americans who would listen, who would surely want to help. Funds and legislative support were urgently needed to strengthen the will of the people and to assure them that there is help from outside sources and that they are not alone and isolated.
But are they? I have no idea what was contributed by those present that evening. As for myself, I felt I could do nothing less than empty my entire wallet to support their cause. How could I hold back even $20 for my own personal needs when the life of the Earth and our very future on this planet is at stake? These people were on the front lines in Ecuador defending the Earth with their bodies, their families and their lives, and I, an American, was basically part of the problem just by belonging to the dominator culture. But here was an opportunity to also be part of the solution by sharing what I did have with those who had vital work to perform for the future of the Earth and humanity.
Sometimes I feel completely overwhelmed by the problems around the world that seem to be getting more hopeless everyday. Yet I also know that my actions do make a difference because the actions of each and every person count towards the whole. My sharing alone cannot solve the problem of unequal distribution of wealth around the world, but my actions count towards more balance. As more people begin sharing, more balance is achieved and humanity moves closer towards realizing its spiritual potential. This simple philosophy is the foundation for the teachings of the one known as Maitreya, the World Teacher, who is said to be waiting for an invitation from humanity to allow this spiritual renaissance to occur. Please read more about Maitreya and the organization Share International beginning on page 51 this issue.
To contribute directly to the efforts of Juan and Sabino Gualinga in Ecuador, please send donations to Rainforest Relief, c/o Sarayacu Project, PO Box 150566, Brooklyn, NY 11215. Write Sarayacu Project in the memo of the check. Fax letters of support to 011-5933-883-875. Email: ingaroamazonia@yahoo.com. Funds are needed for mobilization of people in protests, food and accommodations while in the capitals, communication costs & office expenses, alternative incomes, etc. Every little bit helps. For example, $15-20 U.S. will provide a salary for one week of work. For more information about South American indigenous rights, issues, land use and exploitation see http://www.conic.org. or http://www.unii.net/confeniae/english