Musings: The Glorious Color of Local Economy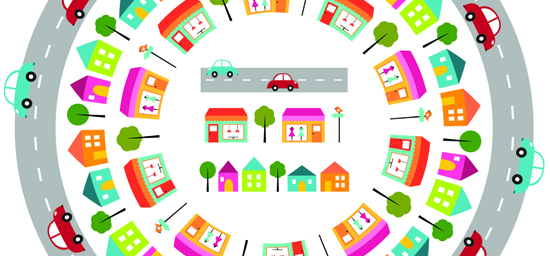 You may be familiar with the poem Desiderata, which begins; "Go placidly amid the noise and haste, and remember what peace there may be in silence…" The poem's wise counsel continues and about halfway in is this equally sage advice: "Exercise caution in your business affairs, for the world is full of trickery. But let this not blind you to what virtue there is; many persons strive for high ideals, and everywhere life is full of heroism."
I see these high ideals in the local business movement — the people who are running small businesses and networking with each other to keep dollars within the local economy, and the customers who support them. Small business owners value your business. They go the extra mile in providing personalized customer service because local sales are their life-blood. They give back to the community by sponsoring your town's soccer and Little League teams and town charity events. Local businesses preserve a special kind of commerce, selling goods and services to a community of people they are connected to beyond the sale. And they do it with integrity. No one is picketing your locally owned restaurants for rights to a living wage.
Local business generates more local business. The "multiplier effect" calculates that for every $100 spent in a local independent store, $45 of that will be reinvested in other local purchasing, contributing to the overall health of the local economy. By contrast, that same $100 spent in a big box store results in only $14 being re-circulated in the local economy. Why? Because the lion's share of that revenue ends up being sent "away" to the corporate headquarters where the money is dispersed, not spent locally in the community.
If you're a baby boomer, you're probably lucky enough to remember the old bustle of your community's downtown and the large variety of stores where your family — along with all the rest of the families in town — bought everything from shoes to furniture to groceries to haircuts. Customer loyalty meant a lifetime of repeat sales for family businesses going back generations, as well as stores stocked with just what the customer ordered. A prosperous town filled with successful businesses patronized by happy customers was the gold standard of American success.
Now decades after practically abandoning our Main Street USA economy, we are discovering that the discounts of the big box corporate model we've bought into are not what we bargained for. While we might have more dollars at our disposal to purchase more goods, owning all this stuff has not increased our happiness nor opened up businesses in the empty storefronts downtown. Yet the lure of the lowest price and biggest selection in one convenient location — whether in a store or online — is a cultural comfort food that's hard for Americans to resist. But like all delicious-tasting junk food, the immediate gratification of taste or price savings belies the many unhealthy consequences down the road.
If it matters to you that local businesses remain a vital part of the economy where you live, providing the choice of products and customer service you prefer, then it's up to you to support them in your area. Instead of driving out of town or to the mall to make your home supply purchase, take your business to the local, independently owned hardware store if your town is still lucky enough to have one. Local economy is a reflection of local color that cannot be replicated nationally, yet as we drive across the country today the scenery is getting very bland. We see all the same chain stores and restaurants, with little local character left at all. Character imparts identity. Are we willing to entirely give our American landscape over to corporate branding in exchange for discount pricing and convenience?
Spirit of Change, in all its glorious local color, exists because of local advertisers who contribute to growing the holistic community where we live. As the community grows, so does their business, maybe directly in response to the ad they placed or just as likely in some other way where the connections are less apparent. The success of Spirit of Change, along with many other local holistic businesses, confirms the power to create the economy, the healthcare and society we want is in the hands of many individuals acting with a cooperative purpose.
The lush green farm you drive past every day could, regrettably, morph into another out-of-state owned housing development. But hopefully it never will because it is cared for by someone whose values go beyond property-as–commodity, a local farmer stewarding the land, co-operating with nature and growing healthy food. The fruits and veggies produced in those fields will be extra delicious and nutritional powerhouses not because they've been genetically modified to be mono-cropped by corporations, but because they grow in sunshine and good soil and are tended to by someone who wants to preserve the land to feed you. Stop and buy them at the next local farm stand you drive by. While you're there you might make a friend or see someone you know, or see a posting of an upcoming event in the community you might want to get involved in. This is how local works.
Carol Bedrosian is the publisher of Spirit of Change holistic magazine. Visit www.spiritofchange.org.
Join us in meeting local holistic business owners this year at the Natural Living Expo. Come support local business owners with your holiday shopping dollars and explore local shopping at its best. Remember to bring your shopping bag and refillable water bottle. We want to be good neighbors too.