Not For What He 'Says' But For What He Has 'Done,' Postal Workers Endorse Sanders
"Sen. Bernie Sanders stands above all others as a true champion of postal workers and other workers throughout the country."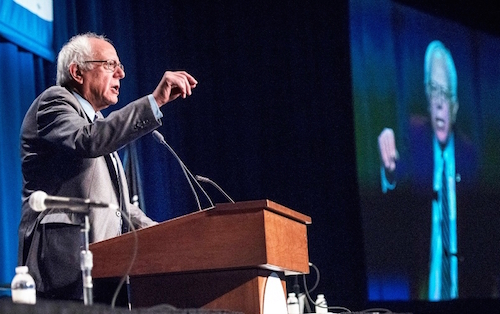 Declaring that "politics as usual has not worked" and "enough is enough," the American Postal Workers Union (APWU) announced its endorsement of presidential candidate Bernie Sanders on Thursday morning, saying the longest-serving independent in the U.S. Congress is the best candidate of the entire 2016 field.
"We should judge candidates not by their political party, not by what they say, not by what we think they stand for, but by what they do," said APWU President Mark Dimondstein. "Applying that criteria, Sen. Bernie Sanders stands above all others as a true champion of postal workers and other workers throughout the country."
With more than 200,000 active members, the APWU now becomes the largest national union to endorse Sanders. Earlier this year, the National Nurses Union—which boasts more than 185,000 members—also endorsed Sanders as they voiced their members' overwhelming support for the candidate demanding a 'political revolution' while challenging elite interests both inside and outside the healthcare industry.
Larry Cohen, former president of the Communications Workers of America and a senior Sanders adviser on labor issues, welcomed the endorsement on behalf of the campaign. "APWU is everywhere there is a post office and their 250,000 members are way at the top when it comes to member involvement and union democracy," said Cohen. "We welcome the unprecedented support of the APWU executive board and look forward to working with their members across the United States."
While Sanders continues to trail rival Hillary Clinton in the latest national polls, the postal workers said there's a reason Sanders is generating unprecedented crowds at his rallies and growing energy among workers, young people, and those tired of establishment voices and status quo politics. Thursday's endorsement also arrives as a new McClatchy/Marist poll shows that Sanders would win in a landslide against top GOP contenders Donald Trump and Jeb Bush in the general election.
Though it highlighted Sanders' unparalleled record on fighting on behalf of postal workers themselves, the APWU said its endorsement also stems from the candidate's broader commitment to taking on Wall Street, supporting workers across industries, and being consistent on issues related to economic inequality, social justice, and—more recently—getting big money out of politics.
"Sen. Sanders was a champion of workers' rights long before he became a candidate for president," said APWU Secretary-Treasurer Liz Powell. "Like the APWU, he is a firm believer in social and economic justice for all."
"No other candidate has his record of standing with workers on picket lines, fighting for a $15 per hour minimum wage, for free public college tuition, and advocating for veterans' benefits," added Dimondstein. "No other candidate has his record of fighting to defend and expand Social Security, promoting 'Medicare for all,' and opposing 'fast track trade authority' and rotten deals like the Trans Pacific Partnership (TPP). No other candidate has his record of exposing the rule of the billionaire class. Sanders is refusing all corporate money. He doesn't have a 'super-PAC,' and he doesn't hire polling firms to help draft election-time promises."
Dimondstein urged union members to get involved in the Sanders' campaign by volunteering or attaching themselves to those organizing under the 'Labor for Bernie' banner, but also said that union members and workers should not be naive to think that even a Sanders' victory in 2016 would be enough to achieve their goals.
"Sanders," he said, "is the first to point out that without a powerful mass movement, electing one individual – even the most righteous – will not defeat the corporate powers that exert so much control over our lives."
Jon Queally is senior editor and staff writer for Common Dreams.