Now In Its 20th Year, Expressive Arts Institute At Salve Regina Accepting Applications For Its Foundation Course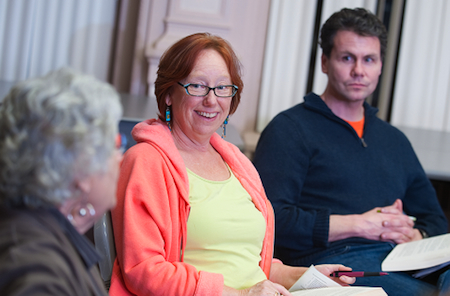 The Expressive Arts Institute at Salve Regina University, which is celebrating 20 years of successfully implementing a holistic approach into the training of skilled professionals, is accepting applications for its foundation course being offered in three 3-day-weekend sessions from May 20-22 to July 8-10; and August 12-14.
This introductory training course is designed to provide artists, counselors, educators and those in related fields with basic training in the applications of the expressive and creative arts. Participants will learn how to integrate the visual arts with movement, sound and expressive writing in order to facilitate change, healing and self-discovery in a variety of professional settings.
The foundation course works well for professionals looking for continuing education studies to supplement their prior training and work experience in related fields of human services, allied health practices, and arts-based education, explains Christopher Carbone, program coordinator. The Institute foundation also can serve as an introduction for further study in the field of the Professional Applications of the Expressive & Creative Arts as Transformation.
In recent years, the program has attracted participants from all over the country as well as South Africa, Spain, Puerto Rico, Guatemala, Nova Scotia and Mexico. To be accepted into the program, applicants must have a bachelor's degree and be able to fulfill the requirements according to accepted standards of the profession as deemed essential by expressive arts faculty.
As acceptance into the program is limited, those interested are urged to contact Carbone at Christopher.carbone@salve.edu or (401) 341-3122. Additional information is available on the university's web site at www.salve.edu.
The Expressive Arts Institute at Salve Regina was co-founded 20 years ago by Barbara Ganim and Susan Fox as a week-long offering. Later, it was expanded into a three-weekend offering spanning the summer, and is now offered as one component of the full Expressive & Creative Arts Training program, part of the Holistic Graduate Programs.
Salve Regina's graduate programs in holistic studies – including the holistic counseling, holistic leadership and expressive and creative arts program – prepares students to work in a variety of fields, including business, education, government, human services and medical care giving. In addition to its master's degree programs, Salve Regina offers certificate programs in substance abuse and treatment, holistic leadership and change management, holistic studies, substance abuse foundations in holistic studies, expressive and creative arts, and holistic leadership
The expressive and creative arts are being widely used worldwide in a variety of human service arenas, including as complementary treatment programs for patients recovering from cancer, heart disease and many other chronic and life-threatening illnesses. Counselors and psychotherapists integrate this process into their clinical work to help clients access, release and transform emotions not easily accessible through traditional forms of talk therapy.
It is also an excellent tool for the constructive and transformative expression of painful or stress-producing emotions and negative thought-patterns. School systems are also utilizing the expressive and creative arts at all grade levels to help students safely express their feelings, and develop positive self-esteem.
Trainers in business and industry are incorporating this process into their employee and management programs to promote team building, interpersonal communication, and creative development. Life coaches are also using the expressive arts to help their clients explore heart-centered ways of living that will bring them a greater sense of meaning and purpose.