Oak Flat Protesters Plan March on Washington to Protest Apache Land Grab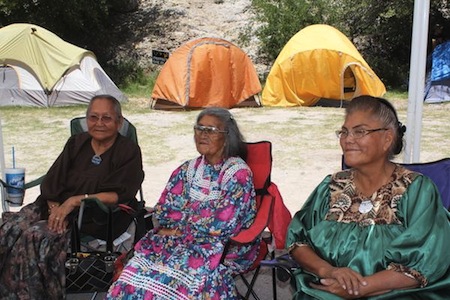 From Martin Luther King Junior's "I Have a Dream" civil rights march on Washington to Dennis Banks' and Russell Means' American Indian Movement protests over sovereignty issues, social activists have taken their causes to the capitol in search of support.
Now Native American protesters from around the country will gather there en masse in the third week of June to seek repeal of a law that a recent New York Times Op-Ed piece termed "a new low in congressional corruption."
Late last year, Arizona Senators John McCain and Jeff Flake attached a land-swap measure to a must-pass defense bill in which ownership of 2,400 acres of Apache holy land—public lands that were supposed to be immune from such treatment—was transferred to a mining company. Resolution Copper wants what is under that land and is willing to destroy it to get to the prized metals underneath.
It was the quintessential sneak attack—potentially the largest source of copper production in North America, the $64 billion excavation project would unfold 60 years. It is expected to leave a 7,000-foot-deep pit (that's five Empire State Buildings), a huge hole in the ground two miles wide, and a 7,000-acre, 500-foot-high waste dump of toxic tailings.
"As details have been made public, a groundswell is building," said protest leader and former San Carlos Apache tribal chairman Wendsler Nosie, Sr. "People are now sensing this project won't benefit anyone except Resolution Copper and its stakeholders. A lot of people are now identifying with this fight because it's not just an Apache fight any more."
Nosie and dozens of others were, for a second time in this year, rallied last weekend at an All Nations Spiritual Gathering at Oak Flat near the mining town of Superior, Arizona.
"Today we are announcing the next step in our battle for repeal, and that's a march on Washington," Nosie said. "Alliances with other tribes, universities, religious groups and outraged citizens continue to grow in groundswell proportion—our support numbers have just gone crazy. The month of June will be a month of protest in the streets and in congressional offices. There comes a time when we need to say enough is enough, and that time has come. We need to hold those in Washington responsible, so the fight's on, and from this point going forward, wherever it takes us, that's where we will be."
"It's atrocious the way this has been handled," said Sandra Rambler, older sister of current chairman Terry Rambler. "The San Carlos Apache tribal council set things in motion in April by passing a resolution to repeal the land exchange act, and I'm at today's gathering because of what this land means to me as an elder. My great-great grandmother is buried here. I came here for my Coming of Age ceremony as well as my granddaughter's. This is ancestral land used for ceremonies, graduations and funeral gatherings. It's my turn to fight for it to be passed on to my children and those unborn yet to come."
Attendees at the gathering represented a diverse mix of tribal and non-Native supporters. Daniel Jose is an Apache from Peridot who has camped at Oak Flat since the first spiritual gathering in February. "We're going to fight for our land, and I'll stay here forever if I have to," he said.
Fort Defiance Navajo Nathaniel Curley carried a sign and burning sage, optimistic that faith would carry things forward to better times. Gila River resident Bernadette Thomas attended to voice her displeasure.
"Big money and politics want to destroy this sacred place, and that's wrong," she said.
"This place is the genesis of the Apache tribe, but it's not an Apache issue nor even a Native issue, it's a human issue," said Earl Tulley of Diné Citizens Against Ruining Our Environment (Diné CARE).
He was joined by Sylvia Barrett of the Concerned Citizens and Retired Miners Coalition, an alliance of organizations working to promote responsible mining.
"Resolution Copper blatantly threw the finger in our direction," Barrett said. "If you heard they wanted to work with Native communities, that's a lie."
Protester Orlando Perea spent more than 40 years as a miner, half of that underground in the nearby former Magma Copper claim now being worked by Resolution Copper.
"This company is not being truthful about what they're going to do," Perea said. "Although their vision statement states they are a world-class miner creating local opportunity [i.e., 3,700 local jobs], previous mine CEOs have told me once the mine is operational, less than 500 permanent miners would be needed to dig up 110,000 pounds a day to be put into railroad cars and brought to Guaymas, Mexico, before the concentrate is shipped to China. They'll create an environmental catastrophe here. Senator McCain [who receives campaign contributions from the mining conglomerate] can go to Hades for his underhanded dealings."
Not all members of Congress were in agreement with how the under-the-radar land exchange got approved. At the time, Secretary of the Interior Sally Jewell expressed "profound disappointment with the lack of regard for lands considered sacred by Indian tribes."
She and the Arizona senators and representatives who railroaded the measure through may get a chance to reconsider.
"Senator McCain hasn't said 'I'm sorry,' and Resolution Copper hasn't extended an offer to sit down and talk," Nosie said. "But the alliances that are becoming part of this repeal movement may cause them second thought. The month of June may bring a reconsideration by Congress, and, hopefully, a repeal of that odious act."
See also:
Oak Flat Apache Land Grab 'an Impressive New Low': NYT Op-Ed
Hundreds Gather at Oak Flat to Fight for Sacred Apache Land
White House Responds to 'Stop Apache Land Grab' Petition