Obama Designates Two New National Monuments, Protecting 1.65 Million Acres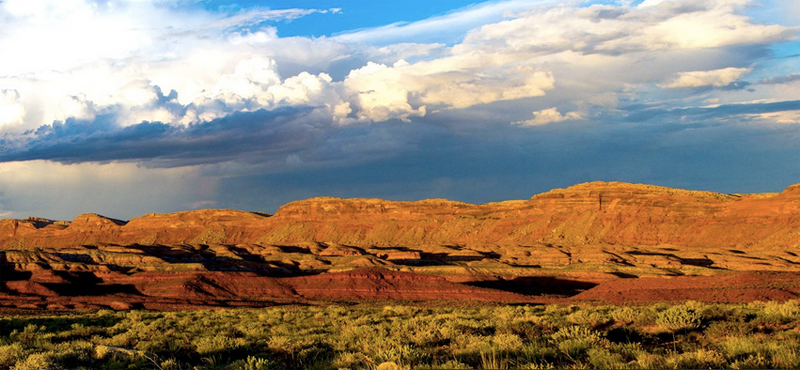 Reposted with permission from EcoWatch.
President Obama used his authority under the Antiquities Act to protect two large areas in the western U.S. The new Bears Ears National Monument in Utah preserves 1.35 million acres containing 100,000 significant Native American sites, while the Gold Butte National Monument in Nevada sets aside 300,000 acres, also home to Indigenous archeological sites.
Protection for both of these sites has been supported by Native American tribes. Looting and desecration of artifacts has been common in these areas.
"The rock art, ancient dwellings and ceremonial sites concealed within these breathtaking landscapes help tell the story of people who have stewarded these lands for hundreds of generations," said U.S. Secretary of the Interior Sally Jewell. "Today's action builds on an extraordinary effort from tribes, local communities and members of Congress to ensure that these treasures are protected for generations to come, so that tribes may continue to use and care for these lands, and all may have an opportunity to enjoy their beauty and learn from their rich cultural history."
A coalition of the Hopi Nation, Navajo Nation, Ute Mountain Ute Tribe, Ute Indian Tribe of the Uintah Ouray and Zuni Tribe will serve on the Bears Ears Commission, making the tribes co-managers of the national monument along with the federal government.
"For the first time in history, a president has used the Antiquities Act to honor the request of Tribal Nations to protect our sacred sites. In doing so, he has given the opportunity for all Americans to come together and heal," said David Filfred, Navajo Nation council delegate.
"This is a historic moment," the Southern Utah Wilderness Alliance, an independent citizens organization that has worked to help establish Bears Ears, said in a statement. "The new national monument—the result of a proposal from an unprecedented coalition of Tribal Nations—will safeguard more than 100,000 cultural sites and protect an incredible natural landscape for generations to come."
Outdoors retailer Patagonia, which has been active in support of these national monument designations as well as others, also applauded the announcement.
"In protecting Bears Ears, the president recognizes the leadership and historic vision of the Bears Ears Inter-Tribal Coalition representing five tribes, and the strong grassroots support from climbers and conservation groups," Patagonia CEO Rose Marcario said. "We are witnessing the power of community activism, and we thank President Obama for listening and taking action."
Speaking about the new Gold Butte National Monument, Ron Hunter, Patagonia environmental activism manager in Reno, Nevada, added, "At Patagonia, we recognize the fundamental connection between protecting our great outdoors and our business and that is why Patagonia is thrilled that President Obama has designated Gold Butte as a national monument. Thank you President Obama, Senator Reid, and Representative Titus for all you have done to protect Gold Butte."
But, these designations are fiercely opposed by some Republican members of Congress. Rep. Rob Bishop (R-UT), who has told supporters of the Antiquities Act to "just die," is one of several Utah legislators to oppose the national monument designation for Bears Ears.
Rep. Bishop and Rep. Jeff Chaffetz (R-UT) co-authored the Public Lands Initiative, which sought to take 100,000 acres of tribal land and hand them over to oil and mining companies. Chaffetz called the announcement a "midnight move" by the outgoing Obama administration.
"We look forward to working with President-elect Donald Trump to follow through on his commitment to repeal midnight regulations," Chaffetz said.
In a joint statement issued by the U.S. Department of the Interior and the U.S. Department of Agriculture, the work of Bishop and Chaffetz was acknowledged. "These designations build on the framework developed by the Congressmen to both protect and allow for continued use and enjoyment of the area by residents and visitors," it stated.
Bears Ears, in southeastern Utah, borders Canyonlands National Park and the Glen Canyon National Recreation Area. All current uses of the land that do not harm resources protected by the monument will continue to be allowed. These include off-highway vehicle recreation, hunting and fishing, and authorized grazing.
Gold Butte protects portions of the Mojave Desert in southwest Nevada along with Joshua tree forests and large stands of ponderosa pine. Retiring Sen. Harry Reid (D-NV) had campaigned for the national monument designation.
"After working for decades to protect Gold Butte's breathtaking landscapes and cultural treasures, I was overjoyed to hear the news today from President Obama," Sen. Reid said. "The splendor of Gold Butte will now be protected for all of us. It will be enjoyed for generations to come and I appreciate the persistence of the many Nevadans who fought for its protection despite the obstacles."
President Obama has invoked the 1906 Antiquities Act 29 times, protecting more than 550 million acres, more than any other president.
"We applaud President Obama for taking action to permanently protect the culture and history of Gold Butte and Bears Ears," Michael Brune, executive director of the Sierra Club, said. "Protected open spaces like these are vital for healthy air, water, and climate, but they also provide powerful opportunities for healing—something vitally important as people come together during this tense moment in history. These designations, a response to strong tribal advocacy and years of work by local people, is a welcome reminder of the power of positive action and a chance to continue building the inclusive future we want to see in our public lands."
It remains to be seen if efforts to repeal any of these actions will be successful. However, Trump's pick to run the Department of the Interior, Ryan Zinke (R-MT) is troubling, according to the Union of Concerned Scientists.
In his first term as a Congressman, Zinke voted to weaken the Antiquities Act by limiting the president's ability to designate new national monuments. In 2015 the League of Conservation Voters gave Zinke a bottom-of-the-barrel 3 percent score for his environmental voting record and in 2016 the National Parks Action Fund gave Zinke an F for his voting record on key bills affecting national parks.
Dan Zukowski is an environmental journalist and nature photographer. He is a member of the Society of Environmental Journalists. Follow him on Twitter @DanZukowski and visit DBZ Photo.
See also:
Obama Creates Three New National Monuments Protecting Another 1M Acres of Public Lands
A Park Where You Can Walk Among 1,500-Year-Old Bears And Birds