Obama's Rejection Of Keystone XL Is Victory, But That's Not The Whole Story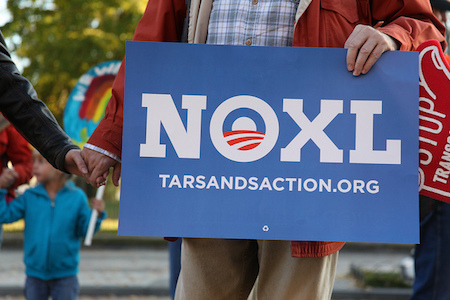 President Obama's official rejection of the Keystone XL pipeline on Friday was met with grand applause from those who opposed the project and organizers who worked tirelessly, despite long odds, to force the administration's hand.
However, even as celebrations were enjoyed and an evening rally was scheduled outside the White House, there's more to this story than the simple rejection of a single pipeline and the ultimate climate legacy of a president who has announced a 'historic' decision.
Mass Movements Work
Through years of unprecedented campaigning, ordinary people in the United States and Canada turned what could have been an unremarkable rubber stamping of yet another fossil fuel pipeline into an internationally-watched fight to stop climate change. Since 2011, communities across the United States have staged over 750 direct actions and protests across the country—from mass sit-ins at the White House to a tens-of-thousands-strong march on the National Mall. Farmers, workers, students, Indigenous peoples, and communities on the frontlines of oil refineries and extreme weather put their bodies and relationships on the line—risking arrest, talking to their neighbors, and taking to the streets.
"We stood our ground and today President Obama stood with us, the pipeline fighters," said Jane Kleeb, director of Bold Nebraska. "Tonight landowners can finally go to sleep knowing their family is safe and sound. Our unlikely alliance showed America that hard work and scientific facts can beat Big Oil's threat to our land and water."
In the words of Tom Goldtooth, executive director of the Indigenous Environmental Network: "The black snake, Keystone XL, has been defeated and best believe we will dance to our victory!"
Those interested can sign an online Thank You Card to the Movement that will be delivered to every single person who has participated in an action against the Keystone XL pipeline since over the past four years. And people across the United States are holding rejection parties to relish in "one golden well-deserved moment" of celebration.
Canada's Win, But Trudeau's "Disappointment"
Even as they celebrated the KXL rejection, Canadian climate activists on Friday seized on President Barack Obama's statement that freshly sworn-in Prime Minister Justin Trudeau—who publicly supported the project on the campaign trail—had "expressed his disappointment" about the U.S. State Department's decision on the pipeline.
Social activist Naomi Klein, for example, tweeted that Trudeau's reaction was a "BAD way to enter the climate conversation," because "dirty pipelines are the way of the past."
The Keystone development came as Canadian environmentalists entered their second of four days of civil disobedience, aimed at convincing Trudeau to freeze tar sands development and commit to a justice-based transition to a clean energy economy.
They took Friday's news as a chance to double down on their message: "Obama's rejection of the Keystone XL tar sands pipeline sets a new standard for political climate action," said Clayton Thomas-Muller, Stop it at the Source Campaigner with 350.org Canada. "Justin Trudeau needs to take note that it is time now to listen to the science, to Indigenous Peoples, and to freeze tar sands expansion."
See also:
Third U.S. City Goes 100% Renewable
"You Fly To The Edge Of The Tar Sands, And … No Life": A Montana Professor On The Issue Of Our Time