One of These 4 Radical, Badass Women Could Be on the $20 Bill
Until May 10, Americans will vote on Rosa Parks, Harriet Tubman, and two other contenders to replace Andrew Jackson.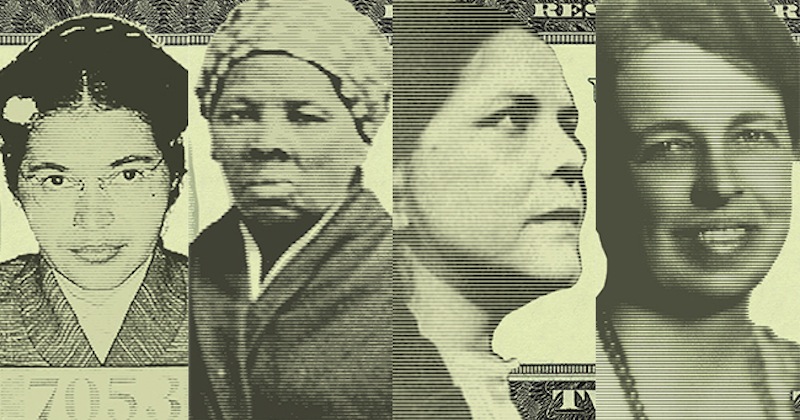 Since the dawn of our great nation, there's one thing United States citizens can count on: seeing white guys everywhere. In spite of women outnumbering men in the U.S. and our ever-growing racial diversity (37.4 percent of non-Hispanic Americans identified as a race other than white in 2013), white guys dominate our media, our history books, our government, and (especially) our money.
You probably have some white guys in your wallet right now.
The organization Women on 20s has been working to bring more diversity to your wallet by getting a woman on the $20 bill in place of Andrew Jackson. And a lot of people, including President Obama, agree it's time to give a woman the honor. Once the voting is closed, Women on 20s will submit a formal petition to the White House. From there they hope the president will give the order to the U.S. Treasury to make the change.
Those against the idea argue that the men on our money should stay because they're some of our "founding fathers." That's not true. Abraham Lincoln was not a founding father, and Andrew Jackson was only 9 years old when the country was founded. Plus, as supporters of the switch point out, Jackson has (to put it mildly) a rather controversial history.
And why shouldn't we have women on our paper money? Many women, especially women of color, have done great things to change our nation for the better in spite of incredible obstacles imposed on them. Overcoming those obstacles make their accomplishments all the more impressive.
Out of the 100 women originally nominated for the honor, four candidates have been narrowed down by the Women on 20s polling system. Polls close May 10, so if you no longer want Andrew Jackson sitting in your back pocket, vote.
Candidate #1: Harriet Tubman
Harriet Tubman is best known for her involvement with the Underground Railroad. After escaping slavery, she went on at least 12 successful rescue missions, leading 70 slaves to freedom through the Underground Railroad.
What you may not know about Tubman is that she served as a Union spy during the Civil War. She led bands of scouts to map terrain in the South, predicting Confederate troop movement and providing key intelligence that was instrumental in the capture of Jacksonville, Florida. She was also the first woman to lead an armed assault against the Confederacy. In that raid alone, she helped free more than 700 people from slavery.
After the war, she worked alongside women like Susan B. Anthony for women's suffrage, touring across the Northeast to give speeches on her experiences as a female slave and the importance of giving women the right to vote.
Not-so-fun fact: Andrew Jackson owned a number of slaves in his lifetime. In fact, much of his wealth came from his slave-run plantation, The Hermitage. He owned roughly 150 people by the time he died.
Candidate #2: Wilma Mankiller
Wilma Pearl Mankiller was the first female chief of the Cherokee Nation, an office she held from 1985 to 1995. She was elected twice—the second time in a landslide—in spite of the Cherokee political system being male-dominated. She is most well-known for creating the Cherokee Nation community development department, which many say reinvigorated the tribe with community programs like building rural water systems and creating affordable housing. Under her leadership, the Cherokee Nation population grew from 55,000 to 156,000 through their tribal enrollment process.
After her retirement as chief, Mankiller became a Montgomery fellow at Dartmouth, which granted her an honorary degree. And in 1998, President Bill Clinton presented her with the Medal of Freedom, the highest civilian award of the U.S. government.
Not-so-fun fact: Andrew Jackson opposed treaties with Native American tribes and considered their genocide to be inevitable in the name of "progress." He signed the Indian Removal Act into law in 1830, which led directly to the infamous Trail of Tears.
Candidate #3: Rosa Parks
Rosa Parks is famous for refusing to give up her bus seat to a white guy on Dec. 1, 1955. Her action and subsequent arrest sparked the Montgomery Bus Boycott. As Parks fought criminal charges against her, the black community of Montgomery boycotted the bus system for 381 days, decimating the city's transportation finances. The city's segregation policy was repealed when the U.S. Supreme Court declared it unconstitutional in 1956.
Parks went on to work directly with Dr. Martin Luther King Jr. and became a friend of Malcolm X. She was very active in the civil rights movement, fighting against job and housing discrimination and for welfare and education programs. She was also active in investigating and exposing incidences of police misconduct.
Not-so-fun fact: Andrew Jackson was not a proponent of nonviolence; in fact, he killed a man in a duel for accusing him of cheating then insulting his wife. When Jackson left the White House, he said he had only two regrets: "I didn't shoot Henry Clay, and I didn't hang John C. Calhoun."
Candidate #4: Eleanor Roosevelt
When Eleanor Roosevelt became the first lady of the United States in 1933, she is said to have become depressed at the idea of being restricted to domesticity and hostessing—the traditional roles of first ladies up until that time. Roosevelt was heavily involved in politics before her husband became president, so instead of dropping her activism, she decided to redefine the role.
She held hundreds of presidential press conferences and spoke at the Democratic Convention of 1940, two things which had never been done before by a first lady. She was a vocal supporter of the civil rights movement, and invited hundreds of black guests to the White House over the years she spent there. Roosevelt also lobbied to make lynching a federal crime. After Pearl Harbor was bombed, she opposed prejudice against Japanese-Americans, and got the U.S. Treasury to relax their orders to freeze bank accounts.
Roosevelt was also one of the first U.S. delegates to the U.N., and she chaired the President's Commission on the Status of Women during John F. Kennedy's presidency.
No one can deny that Eleanor Roosevelt achieved an impressive number of accomplishments during her life, though it's important to point out that she was white and affluent, unlike the other three candidates.
Not-so-fun fact: A dairy farmer sent Andrew Jackson a 1,400-pound wheel of cheese as a gift. The cheese wheel was so large that Jackson and his friends could barely make a dent in it. Overwhelmed by the smell of cheese, he invited the public to come and take as much as they wanted. Thanks, Jackson.
Lindsey Weedston wrote this article for YES! Magazine, a national, nonprofit media organization that fuses powerful ideas and practical actions. Lindsey Weedston is a Seattle-based feminist blogger with a creative writing degree that everyone told her would be useless. She spends her time writing about various human rights and social justice issues on her blog Not Sorry Feminism and dabbles in video game reviews and commentary. Find her on Twitter at @NotSorryFem.