Organic Thanksgiving At Monsanto World Headquarters
Reverend Billy and the Stop Shopping Choir plan Thanksgiving day meal at Monsanto's World Headquarters in St. Louis to expose the corporate giant's role in climate disruption.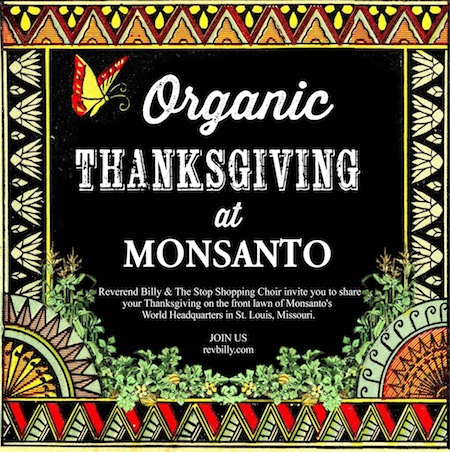 On Thursday, Nov. 27, Reverend Billy and the Stop Shopping Choir will enjoy an organic Thanksgiving meal on the lawn of the world's largest biotechnology seed company—Monsanto.
Participants of the action will meet at 1 p.m. at Stacy Park—9750 Old Bonhomme Rd., Olivette, MO 63132—less than 3/4 mile from Monsanto's world headquarters—800 North Lindbergh Blvd., St. Louis, MO 63167. The walk to Monsanto will begin at 1:30 p.m.
Immediately following the action, Reverend Billy and the Stop Shopping Choir will deliver an organic and local Thanksgiving dinner to activists on the front lines in Ferguson.
After a banner year performing in the United States and Europe to bring attention to the role of big corporations in climate disruption and poisoning of honey bees, Reverend Billy will conclude 2014 by confronting the company that is responsible for Agent Orange, PCBs, GMOs, Bovine Growth Hormone, Glyphosate and more.
Known by millions as the most environmentally destructive corporation on the planet, Monsanto, for nearly two decades, has been controlling political campaigns and affecting the regulatory process of agricultural systems all over the world. In the U.S. alone, more than 90 percent of soybeans and 80 percent of corn are grown with seeds containing Monsanto-patented genetics.
"Monsanto must be stopped," said award-winning Reverend Billy, who has been jailed more than 50 times protesting social and environmental injustices. "Monsanto is the devil and what better day than Thanksgiving to remind the world that eating local, organic food is one way to stop this profit-mongering, biodiversity-destroying monopoly."
Industrial agriculture and the entire globalized food system, which is becoming more large-scale and centralized every day, destroys biodiversity, soils and local food systems, and is responsible for accelerating climate change by contributing more than 40 percent of global greenhouse gas emissions.
Reverend Billy and the Stop Shopping Choir performed their new show, Monsanto Is the Devil, with the Not Buying It Band on Sunday, Nov. 23 at Joe's Pub at The Public in New York City, with four more shows scheduled before the end of the year. Now the troupe is traveling by bus to St. Louis, to meet at a local park on Nov. 27 and march to Monsanto's world headquarters to have a festive organic Thanksgiving day meal where they will perform songs from their new show. The choir will be dressed in stylish Pilgrim and honey bee costumes.
This event is organized in collaboration with Organic Consumers Association, GMO Free Midwest, Gateway Garlic Farms and The Greenhorns.
"Despite its various marketing incarnations over the years, Monsanto is a chemical company that got its start selling saccharin to Coca-Cola, then Agent Orange to the U.S. military, and, in recent years, seeds genetically engineered to contain and withstand massive amounts of Monsanto herbicides and pesticides," said Ronnie Cummins, executive director of Organic Consumers Association. "Monsanto has become synonymous with the corporatization and industrialization of our food supply."
In addition to the Thanksgiving day meal, an online campaign has been launched encouraging people to take a pledge to cook an organic and local meal on Thanksgiving.
Follow #NoMonsanto hashtag for updates and visit http://www.revbilly.com/no_monsanto.
About Reverend Billy
Reverend Billy has won an OBIE Award, Alpert Award, The Dramalogue Award and The Historic Districts Council's Preservation Award (for leading demonstrations to save Manhattan's Poe House), and has been jailed more than 50 times. He was a central figure of Occupy Wall Street and toured 25 OWS tent communities from Zurich to Oakland, CA with The Stop Shopping Choir. He has run for New York City mayor on the Green Party ticket. Reverend Billy has released three CDs, three documentary films, published two books, and produced eight 28-minute television shows as part of the The Last Televangelist, broadcast on the cable channel Free Speech Television. Savitri D and the Reverend are frequent guests of news media, having appeared on The Today Show, CBS Evening News, Nightline, Fox News, Al-Jazeera, Glenn Beck, Hannity & Colmes, Democracy Now!, NPR's "All Things Considered" and "Marketplace," Geraldo Rivera, CNN, The Tavis Smiley Show, The BBC World Service, BBC 1 and numerous other local and regional affiliates and international print outlets.
About the Stop Shopping Choir
The Stop Shopping Choir is an all-ages, 40-member singing group, under the direction of Savitri D, with musical director Nehemiah Luckett and lead singer Laura Newman. The choir represents a diverse array of economic, ethnic, religious, and cultural backgrounds and has members from every continent except Antarctica, which they're working on. Among them are scientists, teachers, artists, therapists, welders, cyclists, builders, developers, hairdressers, dog walkers, actors, truck drivers, tech geeks, scholars and executives. The Choir has toured in Europe, Africa, South America and throughout North America. They are the subject of Morgan Spurlock's second feature film, What Would Jesus Buy?
See also:
The Hidden Story Behind Vaccines, Pharma and Food
What Are Nanomaterials And Why Are We Eating Them?