Outdoor Preschools Bring Affordable Education to Parks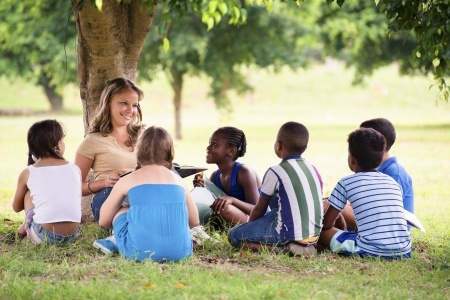 Forget tiny tables, tiny toilets, and tiny toy shelves. A new wave of preschools is taking learning outside and turning local parks into classrooms.
Originating in Europe in the 1990s, outdoor preschools offer affordable learning to families by drastically reducing the overhead costs of an indoor classroom. Children spend most, or all, of the day outside and use park facilities for lessons, eating, restrooms, and naps. Outdoor preschools give kids immediate access to the natural world, encourage exercise, and let students easily engage with their surroundings.
As parks are generally cold and wet during the winter months, this model presents challenges, but it's proven to be successful in Norway, Germany and Switzerland—three countries not known for their mild winters. Now, it's taking root in the States.
The first outdoor preschool in the US was opened in 2008 on Vashon Island outside of Seattle, a city that's quickly becoming a leader in the movement, with over a dozen outdoor preschools. As Next City reports, a growing number of them operate in Seattle's public parks. Some are run by the city's parks department, some are private, and some, like Tiny Trees, an organization with a goal of launching 20 schools in parks across Puget Sound by 2020, are nonprofits.
In the following SVP Fast Pitch talk, Tiny Trees CEO Andrew Jay explains how, despite the rainy Seattle weather, they are able to combine the right clothing with a play-based curriculum that keeps kids moving and warm. As he says, "At Tiny Trees, we play to learn… We help kids learn to read, succeed in math, and explore the wild, where they receive a world class science education."
Cat Johnson is a freelance writer focused on community, the commons, sharing, the new economy, and music. Publications include Utne Reader, GOOD, Yes! Magazine, Shareable, Triple Pundit and Lifehacker. She blogs about freelancing, coworking and thriving in the new economy at The Freelance Cat. Follow @CatJohnson on Twitter and Facebook.
See also:
Swapping Screen Time for Getting Dirty: Why Kids Need to Spend More Time Outside
Ten Reasons Not To Use Technology For Grade School Learning