Pediatricians Say Scrap The Fruit Juice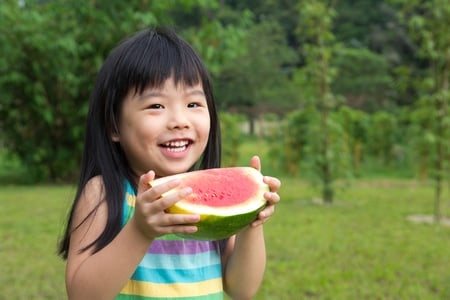 Fruit juice has been marketed (and in some cases, recommended by physicians) as a healthy, natural source of vitamins and calcium. Kids like the way it tastes — in fact, children and adolescents continue to be the highest consumers of fruit juice and juice drinks, but nutritional benefits are very questionable.
There is no reason to include them in the diets of children less than a year old, the American Academy of Pediatrics now says. Steven Abrams, MD, chair of the Department of Pediatrics at Dell Medical School at The University of Texas at Austin, co-authored the policy statement, released today. It also recommends limited consumption for older children and adolescents.
"There's never been a question that whole fruits are the best choice for children — adults, too, for that matter," Abrams says. "We just have to take a step back and realize that there are harmful consequences to consuming large amounts of juice by children."
Fruit juice, defined separately from fruit-flavored and other juice drinks not made from 100 percent fruit, lacks the dietary fiber of whole fruits. Since juice can be consumed more quickly than whole fruit, a child who sips fruit juice throughout the day may fall into a pattern of consuming excessive sugar and calories and experience weight gain later in life.
Not From Concentrate?
You may think 'not from concentrate' juice means a more authentic product. You'd be wrong. Manufacturers say they help give their product a consistent flavor. They also explain why juice in cartons doesn't taste like fresh juice.
'Naturalness' isn't the only dubious claim made for juice. For decades, health gurus, and some doctors, have claimed the vitamin C in juice fights common colds.
Helen Bond, spokeswoman for the British Dietetic Association, says: 'People have lost sight of how much sugar is in food and portion sizes have got bigger. A 150ml glass provides one of your five a day and anything more than that doesn't count. But measure people's glasses and they are often 250ml.
'Juice provides a lot of vitamins and minerals, but unlike fresh fruit you don't get the healthy fibre.'
Doctors say the huge volume of sugar in our diet is contributing to the obesity epidemic, causing heart disease, cancer and diabetes.
A shocking investigation has also revealed that some of the best known brands of apple juice contain arsenic. American apple juice is made from apple concentrate, 60% of which is imported from China. Other countries may use pesticides that contain arsenic, a heavy metal known to cause cancer and heart disease. Findings of a Consumer Reports investigation about arsenic and lead levels in apple juice and grape juice have prompted the organization to call for government standards to limit consumers' exposure to these toxins.
Weaning populations off fruit juice may be difficult. Market research firm Mintel says 83 percent of us drink fruit juice at least once a week, while 76 percent believe fruit juice to be healthy. But if you need motivation when you sit down to breakfast, remember this: there is more sugar in a 250ml glass of fruit juice than in a large bowl of Frosties with milk. The sugar is not all natural either.
For A Flexible Fruit Choice, Proceed With Caution
The concerns are fewer for older children and adolescents. In small amounts, 100 percent fruit juice may even be a good way to increase fruit intake, particularly as a child's caloric needs increase with age.
Since juice has a longer shelf life and is easily transportable, it offers a flexible option for families who may not be able to provide whole fruits to meet 100 percent of a child's recommended daily intake. Even still, juice should be limited to half of a child's daily fruit consumption — two 4- to 6-ounce servings is more than adequate.
"At the end of the day, it's about instilling good eating habits in kids," Abrams said. "Establishing a healthy, balanced diet early in life is one of the best ways to ensure that kids grow up healthy and stay healthy as adults."
This article was republished from Prevent Disease.
See also:
16 Easy Ways To Eat More Fiber
The 10 Worst Foods To Eat In The Morning