#PeopleOverPipelines March Concludes With Rally On State House Grand Staircase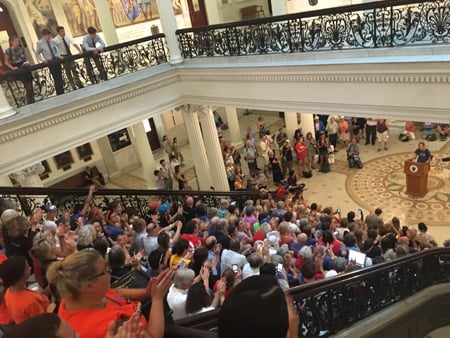 The #PeopleOverPipelines Grand Staircase rally concluded at 11am yesterday after Senator Marc Pacheco and Senator Pat Jehlen addressed the crowd of 250 supporters, filling the steps of the Grand Staircase. Marchers and rally participants continued on to the offices of Speaker of the House Robert Deleo, Senate President Stanley Rosenberg and Governor Charlie Baker to demand they take a stand against Spectra's new pipelines and the pipeline tax.
#PeopleOverPipelines marchers reached the State House at 4:15pm Sunday following a climate justice rally at Ruggles on day 4 of a 43-mile trek that launched in Medway, MA on Thursday, July 14 and followed the route of all three of Spectra Energy's current natural gas pipeline projects in Massachusetts: Access Northeast, Algonquin Incremental Expansion and Atlantic Bridge.
Numerous elected officials joined activists on the march and during rallies en route, including US Congressman Stephen Lynch, Senator Pat O'Connor, Representative James Murphy, Representative Angelo Scaccia, Representative Walter Timilty, Boston City Council President Michelle Wu, Senator Pat Jehlen and Senator Marc Pacheco, Chair of the Senate Committee on Global Warming and Climate Change.
In addition to Spectra Energy's new pipeline project, marchers were also protesting Governor Charlie Baker's plan to add a fee known as the "pipeline tax" to all Massachusetts ratepayers' utility bills to finance the pipelines' construction.
The march was organized by 350 Mass for a Better Future and Mass Power Forward. Partnering organizations include Mothers Out Front, Mass Climate Action Network, Massachusetts Sierra Club, Resist the Pipeline and other local anti-pipeline groups.
Houston-based Spectra Energy's Access Northeast project includes 49 miles of proposed new pipeline. Widespread opposition to the project has sprung up due to its grave impacts on climate change, public safety, property values, and local environments.
On Thursday and Friday, marchers passed through some of the communities directly affected by Access Northeast, including Norfolk, Walpole, Sharon, Stoughton and Canton, where the pipeline has been met with well organized, highly motivated local opposition.
On Saturday, marchers held a rally at the West Roxbury Lateral Spectra Energy construction site where Karenna Gore was arrested last month, coordinating with Resist the Pipeline pipeline fighters who successfully stopped construction with a planned direct action.
According to a recent report released by Attorney General Maura Healey, new pipelines are not needed to meet Massachusetts' energy demands, and will make it impossible for the state to meet its legal requirement to reduce carbon pollution.
"This is a big fight between the two most popular politicians in the state," said Charley Blandy, a media volunteer for Better Future Project and co-editor of the Massachusetts political blog Blue Mass Group. "Climate and energy are now a defining battle in Massachusetts politics. While AG Healey and a bipartisan group of legislators are mapping a clean energy future, Baker is defending a pipeline tax that no one seems to want."
Further imperiling Governor Baker's pipeline tax proposal, the Massachusetts Supreme Judicial Court ruled in May that the Baker administration must set specific limits on various sources of greenhouse gases to comply with the 2008 Global Warming Solutions Act.
"Investing in new natural gas pipelines will prevent the state from complying with the court's order," said Craig Altemose, executive director of Better Future Project. "The fossil fuel industry is on its last legs. There is no place in Massachusetts for new natural gas infrastructure.
Courtney Foster, a student at Bates College and a fellow at Better Future Project, cites the pipeline's impact on communities at risk as a major cause of concern for many young people in the state.
"As a lifetime Massachusetts resident, I do not want that pipeline going through my backyard, or through anyone's backyard. Nobody deserves to have dangerous and polluting fossil fuel infrastructure in the vicinity of their home, particularly those in some of the pipeline's targeted communities who are already marginalized due to race, socioeconomic background, or legal status."
For more information about this important march, please visit www.PeopleOverPipelines.org.
See also:
Third U.S. City Goes 100% Renewable
"You Fly To The Edge Of The Tar Sands, And … No Life": A Montana Professor On The Issue Of Our Time