Pharma Bro's 5,500% Price Hike Gets A Slap In The Face By Competitor Who Will Only Charge $1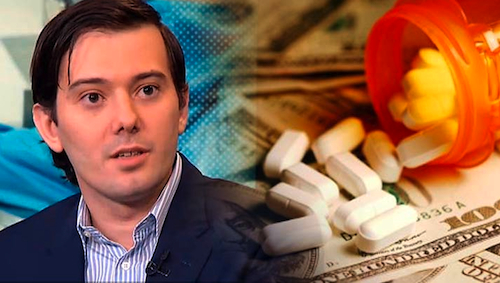 In response to Turing Pharmaceuticals CEO Martin Shkreli raising the price of Daraprim from $13.50 to $750 a pill, a specialty pharmaceutical company announced Thursday that it has created an alternative medication that costs less than a dollar per pill. Due to the fact that many pharmaceutical corporations are drastically increasing drug prices, a new niche in the market has opened for smaller drug companies offering inexpensive medications as viable alternatives.
After acquiring the sole rights to sell Daraprim, former hedge fund manager Martin Shkreli increased the price by 5,500%. Preventing infections in people with weakened immune systems, including AIDS patients and cancer survivors undergoing chemotherapy, Daraprim is a brand-name formulation of the generic drug pyrimethamine.
On Thursday, Imprimis Pharmaceuticals announced the development of a low-cost alternative to Daraprim that consists of pyrimethamine and leucovorin, which reportedly helps to reverse pyrimethamine's negative effects on bone marrow.
Imprimis effectively rendered the temporary monopoly on Turing's Daraprim useless by using the key ingredient pyrimethamine, and reverse engineering the product. Pyrimethamine has been available since 1953 for the treatment of parasitic diseases (namely malaria and toxoplasmosis). Because the government-granted monopoly on pyrimethamine has expired, other companies can now compete — and that is exactly what Imprimis is doing.
"While we respect Turing's right to charge patients and insurance companies whatever it believes is appropriate, there may be more cost-effective compounded options for medications, such as Daraprim," Mark L. Baum, CEO of Imprimis, said in a news release.
"Last month, Turing Pharmaceuticals LLC, the sole supplier of Daraprim, increased the price of this prescription drug from $13.50 per tablet to a reported $750.00 per tablet," Baum said Thursday. "The FDA-approved label for Daraprim indicates that it is prescribed for toxoplasmosis and other types of infections. Toxoplasmosis can be of major concern for patients with weakened immune systems such as patients with HIV/AIDS, pregnant women and children."
Baum continued, "Imprimis is now offering customizable compounded formulations of pyrimethamine and leucovorin in oral capsules starting as low as $99.00 for a 100 count bottle, or at a cost of under a dollar per capsule."
After Shkreli hiked up the price of Daraprim to maximize profits at the cost of innocent lives and lied about dropping the price, Baum stepped into a position where he could help people who could no longer afford the medication while making a respectable profit for his company. According to their website, Imprimis primarily focused on creating ophthalmology and urology drug therapies before the recent price gouging inspired them to offer low-cost alternatives.
In keeping with Shkreli's inhuman philosophy, Valeant Pharmaceuticals CEO J. Michael Pearson recently raised the prices of two heart drugs, Nitropress and Isuprel, by 212% and 525% respectively on the same day he acquired them. According to Deutsche Bank, Pearson increased the price of the heartburn drug Zegerid by 550% this year.
Although representatives from both the Congress and Senate have written letters requesting a rational explanation for the recent price hikes, these CEOs are under no obligation to respond to them. Instead of waiting for the government to step in, specialized pharmaceutical companies like Imprimis are discovering an opportunity to help patients who can no longer afford these medications while making a profit that does not require the incessant sacrifice of innocent lives.
See also:
The Promising Cancer Treatment That's Forbidden in the US
Academy Of Comprehensive Integrative Medicine Offers Valuable Training For Both Doctors And Laypeople