Plant-based Solutions to World Hunger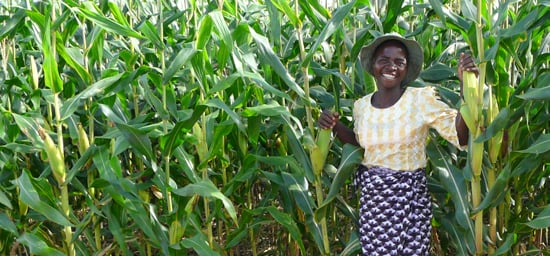 photo via Flickr
Giving a charitable gift in honor of a loved one can be an appealing way to celebrate a birthday or other gift giving occasion. Charitable giving provides an opportunity for the giver and receiver to engage in a truly meaningful exchange. There are countless organizations doing great work, so choosing one to support can be daunting. Some organizations like Heifer International offer animal-gifting as an alternative to a purely monetary donation. For example, rather than donating $500, one can purchase a cow to be given to a family struggling to survive in Africa.
Heifer International's gift catalog includes many types of animals available to purchase for needy families to use as food or a revenue source from the sale of milk, eggs, wool or other animal products. The animals are often pictured with smiling children suggesting a positive experience for all involved. Unfortunately, introducing farmed animals into communities with limited resources in developing countries is problematic for many reasons.
Animals can be more of a burden than a benefit when the amount of water, food and care required is factored in. In the absence of the necessary resources, animals are at risk of suffering from starvation and medical issues that cannot afford to be treated. In addition, animal agriculture is responsible for environmental degradation and human health problems, particularly in areas where the majority of the population is lactose intolerant, such as Africa.
An alternative to animal-gifting, which spreads the unsustainable practice of animal agriculture, would be to support an organization such as A Well Fed World. Their approach to solving some of the most crucial problems that developing nations face is a holistic one. By awarding project grants to groups encouraging plant-based solutions to the hunger crisis, they are promoting improved human health, environmental sustainability and the end of animal exploitation. Organizations that AWFW has supported include the International Fund for Africa, Mercy for Animals, NY Coalition for Healthy School Food and more than 100 other organizations. A Well Fed World's Plants-4-Hunger program was developed as an alternative to animal-gifting for those who wish to support humane approaches to solving the world's hunger crisis.
Laurie Johnston is a graphic designer and the co-owner of Two Trick Pony, an eco-friendly stationery company. She advocates for animals and healthy food choices and blogs for Spirit of Change Magazine.