Project New Hope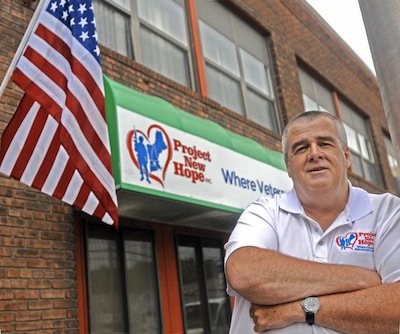 My name is Bill Moore and I am the founder and president of Project New Hope Inc., in Worcester, MA. Since starting PNH in January of 2011, I have introduced holistic treatments to veterans and their families through my free weekend retreats. I am looking for more holistic professionals interested in volunteering.
Project New Hope's motto is "Where Veterans Rebuild with Honor." We are a 501(c)3 nonprofit founded in 2011 by myself, a disabled veteran, to help other veterans transition to civilian life. We offer veterans and their families healing retreats at a 250-acre camp and conference center 30 minutes from Worcester. As of 2014 we now offer ongoing support groups at our new "storefront" drop-in office on James Street in Worcester.
Unique in New England, PNH offers 3-day retreats at no cost to veterans, spouses and children that feature therapeutic workshops and non-traditional treatments offered by licensed practitioners, combined with something rare in their lives — just plain fun around outdoor activities, games and movement.
Veterans have quickly taken notice of our special services. In 2011 we served 157 veterans. In 2014 we will serve our current maximum of 350 at 7 retreats, plus another 75 at our Worcester support groups. We invite a maximum of 50 participants for each retreat to ensure high quality and confidentiality. We take no notes on individuals, we ensure that their privacy extends to the photos on our website, and we make no reports to the military or the government.
Our veterans and military families face many challenges, such as reintegration into the civilian community, invisible wounds from post-traumatic stress disorder or traumatic brain injury, domestic violence, special stressors on children, addiction, thoughts of suicide, Gold Star survivor families, and (for women who serve) military sexual trauma. With 66,000 veterans in Worcester County alone, the demand for our services is growing each year, much of it by word of mouth.
About one-third of our veterans are from Worcester and the surrounding communities, another third from Massachusetts and the remainder primarily from other New England states. In order to learn more about how the veterans have used the lessons learned at retreats, in 2014 we began conducting quarterly follow-up calls for a period of a year. This longitudinal data will help PNH to refine its work and gather more suggestions for other services we might provide in the future. We also provide participants with information on additional resources pertinent to their situation on an ongoing basis.
Project New Hope operates on a fully volunteer basis. Our very hands-on board of directors (all veterans or from military families) currently fulfill all staff functions. We could not do our work without the rich network of partners with whom we make cross-referrals: the Worcester Police Department, LUK Inc., Veterans Inc. Massachusetts Rehabilitation Commission and many more.
Please call William Moore at 774-243-7859 to volunteer or visit www.projectnewhopema.org for more information.