Regeneration Thursdays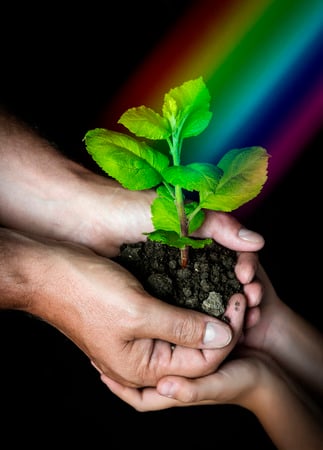 On November 9, members of the Organic Consumers Association and our Regeneration International team woke up in Marrakesh, Morocco, to the sobering news that Donald Trump would be the next president of the U.S.
News that an unabashed climate denier, with help from a Republican-controlled Congress, would soon control policies governing climate, food, agriculture and so much more reverberated throughout the COP22 Global Climate Summit where we, and thousands of people from around the world, were gathered.
We were briefly tempted to descend into despair. But once we caught our breath, and as we looked around us at all the inspiring work being done, all the collaboration taking place, the minds and hearts and hands working in unison to heal our planet, we bounced back.
We were grateful.
The road ahead, the path toward abundant nutritious food for all, toward healthy economies and communities, toward healing a planet in crisis, may not be easy. But it's a journey that has great potential to heal so much, and so many, on so many levels.
With demonstrably degenerate Climate Deniers in control of the White House and the U.S. Congress for the next four years, we have no choice but to step up our organizing and our actions, from Main Street to Morocco. Every concerned citizen in the world needs to become an active communicator, starting with family and friends, reaching out to all those willing to listen and make change. Circles of concerned friends and acquaintances must evolve into Circles of Resistance and Regeneration.
Every food, justice, health, peace and democracy activist needs to "connect the dots" between the burning issues and become a climate activist. At the same time, every climate activist needs to move beyond tunnel-vision single-issue organizing to a holistic "Movement of Movements" approach. The first step in global resistance, the first step in regenerating our toxic political, energy, food, farming and land-use system is to broaden our awareness and our consciousness, to break down the walls and the single-issue silos that have held us back from building a truly local-to-global Movement of Movements. Our new Internationale, our new Regeneration Movement, must be powerful and inspirational enough to enable us not only to survive, but to thrive.
On January 12, 2017, organic, climate, natural health, environmental, peace, justice and regeneration activists across the U.S. and beyond will launch Regeneration Thursdays. The plan is to organize, on the second Thursday of each month, community self-organized meet-ups at designated locations, such as brew pubs and community restaurants. These social gatherings, part celebratory, part serious discussion, are intended to break down walls, make new friends and allies, generate camaraderie, explore potential cooperation, and eventually build up greater grassroots marketplace and political power.
Our hope is that regeneration meet-ups will catalyze and inspire a new dynamic, with activists or would-be activists from all of our Movements—food, climate, peace, justice, natural health, democracy—coming together on a regular basis to celebrate, commiserate and cooperate, to share organic and local food and drink, and to discuss how we can build a stronger synergy between our various efforts and campaigns. Regeneration Thursdays is envisioned as an ongoing campaign, starting small but over time taking root and spreading virally into hundreds, and eventually thousands of communities.
The Organic Consumers Association and Regeneration International, along with some of our closest allies, have pledged to provide resources (including organic food) in strategic communities to get the Regeneration Thursdays meet-ups going. Part of the preparation for Regeneration Thursdays will be to work with local regenerators to strategically identify and invite key people, especially youth, who share a broad vision for moving beyond single-issue organizing and campaigning to a more holistic and powerful Movement. If you and your circle of friends or organization are willing to help organize a Regeneration Thursday in your local community, please send an email to: campaigns@organicconsumers.org
The crisis is dire. The hour is late. But we still have time to turn things around. Don't just mourn. Please join us as we organize, educate, mobilize and regenerate.
Ronnie Cummins is international director of the Organic Consumers Association and a member of the Regeneration International steering committee.
To support OCA's work, click here.
To support OCA's Regeneration International project, click here.
You can learn more about our Cook Organic Not The Planet campaign here.
See also:
How To Raise An Environmentalist
Extinction On Your Plate?