Report Finds Flint Water Crisis May Have Killed 119—Nearly 10 Times Official Death Toll
The findings come as a judge delays a trial for Michigan's health chief.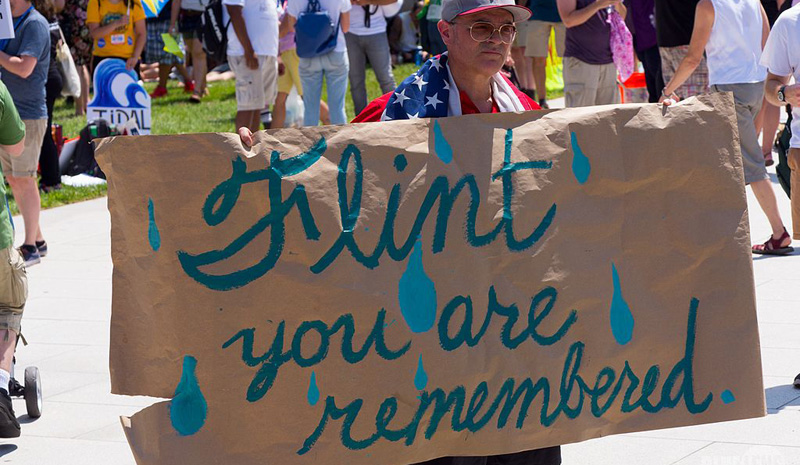 Less than a week after a federal watchdog blasted all levels of government for their failures to prevent and quickly respond to the water crisis in Flint, Michigan, an ongoing investigation by PBS's "FRONTLINE" found that the death toll may be much higher than the official number reported by the state.
Officially, 12 people died from exposure to waterborne legionella bacteria during the 18 months that the city of Flint drew its water from the Flint River in 2014 and 2015. A FRONTLINE investigation found that the actual death toll might be much higher. https://t.co/OigUhx5Nrn pic.twitter.com/TxID0oF6La

— FRONTLINE (@frontlinepbs) July 26, 2018
The investigation—which centers on Legionnaires' disease, a form of pneumonia caused by the legionella bacteria—comes from an extensive review of six years of death records, and interviews with families of the deceased as well as several epidemiologists and infectious disease specialists.
As "FRONTLINE" reports:
Officially, 90 people were sickened and 12 died from exposure to waterborne legionella bacteria during the 18 months that the city of Flint drew its water from the Flint River in 2014 and 2015. But FRONTLINE's investigation has found 119 deaths from pneumonia during that time, some of which scientists say could actually have been caused by legionella.
[…]
If the death toll is higher, as the records and interviews suggest, a 15-month delay by state officials in notifying the community about the legionella outbreak may have cost even more lives than the deaths state prosecutors have cited in an ongoing criminal case.
The findings were released just ahead of 67th District Court Judge David Goggins's Wednesday announcement that he was delaying a decision about whether Michigan Department of Health and Human Services Director Nick Lyon will stand trial for his handling of the crisis. He faces felony charges of involuntary manslaughter and misconduct in office as well as a misdemeanor charge of willful neglect.
State-appointed Special Prosecutor Todd Flood has argued, according to The Detroit News, that Lyon "had the chance to save lives" when he learned about a Legionnaires' spike in January 2015, but he failed to do so.
"He had one motive and one motive only, and that was to push this under the table," the prosecutor asserted in court. "This is politics at its worst."
While the case against Lyon focuses in part on the death of two Michigan men, as "FRONTLINE" noted, "Flood recently introduced a stack of death certificates showing that deaths from pneumonia in Flint skyrocketed in the months after the city switched its water source. He also argued in court that some of those deaths could be misdiagnosed cases of Legionnaires' disease connected to the outbreak."
The health chief's defense attorneys, The Detroit News reported, "countered that Lyon runs a department of 14,000 employees and relied on the expertise of department employees, none of whom recommended issuing a public warning. They also argued the prosecution failed to make any connection between Lyon and the men's deaths, arguing they died from long-term diseases but not Legionnaires'."
Goggins is expected to announce his decision about Lyon's trial on Aug. 20. Meanwhile, as progressive gubernatorial candidate Abdul El-Sayed pointed out in a tweet on Tuesday—the same day that the "FRONTLINE" report was published—"Flint still doesn't have clean water."
REMINDER: It's been 1,550 days and Flint still doesn't have clean water.

— Abdul El-Sayed (@AbdulElSayed) July 24, 2018
Jessica Corbett is a staff writer for Common Dreams. Follow her on Twitter: @corbett_jessica.
This article was republished from Common Dreams.
See also:
Can We Trust Our Drinking Water?
Do Not Send Us Bottles of Water. Instead, Join Us In A Revolt