Restoring Affordable Health Care Through Community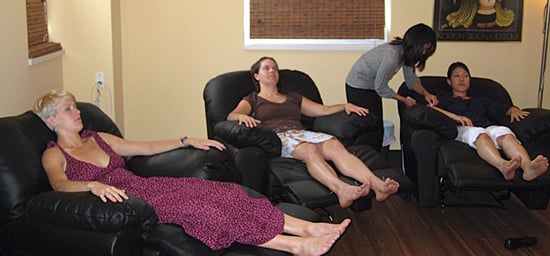 While Maslow's hierarchy of basic human needs begins with food, shelter and clothing, health is also a fundamental human need. The old adage, "If you don't have your health, you don't have anything," is very true. If we are sick or ailing emotionally, mentally or physically, the quality of our lives is dramatically compromised. Being sick can feel scary, overwhelming, isolating, lonely and vulnerable. Without care, health problems can ultimately end our lives.
Being denied access to care when we are ill is inhumane. Yet, too often, because the costs are prohibitive or the insurance system's bureaucracy locks us out, we don't know what options or resources are available, and we don't have time to find out until a crisis forces us to break through all the barriers and discover that the needed care is inaccessible. This is especially true for vulnerable populations like the very young, the very old, the poor, the growing middle class poor and immigrants trying to make their way in our country. Having information, resources and support to be healthy in all ways should be an inalienable human right.
When I was a small child, I remember going to visit my grandfather, who lived in Pawtucket, RI. His father, my great-grandfather, had dreamed of being a doctor. But he had to give up his dream to come to the United States from Austria, and raise a very large family. Perhaps, as a way of fulfilling their father's dream, the majority of his children pursued careers in medical fields.
My grandfather became a general practitioner. He told me stories of how when people came to see him during the Depression, if they were poor, rather than paying him, they would go home with a loaf of bread from his kitchen. The ethic I was brought up to believe in was one of community and care. If you had something that someone else needed, you reached out to the other person and you shared.
The evolution of the health care industry has shifted the focus from providing health and care to making a profit and operating as a business. The priorities of care delivery have been skewed by the profit motive: exotic specialties using highly technical tools abound while there is a shortage of primary care. Often the people who need the most costly sophisticated tools are very ill because they didn't get good primary care. The emphasis is on crisis management rather than preventive medicine.
Massachusetts' model of "universal health care," has actually increased the number of people falling through the cracks. The money that used to be available in the state's uncompensated care pool, a pool of money created by taxing hospitals and health insurers to create care for patients who can't afford it, is now used to subsidize health premiums for people who are eligible in the new state program. This means less money is available to care for people who are still uninsured, which often takes place in the emergency room.
Those who qualify for free insurance often encounter obstacles, as many practitioners don't accept this insurance. For those who must pay for insurance, the cost of insurance is significant. Many people just can't afford to pay the fee, and for people who spend their last dollar on insurance premiums, plans with high deductibles then leave them overextended to cover costs when health care is really needed.
Totally new and different community-based models are needed if we are going to meet people's health care needs and truly support well being and provide care. We need to build organizations that solve social problems as well as provide products and services. Our times call for social entrepreneurship, creating organizations that focus on community stakeholders, not just stockholders.
As I searched for examples of programs and organizations that were working to make health care more accessible and affordable, I was delighted to discover some inspiring efforts, which contribute to health and wellness at both the individual and community levels. While providing care and resources for individuals, they also bring people together to enrich the well-being of the entire community. Kristen Porter, executive director of Pathways to Wellness, calls this new health care vision "wellness together," where friends, businesses and members of the community can all share the experience of wellness.
Metrowest Free Medical Program
Congregation Beth El in Sudbury, MA has a long tradition of social action and social justice. "Part of our commitment to God is to bring healing, to help put together a broken world," reflects Sandy Sherizen, President of Beth El from 2000-2002, and a member who has been involved in the creation and development of the MetroWest Free Medical Program hosted at Beth El.
The program evolved after the congregation conducted a "listening campaign" to identify new ways for members to be actively involved in their community life. "A primary concern was health care," notes current congregation president, Les Holtzblatt. A physician who had established a successful free medical program at a Methodist church in Worcester, which has seen 10,000 patients over the last decade, began attending the congregation and wanted to bring his model to Beth El. "There was a convergence of interests and thoughts," acknowledges Holtzblatt. "The program was a great way to engage members to work in health care."
Sudbury is an upper middle class community surrounded by communities with strong needs, including Framingham, Marlboro and Maynard. As it turns out, Sudbury is centrally located for community outreach. The MetroWest Free Medical Program opened its doors at Beth El on Tuesday nights in November 2004, after a planning period of 8-9 months.
"When the program first opened its doors, we sent out a mailing to social service agencies," notes Gary Hirsch, current president of the MetroWest Free Medical Program. "People trickled in and in just a few month's time, we had over 20 people each week."
Members of the congregation volunteer as nurses, social workers, physicians, administrative help, and members of set-up and breakdown teams. 60-70 members of the Beth El community are currently volunteering. "In time, we started broadening, recruiting at nearby churches. People came to volunteer by word of mouth. Volunteering meets their needs to serve the community," reflects Hirsch.
The program currently provides services to 30-40 people each week. "Through times of high employment and low employment, high immigration and low immigration, having state health insurance and not having it, there is a consistent need," acknowledges Sherizen. Many patients are from Brazilian and Latino communities. When the program was established, a decision was made that nobody would be asked if they were here legally or illegally. Whoever came for care would receive it. The program provides translators to help patients communicate with the medical staff.
Originally, as people came to the program on a walk-in basis, the goal was to refer them to a community health center for ongoing services. However, with difficult economic conditions and fall-out from the mandatory insurance legislation passed in Massachusetts in 2006, more people are being crowded out of the medical system with less access to care. Services have evolved over time in response to the needs of people seeking treatment. The program is instituting more chronic care services such as a diabetes clinic, and programs for patients with hypertension and chronic asthma. Two new directions are cataract surgery and sleep problems. The program has also gotten into mental health, operating a community-based mental health program. A second site opened in November 2008 in Framingham at the First Parish Church. This site provides women's health and vision services.
In addition to providing care for those whose current medical needs are going unmet elsewhere, those involved in the program have also been working to tackle systemic issues that lead to the gaps in care in the first place, including meeting with state legislators to give visibility to the current reality. Preventive care is also a focus. "We're going to work with some of the churches that service the populations we serve to focus on preventive measures, such as diet and screening for silent conditions like hypertension and diabetes," envisions Hirsch.
Sherizen notes, "There is an irony that Boston is the home of such fabulous hospitals, yet many people will never come close to them. The program tries to bring some of the wonderful elements on a local basis. That is the essence of being a community."
The Community Acupuncture Movement and Pathways to Wellness
Acupuncture is one of the world's oldest and most commonly used healing systems. In China, it is practiced as a community-based medical practice, with several people treated in the same room at once. Worldwide, acupuncture has traditionally been practiced in group settings, rather than in the more American, 1-on-1, practitioner to patient style.
The community acupuncture model is so visionary in the United States, it has generated its own "movement." A pioneering leader in the movement is Lisa Rohleder, who co-founded Working Class Acupuncture in Portland, Oregon. Lisa founded her organization based on a belief that some of the greatest problems "for the acupuncture profession could be resolved by a radical restructuring of acupuncture delivery."1 The restructuring did not require anything new to acupuncture, just changes to commercial practice as it is conducted in the United States.
In a group setting, acupuncturists focus on points below the knee and elbow and on the head and neck, which allows the patient to remain fully clothed. Therefore, multiple treatments can take place in the same space. Patients relax on recliners rather than lying on treatment tables. Many people gain value from the community aspect of group treatment: having "company" on the healing journey is more relaxing for some people.
A group treatment model also allows for a more affordable fee. Rather than spending $60-150 for an individual treatment, a patient can use a sliding scale from $15-40. This allows people to receive acupuncture more regularly and frequently, because the care is more affordable, which allows the treatment to be more effective.
A local New England innovator in the community acupuncture movement is Pathways to Wellness, which was founded 20 years ago in Boston's South End and is incorporated as a non-profit. From its onset, Pathways has always provided the option of community-style or group room acupuncture treatments on a sliding scale of $20-$40, with patients deciding what they pay. Pathways has numerous specific programs, including clinics at Mass General Hospital, Tufts Medical Center, and the Zinberg Clinic at Cambridge Hospital. Group style seated acupuncture is available in the South End, Dorchester, Roxbury and at Lynn Community Health Center. In addition, free care programs exist for refugees, people with HIV/AIDS and veterans. Pathways also runs a homecare project for paraplegic and quadriplegic patients, providing 150 home visits per month. "I've designed and opened 15 hospital-based programs over the past 15 years," reflects Porter.
Pathways also offers individualized private acupuncture sessions on a sliding scale, based on income. "For anyone who comes in and pays full price for a service, a portion is allocated for low cost and free care programs," says Porter. "When people donate to us or use our services, they are contributing beyond their own personal wellness. They are also helping others achieve their wellness goals."
"It is our hope at Pathways that holistic medicine becomes a right for all, not a privilege," continues Porter. "You have an opportunity to contribute to the wave of this socially progressive holistic health care delivery system by becoming patients. Receiving community acupuncture can be seen as an act of advocacy."
Beacon Hill Athletic Club Community Wellness Program
As the fitness industry has evolved over time and moved towards "total fitness," the line between a health club and a wellness center has narrowed. Fitness has grown to include mind-body wellness, in addition to strong muscles and physical endurance. In an increasingly high tech world, where isolation is epidemic and people multi-task to preserve their ever dwindling times reserves, the health club becomes a multi-purpose community gathering place for social contact as well as physical fitness.
When Jason Klein and David Weis founded Beacon Hill Athletic Club 20 years ago, they were aware of not only people's fitness goals, but also people's social needs. Opening a health club in 1989 was a visionary pursuit. As Jason, David and general manager Mark Rowe write in their January 2009 letter to their members, "When we opened for business, there were no health clubs on Beacon Hill. People thought we were crazy. Health clubs were a 'fad,' a place where people went to lie around for spa treatments or to stand on machines where rubber bands would massage their rotund bellies."
Because of their commitment to community service and their devotion to the needs of their members and their communities, Beacon Hill Athletic Club has grown to include 8 health clubs in Greater Boston and Metrowest. Beacon Hill is unique in the fitness industry for its "friendly neighborhood health club" environment." Continuing their tradition of visionary leadership, as part of its 20th anniversary celebration, Beacon Hill Athletic Club is launching a Community Wellness Program. The goal of the program is to bring a conscious and visible focus to wellness as a way of life within a community. To do so, requires bringing together all of the stakeholders of the community: city government, complementary and traditional health practitioners, community organizations such as churches and temples, small businesses, hospitals, schools and the general public, and inviting them to collaborate on a common commitment to wellness.
The West Newton Club is building a pilot program in the city of Newton, the Newton Community Wellness Program. Beacon Hill member Linda Marks, and her colleague Alan Krentzel, who both work in mind-body medicine and hold graduate management degrees are collaborating with Mark and Jason to develop the program. The focus includes preventive care, not just crisis care when a serious health condition has already developed. The program will introduce people to complementary medicine and mind-body practices such as yoga, stress management, tai chi, qigong, meditation, relaxation, holistic nutrition, acupuncture and self-care, so people are aware of their options for wellness in their daily lives. The Community Wellness Program kicks off on May 16 with a Health and Wellness Fair. Local health and wellness providers will provide a menu of wellness options available for health and wellness in Newton.
The Mass Yoga Network Karma Yoga Program
Yoga is an ancient, yet increasingly popular practice that helps heal the mind, body and spirit. The Mass Yoga Network was founded in 1995 to help bring yoga to those who need it the most and are least served: people who lack access, income or awareness of programs. Its mission is to strengthen community, enable selfless service and provide support for yoga teachers and practitioners.
"Karma, the cycle of learning and healing," says MYN Karma Yoga Grant Coordinator, Betsy Simmons, "opens the door to altruism: the simple act of giving without expectation or return, recognition or reward. This is good for the immune system and the foundation of human existence." Through the Karma Yoga program, MYN has provided grants to bring yoga to populations who need it most. Two MYN funded programs are Yoga Warriors and Thriving With Yoga.
Lucy Cimini, founder of Central MA Yoga Institute in W. Boylston, MA, developed Yoga Warriors to "help combat veterans with post-traumatic stress disorder (PTSD) heal the wounds of war through the practice of yoga." PTSD is an anxiety disorder that many people experience after a traumatic event, and is very common when people have experienced violence, which is at the heart of war. PTSD symptoms include flashbacks, nightmares or difficulty sleeping, feeling detached, numb or dissociated, experiencing chronic anxiety, difficulty concentrating, chronic pain and difficulty functioning in daily life.
Lucy's program is a collaboration with the Worcester Veteran's Center, which offers counseling and support groups for veterans, in addition to Lucy's yoga classes. "I had a Vietnam vet in one of my regular yoga classes for 5 years," notes Cimini. "He asked me to do a class at the Worcester Veterans Center and six veterans wanted to continue." AS Lucy did more community outreach, more veterans learned about the work and now Central Mass Yoga now teaches two classes per week exclusively for combat veterans. Cimini will be teaching some Iraq veterans this year.
"The vets really love it," acknowledges Cimini. "Veterans come back from combat with physical ailments, and lose body awareness. Through movement and breathing they learn to calm themselves down naturally."
Through a MYN grant, Terry and Ajay Gupta created "Thriving With Yoga," yoga and meditation classes for women living with cancer. Classes are held in Manchester, NH, a city with a very large population of people living with cancer. Terry and Ajay's non-profit, "YogaCaps, Inc," collaborated with other community stakeholders to establish their program, including Team Survivor who refer women, the Franco-American Center, who offer space for the classes, and some locals businesses who have made donations. Students are recruited by contacting oncology directors at local hospitals and cancer support groups and program information is disseminated through the media, community organizations and holistic health fairs.
Ajay Gupta comments, "We believe that yoga heals, not cures. We are so inspired by how these women have confronted their own mortality. Yoga helps us live more fully in the moment and realize we are much more than this material body."
Creating a New Vision for Care: The Profit-Optimizing Organization
Restructuring health care, and solving many other social problems invites a revisioning of how we build organizations and how they operate. Rather than just the for-profit model, which operate out of a "profit-maximizing" philosophy, and the non-profit model, which is based on charity and fund-raising, relying on volunteers and minimally-salaried staff, we need to create a new model: the profit-optimizing organization.
In a profit-optimizing organization, we redefine the bottom line to examine how well we meet the needs of individual people and the community. When we provide quality products and services that meet real needs, profit is a by-product, rather than the primary goal. Rather than maximizing profit, or making no profit, the profit optimizing organization defines a profit that is enough to provide for the needs of its stakeholders.
Focusing on the needs of all stakeholders is good for the health of all. In doing so, we help revitalize communities, so individuals — both service providers and service receivers — feel connected to something larger than themselves. This is a recipe for individual and collective healing.
NOTES
1. From "Working Class Acupuncture: Revolutionary Business Model Creates Access, Fosters New Business," The Integrator Blog.
Linda Marks, MSM, a pioneer in body psychotherapy, author of two books, and a lifelong social entrepreneur, works with individuals, couples and groups in her private practice in Newton. Linda leads workshops on "Healing the Traumatized Heart," Stress Management," and "Healing the Intergenerational Traumatized Heart." You can contact her at www.healingheartpower.com, LSMHEART@aol.com or (617) 965-7846.
RESOURCES
: