Saving Gwendolyn: A Thanksgiving Miracle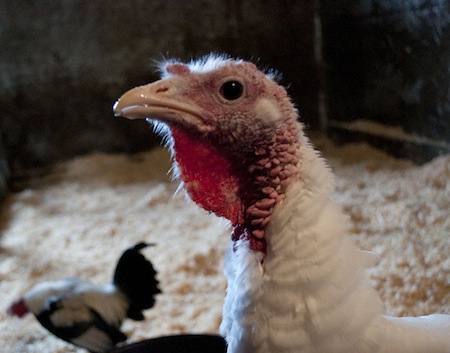 The day after Thanksgiving, Maple Farm Sanctuary in Mendon, MA got a phone call from a rather unexpected source: a hunter.
The hunter told sanctuary co-founder Cheri that he had been out looking for a wild turkey to shoot for Thanksgiving dinner but came across a domestic turkey instead. He could see that she had been injured and knew that she would not survive long on her own.
MFS does not condone hunting, but we were grateful for the act of compassion shown by this man and agreed to help the turkey. He brought her to MFS a few days after Thanksgiving and we named her Gwendolyn.
Cheri immediately examined Gwendolyn and determined that she had likely been attacked by a coyote or other animal. Fortunately her injuries were not too severe, and Cheri will be treating them to prevent infection.
Gwendolyn is now settling in at MFS in a cozy stall where she has lots of clean water, nutritious food, and room to rest. She has already begun making friends with some of our resident chickens and is sociable with people as well—she even responds with a soft purring noise when Cheri talks to her.
One of the first things we did when Gwendolyn arrived was give her a belated Thanksgiving feast of fresh vegetables and feed. We suspect she was being raised on a turkey farm or by an individual in order to become someone's Thanksgiving dinner, and we wanted to show her that she is now free to just be a turkey.
We are so happy to have Gwendolyn with us and know that she will be an amazing ambassador for turkeys and other farm animals!
Watch Gwendolyn's arrival below:
This article was republished from the Maple Farm Sanctuary website.
See also:
Ten Questions With Gene Baur, Co-Founder And President Of Farm Sanctuary
Awakening From Materialism: Vegans As Healers