Scary Dairy: You Scream, I Scream… Monsanto Roundup Ice Cream
Traces of "probable human carcinogen" found in samples from ten Ben & Jerry flavors.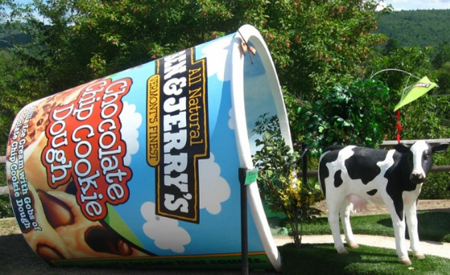 Ten out of 11 samples of Ben & Jerry's ice cream tested positive for glyphosate, the active ingredient in Monsanto's Roundup herbicide, the nonprofit Organic Consumers Association revealed on Tuesday.
Although the amount of glyphosate detected was below the safety limit set by the Environmental Protection Agency, as well as stricter European regulators, the discovery stands out from a slew of other food producers with Roundup-ridden products—from honey and baby food to Cheerios and Ritz Crackers—in part because of the ice cream maker's branding.
Ben & Jerry's stated mission is to produce "the finest quality all natural ice cream…with a continued commitment to incorporating wholesome, natural ingredients, and promoting business practices that respect the Earth and the environment."
OCA's international director Ronnie Cummins accused the company of "rampant greenwashing," writing Tuesday:
The proliferation of $90 billion worth of fraudulently labeled or advertised "natural" and "socially responsible" food products in the U.S. confuses even the most well-intentioned of consumers and lures them away from purchasing genuine organic or grass-fed products. Perhaps no company personifies greenwashing more than Vermont-based Ben & Jerry's. Ben & Jerry's history—a start-up launched by two affable hippies, from a renovated gas station in Burlington, Vt.—is legendary.
While acknowledging the amounts detected in Ben & Jerry's did not exceed federal limits, Cummins said, "Not everyone agrees with the acceptable levels governments have set…And, anyway, would you want to be eating this stuff at all?"
Glyphosate is the most heavily-used agricultural chemical in history, according to a study published last year. Since it was introduced in 1974, more than 2,300 Olympic-size swimming pools of the popular weed-killer have been sprayed on farm fields worldwide. Its widespread use is tied to Monsanto's production of "Roundup Ready" crops—crops genetically modified to resist the chemical. Because it's so widely used, traces of herbicide residue are often found in foods.
This has raised concerns among environmentalists and food safety advocates alike, because glyphosate has been linked hormone disruption, and there is a contentious debate over whether it causes cancer. Last month, California made headlines, and was lauded by environmentalists, when it voted to add glyphosate to its list of cancer-causing chemicals, as Common Dreams reported. In 2015, the World Health Organization designated the chemical a "probable human carcinogen."
Although the federal government tests foods for pesticides, it does not regularly test for glyphosate—so groups such as OCA have taken matters into their own hands. At OCA's request, an independent lab tested two samples of Ben & Jerry's Vanilla ice cream, as well as samples of Peanut Butter Cup, Peanut Butter Cookie, Phish Food, The Tonight Dough, Half Baked, Chocolate Fudge Brownie, Americone Dream, Chocolate Chip Cookie Dough, and Cherry Garcia. Traces of glyphosate, Roundup's key ingredient, were found in all but Cherry Garcia.
In light of the results, OCA has called for Ben & Jerry's "to begin an immediate transition to using only organic ingredients, including milk, in its products or face a national and international consumer boycott." The consumer group also demanded food stores drop the brand unless it commits to transitioning to organic.
"Ben & Jerry's profits are built on the back of an industrial dairy system that poisons the environment and produces pesticide-contaminated food products," said Cummins. "Ben & Jerry's sales, driven in large part by its deceitful claims, damage the organic industry by cutting into the sales of authentic natural, grass-fed and organic producers."
To emphasize the difference that a shift to organic could make, OCA also asked the lab to test the vanilla flavors from three organic brands: Alden's, Julie's, Three Twins, and the Whole Foods Market brand 365. Of those, only the Whole Foods 365 brand was contaminated with trace amounts of glyphosate.
Rob Michalak, global director of social mission at Ben & Jerry's, told the Times that the company is committed to using ingredients from sources that do not include genetically modified organisms (GMOs). As the Times reported:
None of its plant-based ingredients, for instance, come from a genetically engineered crop like corn or soy, where glyphosate is used in production. The company is also trying to figure out a cost-effective way for the dairy farms that supply its milk to use non-GMO feed.
"We're working to transition away from GMO, as far away as we can get," Mr. Michalak said. "But then these tests come along, and we need to better understand where the glyphosate they're finding is coming from. Maybe it's from something that's not even in our supply chain, and so we're missing it."
Cummins and Michalak both said the traces of glyphosate found in these samples were likely from added ingredients such as peanut butter and cookie dough.
Jessica Corbett is a staff writer with Common Dreams.
This article was republished from Common Dreams.
See also:
After The March Against Monsanto—What's Next?
FDA Stops Testing For Glyphosate As New Report Finds High Levels Are Found In Food