Seven Questions With Denise O'Brien, Farmer And Founder Of Women, Food And Agriculture Network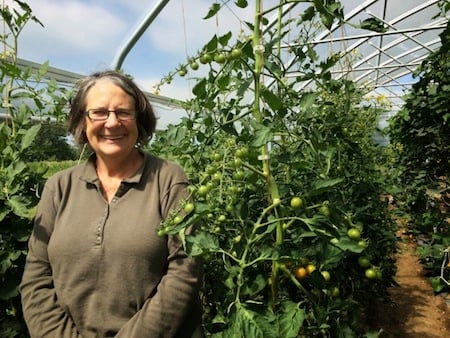 Food Tank recently had the opportunity to speak with Denise O'Brien, farmer and founder of Women, Food Agriculture Network, who will be speaking at the 1st Annual Chicago Food Tank Summit on November 16, 2016.
This event will feature more than 40 different speakers from the food and agriculture field. Researchers, farmers, chefs, policymakers, government officials, and students will come together for interactive panels, networking, and delicious food, followed by a day of hands-on activities and opportunities for attendees.
Food Tank (FT): What inspired you to get involved in food and agriculture?
Denise O'Brien (DO): Forty years ago I married Larry Harris, who had recently returned to his family's farm to become an organic farmer. So first of all, he is my inspiration. His daring to be an organic farmer in 1976 against everything that was being taught was quite courageous.
Once involved in farming, it was clear to me that women were invisible in their contributions to the farm. I became inspired by the hardworking women farmers who wouldn't even call themselves farmers—they were farmer's wives. They were my source of energy as I launched Women, Food and Agriculture Network.
FT: What do you see as the biggest opportunity to fix the food system?
DO: I see the next generation of farmers taking on the issue of fixing the food system. We all need to work with them to ensure a profitable farm that provides them with income to live, so they can supply healthy and nutritious food to our communities. The next generation of food activists has the opportunity to turn the system around. All of the children who are participating in school gardens and in determining what they eat in their cafeterias will make sure that a healthy food system will be in place that will address issues of justice, access, and fairness; that good food is a human right.
FT: What innovations in agriculture and the food system are you most excited about?
DO: I am excited about all the electronic tools there are for marketing and educating. I have been able to communicate with my CSA members to let them know how to use the produce that is produced on our farm. The availability of resources to help me farm smarter is quite remarkable. I can keep accurate records with the touch of my fingers.
I am also excited by all the innovation that is going on in schools across the country. School yard gardens will inspire youth to engage in producing good, healthy food.
FT: Can you share a story about a food hero that inspired you?
DO: Joan Dye Gussow is a nutritionist, educator, writer, and gardener. She was one of the first experts to advocate, as early as the 1970s, that we "eat locally, think globally." She inspired me to be a food activist by her writings and by her activism in food system work. Joan's tireless work to change the way our food system is structured and her education efforts have influenced a lot of people throughout this country and the world.
FT: What drives you every day to fight for the bettering of our food system?
DO: Every day I read about and observe the side effects of poor food choices and the lack of food choices in our food system. I am driven by the challenge it takes to overcome the corporate stranglehold on our food system. By being an organic farmer, I can be a model for a new generation of farmers to take up the cause of growing healthy and nutritious food.
FT: What's the biggest problem within the food system our parents and grandparents didn't have to deal with?
DO: Food that is unhealthy—highly processed with high amounts of sugar and salt. When our parents and grandparents grew up, many had gardens that provided the vegetables and fruit they would consume. The industrial model of agri-business was just emerging and hadn't impacted food as it does today.
FT: What's the first, most pressing issue you'd like to see solved within the food system?
DO: I would like to see the corporate influence on public health and agriculture policy lessened. There are too many influencing the health and agriculture policy that take too many short cuts when it comes to the bottom line of profit. The bottom line in our country should be the health of our citizens, not the profit margins of large corporations that use the public as guinea pigs with new products like the GMOs that are so heavily used in agri-business these days.
FT: What is one small change every person can make in their daily lives to make a big difference?
DO: Every person can make a difference by buying locally grown, healthy produce to feed themselves and their families. By supporting local farmers, every person can support the local economy. By purchasing produce directly from farms, every person can feed themselves better and help the economy grow.
FT: What's one issue within the food system you'd like to see completely solved for the next generation?
DO: The issue I would like to see resolved is the high intake of processed foods. Those foods are the culprits of poor health, causing high blood pressure, diabetes, and obesity. We need to, as a nation, be concerned about our health and the health of those around us.
FT: What agricultural issue would you like for the next president of the United States to immediately address?
DO: I would like to see the next president of the United States further improve the healthcare delivery system in our country. By that, I mean that we should have healthcare for all and have an emphasis on prevention rather than treating disease.
The health of our children is critical for them to become the next leaders in our country. If they suffer from obesity and all sorts of food related diseases, they will be hampered in becoming the exceptional leaders we will need as this country confronts climate change.
This country needs a leader who will crush the influence of the very few players in agriculture and food policy. Agriculture policy has been skewed to reward the bad actors—policy has been geared towards all-out production as opposed to conserving our natural resources.
I would like to see the next president give priority to the people who are raising healthy, nutritious food while working to build the soil and making the land healthy. Farmers, who are raising food for people to eat, as opposed to commodities, should have a status equal to that of a doctor. Farmers are the ones that grow the food that can make our bodies healthy; they should at least be able to make a living doing this work. Small farmers can help mitigate the influence of climate change on our planet.