Some Of The Billions Of Organisms That Keep Our Soil Healthy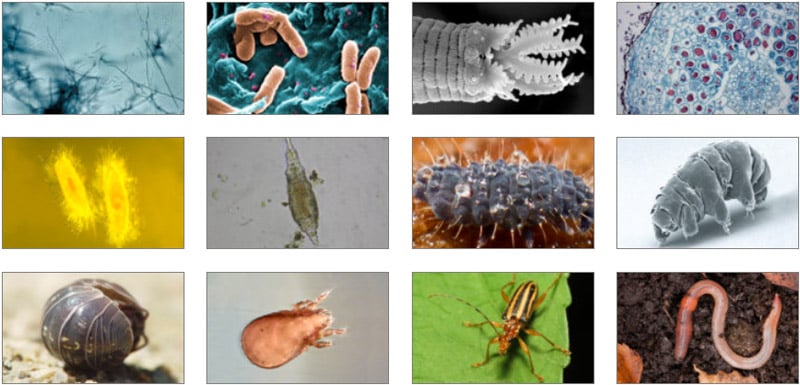 Visit https://ensia.com/photos/soil-biodiversity/ to see full sized images and description.
---
Long overlooked as just dirt beneath our feet, soil has taken on increasing importance as we recognize its fundamental role in everything from agriculture to climate change to human health. So, too, with the organisms that call it home.
Soil is filled with more biological diversity than any other habitat on Earth. Its food web consists not only of worms and beetles and other well-known, easily visible animals, but also microscopic organisms from bacteria to fungi to protists. They all play a vital role in keeping soil healthy. They help nutrients move through the soil. They are responsible for moving, storing and filtering water. They capture carbon and other greenhouse gases. They support healthy plant growth.
And that's just scratching the surface. It's the living organisms, it turns out, that make soil soil rather than dirt.
From intensive agriculture to mining, human activities have compromised the health of soil and its inhabitants, to the point that researchers and global institutions including the United Nations are raising alarm about the speed at which the world is losing fertile soil. Pesticides, soil tillage, loss of organic matter, habitat loss and changes in how land is used generally are all key threats to soil biodiversity, although it's virtually impossible to pinpoint specific threats to individual soil organisms.
"It is really hard to determine or see which fungus killed a bacterial-feeding nematode," says Diana Wall, soil ecologist at Colorado State University and a member of the National Academy of Sciences, because of the very fact that it all happens underground. That is why, she adds, "destruction of their soil habitat where they evolved is the biggest threat."
Increasingly, however, some are treating soil with greater care — through regenerative agriculture, for example — and working to build it back where it has been degraded. And researchers around the world are investigating what lives in soil, what makes those organisms healthy, and how we can best protect them. Projects like the the Global Soil Biodiversity Initiative, African Soil Microbiology Project, China Soil Microbiome Initiative, Biome of Australia Soil Environments (BASE) in Australia, sWORM, and Land Use/Cover Area frame statistical Survey (LUCAS) in Europe have been characterizing, or applying knowledge related to, soil biodiversity — essentially taking censuses of below-ground organisms around the world. Their rationale: The more we know about life underground, the more we can do to preserve it.
In 2014, researchers documented about as much biodiversity in the soil in New York City's Central Park as anywhere else in the world. Here, we look at some of the kinds of organisms that are known or thought to live in the famous park.
Rachel Cernansky is a freelance journalist. She writes about the environment, focusing primarily on water, coal ash and sustainable agriculture, as well as immigration and human trafficking for a variety of publications, including the New York Times, National Geographic News, Grist and Smithsonian.com. A New York native, she now lives in Denver. Follow her on twitter.
This article was republished from Ensia.
See also:
'The Dirt Cure:' Why Human Health Depends On Soil Health
New Life For Toxic Land