Spring Food Renewal
Lighten up with nutrient-dense, plant-based eating this spring.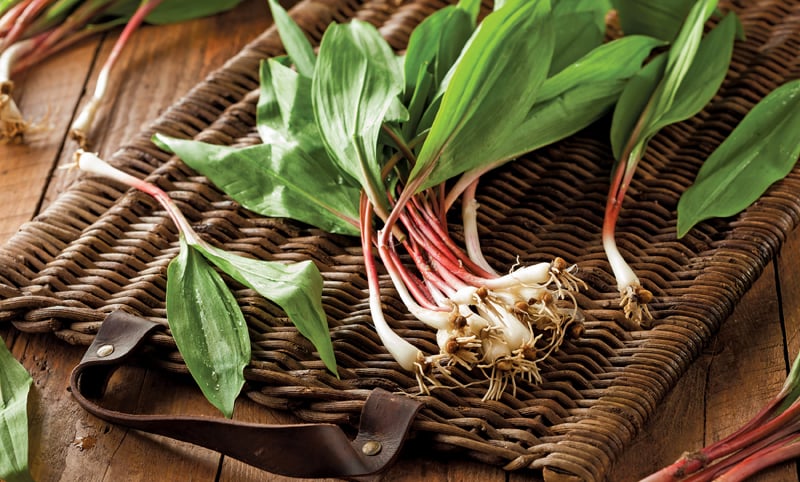 The wheel of the year turns again. A wild ride of a winter is finally in the rearview mirror and spring is announcing itself everywhere. With it comes plant medicines we need now, springing from the earth itself: dandelion, garlic basil, ramps, and other bitter greens. I love how obvious and clear that invitation is. Simple and direct.
The invitation to heal, clear and reconnect is one of relationship. Many of us, when it comes to food, are not always so relational. We feel hungry, see it, enjoy it and move on with our day. We don't think much about what our food has to say to us, if it has desires or needs. What do you think your food would ask of you if you could only hear it? How might that conversation go?
For many, food is our primary interface with nature. By waking up to the two-way relationship potential you have with each bite you take, you may find yourself more deeply aware of your place in the magnificent web of life and nature that holds you and everyone else.
How might you hear what your food has to say? Begin by heeding the messages of your own body. How does your body feel, what is the quality of energy and thinking like after a particular meal? While it takes some time and attention (journaling and meditation can help), you can become skillful at discerning your body's food-related messages.
Several years ago I learned a shamanic technique for communicating with plants. In plant spirit healing, as taught by herbalist and educator Pam Montgomery, you learn to open your heart to a plant, court and honor it, then connect and communicate. Through that practice of opening energetically to the wisdom of plants and nature, I know that if you listen they will speak to you. I find that connecting is a practice of remembering, and is the codification of an approach to something many of us do naturally — talk directly to plants. Green beings often ask you to show up more deeply for your own true nature and to be in deeper alignment with the natural world.
I'm still in mild shock at last year's news that we may be loving ramps, once a common wild plant found growing in forested areas throughout the country, right onto the endangered list. Can we enjoy the gifts of the earth but not consume the last, or even close to the last of the gifts? Can we instead tend and share and cultivate and enjoy? It's human nature to go overboard, to give in to the belief that if some is good, more must be better. If you feel that desire to consume, which is our nature, just know we can operate differently and find joy in a tending relationship with food and nature.
The whole political upheaval of this last year tells me that it is time to cultivate strength and clarity, time to get off the sidelines. It's also about acting in deeper alignment to your true calling. How you eat is a part of that.
So go ahead and lighten up this spring. In addition to taking a sabbatical from sugar, alcohol, and processed foods, you can keep it rolling and clean out your closets, your kitchen, your home and life. I often find that when I take a sabbatical from a food I've been overdoing, after a while I can reintroduce it without going overboard.
Here are a collection of recipes that can help you lighten up and lean toward nutrient-dense, plant-based eating this spring. Enjoy the season of clearing and awakening.
Cashew Cream
Would you like a recipe that can, in one fell swoop, transition you joyfully to a more plant-based diet? Cashew cream just might be that recipe. It is a fantastic vegan substitute for dairy cream and creamy cheeses like ricotta or cream cheese. It makes a killer Alfredo sauce over vegetables. It is absolutely divine in a lasagna, as a whole or partial substitute for ricotta. Best of all, it is very easy to make (though you do need to soak the nuts overnight). Whip up a batch and you'll see what I mean.
1 cup raw cashews
water for soaking
1/2-3/4 cup additional water
juice of 1/2 lemon
1/2 tsp nutmeg
salt and pepper
Soak cashews in water overnight. Drain and rinse. Place all ingredients in a blender, and process until smooth and the desired consistency is reached. Use less water if you are aiming for a thicker cheesier consistency, and more water if you are aiming for a creamier consistency.
Variations: add garlic, ginger, scallions or other herbs and spices to taste.
Black Bean Salsa Salad
Here's another versatile recipe that you can modify by adding your favorite vegetable or herb.
1 16 oz can black beans
1 cup frozen corn
juice of 2 limes
two or three slices of red onion, chopped, makes about 1/4 cup
1/4 red pepper, chopped
1/2 cup fresh cilantro
1/2 tsp Tabasco sauce or other hot sauce of your choice
1/3 cup extra virgin olive oil
salt and pepper, to taste
Toss and enjoy. Could not be easier. This is a recipe that, while delicious, can be better the second day due to marinating.
Vegan Red Lentil Stew
Here's a nutrient packed red lentil soup or stew for a warm early-spring infusion of tasty goodness. Coconut and tahini make this rich and satisfying.
1 large yellow onion, chopped
5-6 medium carrots, cleaned and chopped
Small bunch celery, chopped
1 cup dry red lentils
2 1/2 cups water
1/4 cup turmeric
2 Tbsp olive oil
2 Tbsp coconut manna or coconut cream
3-4 thumbs-sized piece of fresh ginger, cleaned and chopped
1 large clove garlic, chopped
3 Tbsp tahini
1/2 cup fresh parsley, chopped
Toss onions, carrot and celery into a large stockpot, add olive oil and sauté until vegetables are soft and there's a smidgen of browning. Add remaining ingredients, except parsley, and simmer on low for 40 minutes, stirring occasionally. Stir in parsley and enjoy.
Wild Mustard Asparagus Soup
Please resist the temptation to spray weed killer on your lawn, as it is filled with nutrition free for the taking. Eat your weeds instead! Wild garlic mustard, for example, is considered an invasive weed that grows profusely throughout the U.S., but is also a nutrient-dense green with a flavor similar to basil plus a little added garlic. If you use garlic mustard in the spring as an herb or salad green, its leaves are quite delicate and loaded with antioxidant vitamins and minerals. Eating a little something wild everyday connects us more deeply to nature. This light green spring soup recipe is perfect for spring nutrition: the garlic mustard and asparagus is bursting with glutathione, the mother of all antioxidant and a detox power food.
15-20 stalks asparagus, snapped into 2-inch pieces
5 stalks celery, chopped
2 Tbsp good quality olive oil
1 scallion, chopped
15 oz chicken or vegetable stock
2 cups fresh wild garlic mustard leaves (or a mix of fresh basil and chive for those without wild garlic mustard growing in their yard)
2 tsp Dijon mustard
1 Tbsp grass-fed butter
4 Tbsp toasted sunflower seeds
salt and pepper to taste
Saute celery in olive oil in a heavy soup pot until soft. Add scallion and asparagus, and continue to saute until vegetables are soft. Add stock, garlic mustard leaves and Dijon, and simmer on medium-low for 15 minutes. Blend with an immersion blender. Stir in butter until melted into soup. Add salt and pepper to taste, and serve warm, topping each bowl with a tablespoon of toasted sunflower seeds.
Spicy Sweet Potato Coconut Soup
This soup is delicious, ridiculously nutrient dense, and is easy, but takes time. So, it's a great soup if you are hanging around the house for a half day. It entails making a base of sautéed vegetables and spice, then cooking and blending the base with sweet potatoes, and stirring in a blended cream of coconut, cashews and fresh ginger. Yum — sweet and spicy and creamy and healthy. Serves 4. Freezes well. Takes about 2 1/2 hours start to finish.
4 medium carrots, chopped
4 large stalks celery, chopped
7 scallions, some separated whites from greens, diced
1 large red pepper, seeded, chopped
3 tsp (heaping!) turmeric
1 Tbsp coconut oil or cream
2 tsp toasted sesame oil
5 cups water
2 med-large sweet potatoes, peeled and cubed
15 oz canned coconut milk
1 cup raw cashews
3 Tbsp fresh ginger (about 4 thumb-sized pieces)
1/2 tsp cayenne pepper
black pepper to taste
sprig or two of fresh cilantro
In a heavy soup pot, melt coconut cream or oil, and add carrots, celery, and 4 chopped scallions. Sauté over medium heat until soft. Add turmeric, a few twists of the mill of black pepper, and continue sautéing until this base is soft and smells flavorfully roasty.
Add sesame oil, water, and sweet potato to the vegetable mixture. Simmer over medium heat until sweet potatoes are soft, 30-40 minutes.
Meanwhile, combine coconut milk, cashews and ginger in a blender. Blend until smooth. Pour this delicious mixture into a small bowl or cup.
Then blend the sweet potato mixture – use a blender on the cooled soup or use an immersion blender. Return to pot. Top with chopped scallion greens and sprigs of cilantro.
Stir the coconut mixture into the sweet potato soup. Season with cayenne pepper to desired heat. Top with chopped scallions and cilantro.
Annie B. Kay, MS, RDN, E-RYT500, is an integrative dietitian, yoga therapist, and plant spirit healer. She is an award-winning author of 2 books, Senior Faculty at Kripalu Center for Yoga & Health, teaches internationally, and blogs at anniebkay.com.
See also:
Hungry In New England
Healthy Eating: Roasties and Sea Salt