Sprouts Are The Ultimate Superfood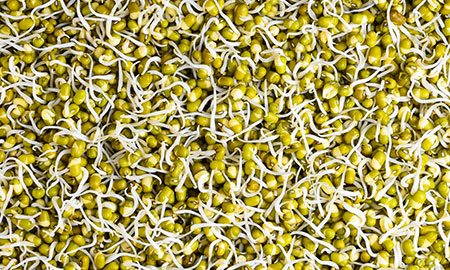 Sprouting is the easiest, most inexpensive way to stay on top of your health. Sprouting vegetables takes just a few minutes a day. You don't need soil or sunshine to make it happen. All you need is filtered water and affordable equipment, most of which you probably already own.
What Are Sprouts?
Sprouts fall into the category of raw vegetables. It's when plants are in their baby stage, but these are mighty babies, indeed. Despite being a part of the process towards full-grown plants, sprouts are considered whole vegetables.
Sprouts are an ancient food with the potential to feed the world in case an apocalypse takes place because they boast the highest concentration of nutrients you can get for the lowest possible cost. Their growth takes anywhere from 3 to 5 days. There is literally no food on Earth more nutritious than sprouts. Grow sprouts and you'll always have a durable source of nutrition in your kitchen.
Are Sprouts the Same as Microgreens? What About Shoots?
Not really. Although sprouts and microgreens are often used interchangeably, there's a difference between them. Sprouts are grown in a jar and germinate in water. They're smaller and less developed than microgreens.Microgreens, on the other hand, precede mature vegetables and are grown in trays or soil. They take twice as long as sprouts to grow, falling in the range of one to three weeks. Sprouts, on the other hand, can be enjoyed in under a week. Shoots are a phase somewhere in between sprouts and microgreens.
Sprouts: The Superfood That Kept Me Nourished in the Desert
I started sprouting 21 years ago. When I moved from NYC to the Mojave desert in California, I was hours away from the nearest whole foods store, so I needed to sprout out of necessity. Immediately I started reaping the benefits.
With a family history of stroke, cancer, diabetes, and heart attacks, I decided to do things differently. Back in New York, I remember being 36 pounds heavier and only eating junk food (the type who eats McDonald's for lunch and half a gallon of Coca-Cola every day). Today, at 54 years old, I'm in the best shape of my life, feeling the best I've felt in years.
Think about it: it takes weeks, months, even years for vegetables and fruit-bearing trees to fully develop. Sprouts are edible within a week, and you don't need soil or sunshine to grow them.
Why We Should Be Eating More Sprouts
As seeds are developing into sprouts, they have a high concentration of micronutrients, phytonutrients, antioxidants, polyphenols, soluble and insoluble fiber. For instance, one cup of sprouted lentils has double the amount of antioxidants of regular lentils.
You're also tripling the vitamin C intake with sprouted lentils. You're activating the soluble and insoluble fibers, which makes them a great prebiotic. One cup of sprouted lentils contains 7 grams of protein.
Broccoli sprouts are high in sulforaphane, the hero compound found in cruciferous vegetables known for anticancer effects. Broccoli sprouts contain 10 to 100 times more of it than mature broccoli plants or cauliflower.
The most exciting thing about sprouts is that they increase nutrient bioavailability, which measures how easily a substance is absorbed by the body. One of the ways to get the most nutrients from your food is eating it as soon as it's been harvested. With sprouts, you won't be separating them from their "source" (the roots), and therefore they won't lose vitamins.
What Do Sprouts Taste Like?
Some sprouts have a mild flavor, some of them can have a grassy flavor. They're mostly crunchy. Broccoli sprouts can taste a little like a finely chopped salad when raw or similar to steamed spinach when cooked. Granted, sprouts aren't necessarily tasty, so don't expect them to blow your mind. When used in other recipes, the taste might go unnoticed. The only thing you'll notice is the crunch.
How Much Does Sprouting Cost?
It's unbelievably inexpensive, as little as 25 cents a day. So inexpensive you can buy seeds in bulk and save a lot of money. I've even bought 14kg of seeds one time. If you're buying bulk, store the seeds in the freezer.
All you need are seeds and some basic tools you might already have around the house. They don't even require soil or sunlight. Sure, you can buy readily available sprouts in the supermarket, but it can cost more (about 5 dollars), while you would spend less than a dollar to sprout them on your own.
Buying Sprouting Seeds and How to Test Them for Germination
You should only buy seeds from people or stores that specialize in seeds for sprouting and are certified organic and clean. Quality, organic seeds tend to have a higher germination rate. Germination rate important because if your seeds don't sprout, your sprouting efforts will be in vain since they'll create mold. It's crucial that you calculate the germination rate before starting the process. Here's how to do it:
Try and sprout ten seeds. You can do this by placing them on a moist paper towel, fold it, then place the folded towel into a regular Ziploc bag. If five out of those ten seeds germinate, that's a 50% germination rate. If only two germinate, that will be a 20% rate, which isn't considered good enough to use the seed. Some seeds will take longer to germinate. For instance, clover and alfalfa seeds take about 5 days, whereas broccoli seeds can take a few more.
How to Conveniently Grow Sprouts at Home

Sprouting at home is easy, low cost, flexible, accessible, and exciting. The goal is to mimic nature and create a favorable environment for the seed to germinate. You can use broccoli, sunflower seed, chickpeas, mung beans, alfalfa, clover, and more. You have a lot of options to choose from.

The tools you'll need are:
A mason jar

A sprouting lid (less than $10!)

Seeds, preferably organic

A sprouter

A salad spinner
Soak seeds overnight for eight to twelve hours
Soaking jump-starts the process, allowing the seed to absorb the water and become malleable so it's easier to sprout. Before you go to bed, put your seeds (about 2 or 3 tablespoons) in your sprouting jar of choice. Then place your lid on top. Right after that, add 2-to-4 cups of water. Water quality matters. Only use filtered water you can pour or spray. 
Next, give it a slight swirl to clean the seeds. Dump the water, and fill the jar again with the same amount of water, only now, you'll let it rest overnight. The ideal sprouting temperature is 65 or 70 degrees, so you can safely let the jar rest on your countertop. You should see a little white root (tail) coming out in 12 to 24 hours.
Rinse and drain your seeds
The next day, you'll want to grab your seeds that have been sitting overnight and pour the contents of the jar into the sprouter. Next, rinse your seeds. Yes, again. You may see a bit of foam forming. Rinse them until you no longer see any foam. Now let them drain, and once that's done, put a lid on the sprouter. Let them sit overnight.
Repeat the process for 3 to 5 days
Rinse. Drain. Let sit. Day after day, your sprouts will look bigger and greener. On the 5th day, they should be ready for harvesting.
Dry your sprouts out
You can use a salad spinner to make sure they're fully dry before storing them into the refrigerator in a container that isn't air-tight. Try and eat them within a few days after storing them.
How To Eat Sprouts
The greatest thing about sprouts is that they're incredibly versatile. You can eat them raw or cooked.
Sprouts can be eaten as a salad and drizzled with your favorite dressings

They can be added to smoothies and juices, and you'll barely even notice the flavor (only the crunch!)

You can add them as crunchy toppers for soup and shakes.
How To Store Your Sprouts Properly and Avoid Contamination
Minimize the risk of bacteria like Salmonella and other pathogens: properly wash your sprouting equipment and your hands before sprouting. Always use quality seeds and rinse them appropriately.
Let your sprouts air out before putting them in the refrigerator. Wet sprouts in the refrigerator will result in mold and can be dangerous especially if you're consuming them raw. Plus, moisture could make them keep growing, and you don't want that. Dry them with an unbleached paper towel to make sure they're ready to go into the fridge.
Again, if you're buying seeds in bulk, store them in the freezer to avoid spoilage.
Lastly, before consuming your sprouts, wash them thoroughly with water.
Doug Evans has been a pioneer in the plant-based health movement for over twenty years. He has been channeling the power of sprouts and his transformative plans into The Sprout Book and advising tens of thousands of people on the ancient wisdom of sprouts as a food source.