Take A Walk: 11 Ways To Build The Healthy Habit
Walking might just be the easiest way to get in daily exercise. Here are a few ways to make the practice even easier.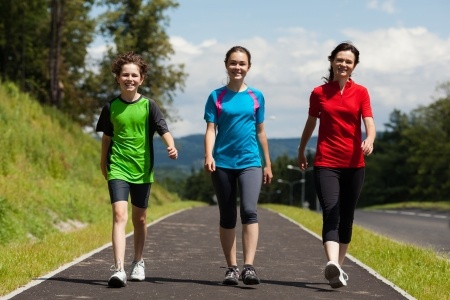 U.S. Surgeon General Vivek Murthy recently released a call to action detailing the benefits of walking for at least 20 minutes a day. Of course, all exercise is good for you, but Murthy says walking tends to be the easiest for people to stick with . His report is based on research that found walking significantly cuts the risk of diabetes, dementia, depression, colon cancer, cardiovascular disease, anxiety, and high blood pressure by 40 percent or more.
Want to get moving, but don't know how to get started? Here are 11 tips to help make walking more enjoyable, easier to fit into your schedule, and something you can stick with for the long haul.
1. Find your natural rhythm
Figure out the best time to walk for your schedule. Maybe it's first thing in the morning, or with your kids on the way to school. Or it could be after lunch, before bed, or with friends on the weekend.
2. Seize the opportunity whenever you can
Take the stairs instead of the elevator. Park a few blocks from your destinations. Ride public transit, which usually involves a short walk on both ends of the trip. Run some of your errands on foot. It all adds up.
Pay attention to how you can naturally incorporate walking into your life, rather than making it something to add to a busy schedule. Studies show you're more likely to stick with exercise when it is a regular part of your day , and not something that cuts into leisure time.
3. Start small but think big
Be realistic in your goals. The Centers for Disease Control and Prevention's recommended daily minimum for exercise—30 minutes—is a good starting point. You can even do it in two or three separate trips if you want.
Over time, you can work your way up to longer distances. Many people are now doing walking marathons or half-marathons. In fact, three out of eight finishers of the Portland marathon now walk, and some marathons are actually designated as walking-only events.
4. Keep track of your progress
A pedometer is a great way to keep track of how much you walk, and many smart phones now have similar devices built right into them. Fitness experts recommend about 10,000 steps a day, but the average American walks about half that. Try tracking your own steps to see how far you're walking on an average day.
5. Identify as a walker
Walkers are athletes too. It's good exercise and an enjoyable pastime, just like biking or basketball. Claim it as your sport, and you might do it more often. Solidify your commitment by taking the walking pledge.
6. Make sure your walk is enjoyable
Find a route that is interesting, perhaps with a destination like a coffee shop, park, or an awesome view. Wear walking gear that is comfortable, and that you feel good in. And don't set overly tough goals.
"If you're slogging through something you don't enjoy, you won't stick with it," says David W. Brock, Ph.D., assistant professor of exercise and movement science at the University of Vermont.
7. Invigorate your social life
Suggest a "walking date" with your partner, friend, or family member. Invite dinner guests to stroll around the block after a meal. And instead of meeting someone for lunch, a drink, or a movie, go for a walk before you sit down together.
In New York City, for instance, it's a longstanding tradition for folks to walk together through Central Park or along the Brooklyn Promenade. In San Antonio, it's the River Walk. What would be the equivalent activity in your town?
8. Try a walking meeting
Instead of gathering around a conference table, walk around the block. You'll likely see a spike in people's creativity and attention.
Facebook founder Mark Zuckerberg and Twitter co-founder Jack Dorsey both favor walking meetings, as did Steve Jobs, Sigmund Freud, and Aristotle.
9. Organize a walking group
"If you want to go fast, walk alone; if you want to go far, walk together," says an old African proverb. Round up co-workers for a lunchtime hike. Grab neighbors for an evening stroll. You'll walk more often when you share the journey. Think of it as a book club, with no homework.
In 2009, 30 walking groups were launched in Albert Lea, Minnesota, as part of a community-wide campaign to improve health. Six years later, more than half are still going. Girl Trek, a growing organization dedicated to helping African-American women stay in shape, has launched tons of walking groups, from Oakland to Philadelphia.
10. Get more information
To learn more about walking, watch the documentary The Walking Revolution, or check out the website of the Every Body Walk! Collaborative. They're a coalition of citizen groups and businesses powered by Kaiser Permanente , one of America's largest health care providers.
11. Join the walking movement
America Walks, a coalition of more than 530 walking advocacy organizations, can help connect you with a walking group in your area.
Jay Walljasper wrote this article for YES! Magazine. He is author of The Great Neighborhood Book, and he writes, speaks and consults on how to create better communities. Contact him at jay@jaywalljasper.com .
See also:
Sole Exposed
Exercise & Preventing Disease