Taking the Kids for a Walk on the Wild Side: An Interview with Sharon Anderson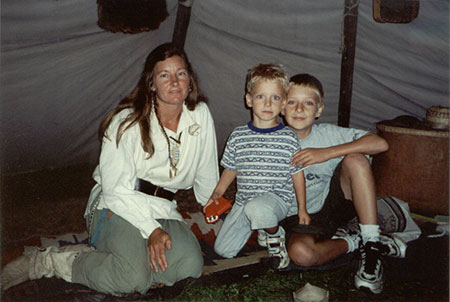 "The ancients knew something which we seem to have forgotten." ~ Albert Einstein
I met Sharon Anderson for the first time at Harvest Gathering in 1997 at Mt. Washington, MA. Living in upstate Vermont near the Canadian border, Sharon had traveled many hours alone by car to attend the gathering and she arrived close to dark with a dozen or so twenty-foot teepee poles attached to the top of her Volvo station wagon. As the coordinator for the gathering, I knew Sharon planned to set up a replication of an authentic nineteenth century encampment, including a wigwam that she would be staying in during the weekend, so I was quite concerned when she arrived so late that darkness was falling, she would need help with setting up the poles and teepee and I could find no volunteers around to help.
"I'm fine," Sharon assured me. "You can relax. I put this wigwam up and take it down by myself all the time." Amazed, I visually gauged the length of the poles, not even fathoming how she could attach them to the car, much less take them off and build something with them – alone. But within a few short hours, Sharon had indeed assembled a whole campsite, complete with authentic nineteenth century tools, implements and trappings. The inside of her wigwam – piled high with skins and furs and radiating with the glow of a small fire burning in the center – was cozy, warm and inviting. I immediately felt at home in this home away from home and marveled at the petite, yet rugged woman who seemed to pull it all together with so much ease and enjoyment.
On Sunday morning in the council circle, Sharon was one of those who chose to speak to all who had assembled to listen. With a rare blend of humility and insight, the blond-haired, blue-eyed Caucasian woman spoke of the history of her family and the ancestors and culture of this land, upon which she had fashioned her own lifestyle of living in balance with Nature, even within our modern world. As she spoke, her clarity and simple truths flowed as effortlessly into our hearts and understanding as if she were engaging us in a spellbinding tale. Her message went far beyond just knowing how to build and live in a wigwam. Sharon's non-judgmental attitude and presence there was truly a living testament that with the cultivation of awareness and respect for all of Creation, life can be lived in a good way on the planet.
Presently serving as an educator, along with her husband Rolf Anderson, Sharon oversees the Hazen's Notch Association in Montgomery, Vermont, a non-profit, member-supported conservation organization. HNA's mission is to promote and engage in conservation of natural resources, environmental education, outdoor recreation, scientific research and stewardship of open lands. To accomplish these goals, HNA conducts education programs, workshops, lectures and a series of summer camp sessions for children which have gained a reputation for excellence in developing an awareness and respect for the environment, outdoor skills, self-esteem, cooperation and leadership. Sharon has also attended the Harvest Gathering each year in September, sharing her unique skills, expertise and perspective with both children and adults.
Carol Bedrosian: Sharon, maybe you can begin by telling us how you grew up? What brought you to this place of being a naturalist and educator?
Sharon Anderson: I grew up on Lake Champlain with cedar woods, pastures and farms all around. There was open sky and water and freedom to explore, which I did constantly. With four brothers and active neighbor kids, we devised group games and activities which held our attention for endless hours. We did farm chores, went fishing, gathered butternuts, trained dogs and ponies, picked berries and made crafts from hunted materials. What I cherished most looking back is the freedom to roam the woods, fields and beaches. Just having the chance to run free was a recipe for happiness.
At age 10 or so, I was pretty confused spirituality. Perhaps that is fairly common for children. I used to consider the words of our minister at our Methodist church and try to make sense of it. It did give me a sort of window to the distant past. People being reverent and expressing respect for people of the past always appealed to me.
As I got older I became fascinated by the way people live. It seemed clear that my parents longed for an affluent lifestyle, though with five kids that was unlikely to happen. At the neighbor's modest farm where I was practically one of the family, lifestyle and values were different. The farm kids had a strong ethic not to waste food. They had chores everyday, which took priority over play. The farm adults generally would include children in work or leisure time. They encouraged us to help with baling hay, or in the evening, the card game would be adults and kids.
There was a significant experience around the age of twelve which turned out to guide many choices that I made in becoming an adult and even into this day. I used to sit on the high bluff overlooking the lake with the far shoreline and the Adirondack mountains in the background. At night the distant shore would twinkle with lights and it was fun to ponder how the scene would have looked two hundred years ago. The shoreline would have been black with perhaps a campfire showing from time to time. What were the Native villages like? Would I fit in? It came to me that when streets, houses and towns expand, the wild places absolutely disappear. It is a one directional process. Who lives in harmony with, or even cares about the wild places? I could think of no one except the native Indians in times past. I decided then and there to allow that ancient way of life to be a model for me somehow.
So that began a lifelong study of Native culture and life way. In addition to the wonderful country and environment, my resources were books like The Boy Scout Manual, Bradford Angiers At Home in the Wilderness, etc., and a vivid imagination. In the world of pretend I walked around seeing through Native eyes. It was great! There is a quote I have preserved for many years. I don't know who the author is, but it is called "The Declaration of Interdependence" and it goes like this:
"I am a part of Nature. I am a part of everything that lives. I am bound together with all living things in air, in land, in water. My life depends on Nature, upon its balance, upon its resources and upon the continuity of both. To destroy them is to destroy myself. As a member of the human race I am responsible for its survival. I am a part of Nature. I will not destroy it."
Carol: What a revelation! I can see how you would have made that commitment to Nature – "I will not destroy it" – and how that has guided you for a long time.
Sharon: Yes. The comparison of the "necessities" of the average white American with those of an Inuit, say, is staggering. If left undisturbed it is conceivable that the Indians of this continent would have been living in a similar manner through the years to today. This is not due to primitiveness or savageness, but to a simple understanding of the life process and that perhaps we are not here to conquer the world, but to be a natural part of it.
Carol: What came next?
Sharon: In college I majored in natural science field trips. Of course there is no such major. I simply invited myself on field trips even if I was not enrolled in a particular class. So it would always be an oral learning experience – sitting next to the "prof" – and a lovely camping trip. I cared little about the degree and much about the experience. During those years I stitched my first teepee with the help of my college pal, Betty. We camped on the coast of Maine and were somewhat of a novelty in the local town. Then it was off to Wyoming for a couple of summers and meeting like-minded outdoor types.
They say that Vermonters always return if they live away and upon my return I was determined to teach cross country skiing. That is how I met Rolf, my husband. That was twenty years ago. He was just starting a career teaching wilderness skills called Vermont Voyageur Expeditions on some land he had purchased. These were programs of instruction where adult students learned to plan and carry out their own future expeditions. We pooled our skills and resources and in 1990, Rolf and I began work on the Bear Paw Pond area as a base for our new educational programs designed for children. We built a pond and made a shallow area with sand that would be safe for small children, an outdoor kitchen, storage sheds and a network of hiking trails. We held our first program in 1994 during the school year.
Carol: So you began to cultivate and develop this outdoor wilderness school?
Sharon: We called it Hazen's Notch Association [HNA]. It grew to the point where we now manage around 500 acres. This will be our seventh year running the summer camps for children. We do have some public programs sprinkled throughout the year for adults or families including nature walks, volunteer trails day, moonlight snowshoe tours. We also have a Summer Solstice Nature Festival and we host two picnics at Bear Paw Pond for families – one in mid-summer and one in late summer. And we have a couple of open houses. It's a traditional nature center.
Carol: What is that?
Sharon: During the school year over two thousand children come from Northern Vermont and attend programs offered by Hazen's Notch Association. We offer learning opportunities in a variety of subjects including wetlands ecology, glaciology, winter adaptations and Native peoples. There are also outreach programs that take place at the schools such as bluebird nestbox workshops or creating interpretive nature trails on school property.
Carol: Are the programs overnights or just day camps?
Sharon: We have six or seven sessions of day camp. They are five day programs for ages 6-13 or so and a new counselor-in-training program for older teens. The day camp activities include natural history, ecology. With the youngest kids, ages 6-7, we encourage their natural affinity for the outdoors. That would be going to a special place with exploring and pretend games. We might pretend to be a family living in the woods, for instance. With the middle group, ages 8-11, we're developing a greater knowledge of the natural world. That is where they are getting their stronger science, i.e., plant and tree identification or learning about habitats and communities. With the older groups it's more about understanding. Here we'll be looking at the history of landscapes and how humans manage and interact with nature. So generally the camp day consists of some structured learning outdoors, hiking, canoeing, Native American crafts, map & compass, and swimming. I once overheard one child tell another child "everything here is real."
In the overnight camp, which includes all of the activities just mentioned, the longer days allow more time for rest and recreation – time to read a book, write in your journal or just visit with friends. It is an excellent way to prepare for bigger adventures in the years ahead. The overnight campers stay in two person tents on tent platforms. They really are getting a camping experience, including fire building and that type of thing.
Carol: How does this experience in the wilderness affect kids when they leave the camp?
Sharon: We manage three teepees and one wigwam, so it really feels like an encampment here. I think the kids are getting a taste of village life. Some kids grow up with coming here each summer so they begin to ask for certain songs by name and other things become automatic. Like one kid asks another, "Do you want to go in the canoe?" And the kid excitedly says, "Yes!" and instead of running for the canoe, he runs to the boathouse to get his life jacket on because he knows that comes first.
Carol: What are the inner qualities that this type of nature awareness and camping nurtures in the kids?
Sharon: You know, so often they are not able to tell you yet, but the kids know that I really value their opinions and feelings. We have talking circles and sometimes I point out the population of the planet and I ask them how they feel about living on a planet that has twice as many people as when I was born. We will go around the circle and talk about that. Some of them are rather fatalistic. They say, "The world is just supposed to blow up!" and other kids say, "I think that people should be more aware of the environment and things that they do to hurt it and they shouldn't litter." They will say people should do this and shouldn't do that. The question of when a child gets a connection between their center and the universe – when and how that happens is very mysterious and it is private. I don't pry into a kid's inner personal life because it is often in a group setting, for one thing. I allow kids privacy when it comes to that so these things will happen in their own time and in their own way.
We have a strong ethic for behavior at the camp. We talk about respect and we set the tone at opening circle about how we expect them to be on their best behavior. Respect means respecting the environment – we don't pick plants and rip them up, although we understand that sometimes you do that without thinking about it. We respect the environment and respect each other and how we are and how we feel. As we learn about all the different kinds of things in nature – that there are many different kinds of ferns, many kinds of birds – we are thankful that among humans there are differences, too. We have a lot that is the same and we have a lot of variety and we are thankful for that.
We also show the children a lot of respect. When a child has a really good idea in a group, I'll often just stop and review it and say, "Boy, that is a great idea. Who wants to do that?" One time there was a mother that came with a school group as a chaperone. Her seven-year-old son had been to our camp and we were about to do songs and drumming. I handed this little boy my drum to warm in front of the fire. The way to do that is you put your hand in front of the drum so you can monitor the heat. So he started to do that and his mother said "Eric, I don't think you should…" and I interrupted the mother and said, "He knows what he's doing." That boy flashed a glance at his mother and a glance at me and he was beaming! So that was a good thing.
Carol: My sense is that when a child gets into an environment where he or she becomes more active in participating in the maintenance of their day to day living – their survival, you might say – it enhances their self esteem.
Sharon: Yes. That is the personal growth that happens. Our camp doesn't happen to have artificial challenges such as ropes courses or blindfolding. There is a place for that, and we just don't happen to do it, but we know that there is an enormous amount of personal growth happening in that five or ten days (if they happen to come for two sessions.) We know that because we hear it from the parents and also from how strongly the kids feel about coming back.
One of the most important things about taking children into the wilderness is the leadership. If you have poor camping skills and inadequate gear, what kind of an experience will the children have? To take an analogy from advanced dog training: a dog forms its attitude about an exercise in the introduction phase. It bugs me to hear people's camping disaster stories. The best approach is to build on success. Keep the plan modest and be mindful of the differences between the grown-up agenda and what appeals to kids.
I believe that it is important to visit places that are beautiful and wild. If you can get away from people, then the dominant sensory experience is nature, the community of life. That's what you are introducing the kids to. And how important is that? The community of life is everything.
Sharon will once again be attending this year's Harvest Gathering, Sept. 7-9, 2001. She can be reached at sharonpowersanderson@gmail.com.
Sharon Anderson's Recommended Reading List
Last Hours of Ancient Sunlight by Thom Hartmann
Journey to the Ancestral Self by Tamarack Song
Ishmael and Beyond Civilization by Daniel Quinn
The Universe Story by Thomas Berry
Carol Bedrosian is publisher and editor of Spirit of Change and coordinator for the annual Harvest Gathering.