The Energies of Love: Harnessing the Invisible Forces of Your Relationship
An interview with Donna Eden and David Feinstein, PhD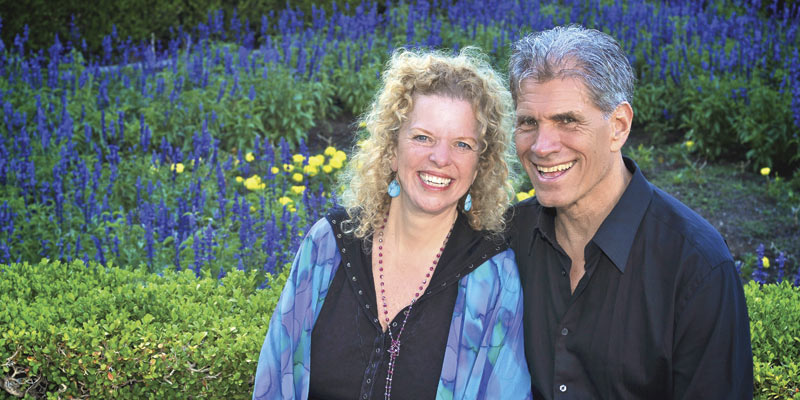 In the late 90s, videos and books by Donna Eden propelled the conversation about energy medicine into the mainstream, ironically because the perpetually effervescent Donna provided such a grounded framework and vocabulary to share it. Through her simple 5-minute energy routine, or the refreshing 30-second spinal flush, or my favorite, The Wayne Cook posture for right/left balance reset, Donna has showed millions how to provide instant symptom relief and ongoing self-care through her books, illustrations, handouts, classes and online videos featuring these easy-to-learn techniques.
While Donna's animated energy is the face of Eden Energy Medicine, each book, training and video manifests in partnership with husband David Feinstein. To see the buoyant Donna and steadfast David on stage together is to witness invisible forces in action when these polar opposites connect to demonstrate energy medicine right before your eyes. The banter is delightful and the nonstop output phenomenal.
How do they do it? Now 71 and 68, respectively, Donna and David admit they were the most unlikely of partners when they met almost 40 years ago — David, a scholarly author and clinical psychologist, and Donna, on her way to becoming the world's most popular energy medicine icon. Friends, family and astrologers all doomed the relationship, but David and Donna yielded to the magnetic attraction and inescapable dynamic that "before your bodies touch, your energies meet" and forged ahead.
What they discovered was that Donna's understanding of energy healing for the body applied equally well to relationship and emotional issues. Though their vast emotional differences appeared insurmountable, the energetic techniques allowed them not only to survive as a couple, but also to spend the next three decades learning, teaching and evolving the field of energy medicine and sharing it with the public.
Donna and David's latest work, The Energies of Love (Tarcher, 2014), details the successes, obstacles and insights from these 37 years of working it out energetically. Using courageous disclosures from their own relationship to illustrate the book's most important principles with compelling clarity, they offer an evolutionary vision for why we are attracted to people who are quite different from us, as well as unique tools and energy techniques to make it work. "It's as if the universe's plan is to cause us to expand in ways we couldn't without intimate exposure to someone so different," notes Donna. "As we evolve personally, our energetic chemistry draws us to people who can vibrate with us at a higher level." In sharing their journey so openly, David and Donna invite everyone to vibrate at these levels with the invisible energies of love.
Carol Bedrosian: The basis of energy work is being able to see or sense energies enough to work with them. I know you come from very different energy backgrounds. Would you share a little bit about how these abilities to work with energy evolved in your lives?
Donna Eden: First I want to say that I do not think you have to be able to see energy to be able to work with energy. The last thirty years have been about teaching people about how to work with the body's energies without being able to see them. One of the bonuses is that often when you work with the energies long enough, different sensory systems in your body wake up, with the ability to actually see energy being only one of them.
For me, I was grown before I found out that not everybody sees energy. I thought we all did. It was a shock to me that anybody would think that was unusual because I was raised in a family where my mother saw energy, so she kept that ability alive in all of us. My sister and my brother are not in this field at all, yet they still see energy. For us it was just what was natural.
Carol Bedrosian: Are you talking about seeing auras?
Donna Eden: I see auras, chakras meridians — all the energy systems. I see energy around and through everything. I believe that all babies can see energy when they are born. Most people have had that experience of picking up a baby and he's looking all around your head. They're looking at your aura.
In Ashland, Oregon, where we lived for twenty years, I had a private practice. I would tell parents-to-be that when the baby comes along to keep talking about the colors and the energies and chances are that child will continue to see them. But if it's never talked about in that first year of life, it usually goes dormant.
Carol Bedrosian: Donna, you also had early illnesses as a child. Did this have an effect on your energy work?
Donna Eden: I had a very high fever in my first week of life, which burned off my capacity to make enzymes. This made me allergic immediately to most foods. By the time I was four years old I had tuberculosis. My mother struggled hard to figure out what foods I could eat because I was allergic to everything that grew out of the ground — fruits and vegetables — which is what most people think you'll get healthy on. So it was very hard.
When I was sixteen I had the first symptoms of what was later diagnosed as multiple sclerosis. My organs started breaking down in my 20s, and I had severe asthma. At twenty-seven I had a heart attack and then, between the ages of twenty-nine and thirty-one, I saw five different medical specialists. Every one of them said I wasn't going to make it and to get my affairs in order. No one how knew to turn it around.
The last time that somebody said that to me, there was — I don't know what else to call it — some great download of information that came into me, not on how to do it, but that I could do it; that what I needed to do was simply heal myself. So that is what I went about doing — working with the energies in my body. Not that I knew exactly what to do, but I was very, very familiar with energy, so I could watch in my body what was happening. I could see if the energies were connecting or if they weren't.
I started with my legs because my legs weren't working very well. Many days I couldn't walk and needed a wheelchair or couldn't even get out of bed. But when I used my hands to connect the energies in my legs, I noticed that after a few minutes, the energies started connecting and the pain and numbness would subside. I realized something was happening. I continued experimenting with moving the energies. Eventually I got myself completely well.
Carol Bedrosian: So you were actively working with the energies in your body back then?
Donna Eden: Yes, but I didn't start with any plan. I just knew I didn't want anyone else raising my kids but me! When I got well, I wanted to share what I had discovered. I wanted to share the truth that the body already knows how to heal itself, but you've got to get into alignment with your body and start engaging with its energy systems. Then you can figure out the mazes inside of you. That is how it all began.
Carol Bedrosian: David, how did you become open to working with energetic fields?
David Feinstein: Through marriage. While I've always been interested in other realms and processes that are not explained by Western science, in being with Donna these ideas became more than abstract possibilities. I began to see that they could even be used to make a difference in a person's health and well-being. This was quite a wake-up for me because it helped me make the psychotherapeutic methods I was using much more effective. The energy perspectives and techniques have super charged my ability to work with people for rapid and far-reaching outcomes.
Carol Bedrosian: Your new book, The Energies of Love, is a unique and exciting blend of energy medicine and energy psychology, topics not easy to put into words. It's obvious from reading the book that this work is something you've been doing for a long time on a daily basis yourselves and with your clients. What really brings the information to life off the pages, though, is the brilliant honesty of using your own relationship as an example. That must have been a hard decision to make.
David Feinstein: We decided to write uncensored about our first-hand encounters with the ideas and concepts that we were talking about. But we didn't decide we were actually going to use those stories until afterwards. We just gave ourselves license to write it the way that we experienced it. And in the end we looked at it and decided that, while it felt very naked to share that much of our own journey, the raw truth about our journey was probably going to make the concepts more palpable and useful to people. We aren't the exhibitionists that reading the book might make it appear (laughter). It took gumption on our part to print some of those stories.
Carol Bedrosian: And that is what brings it to life. I'll confirm that. By putting it out there with the specifics of your relationship dynamics and naming things without glossing over, it really helps the reader to see and understand exactly what these energies are and how they work.
Donna Eden: Thank you. David and I were and are so different from each other that in our early days none of our friends gave us a chance of surviving in our relationship. Even when we got married everyone was predicting we'd fall apart and wouldn't make it.
David Feinstein: To put it differently, all my friends thought Donna was a bad choice and all of Donna's friends thought I was a bad choice.
Donna Eden: And even we did, too, because we were not compatible at all. We were incompatible on the practical plane — David, being a psychologist, could move up into his head and articulate well under stress, and I am the person who can't, so it appeared that I was the identified patient. You know? I was what was wrong.
David Feinstein: Don't get me started…
Donna Eden: We really came to understand that the psychological realm wasn't enough to get us to "the other" because you can easily get to that place where you can't find each other and you can't touch each other. I mean if you've ever been in an argument with somebody where you just think you are on different wavelengths — from different planets! — that is where we were at.
But it was the energy realm that began to change things. We found ways to be able to bridge to each other and understand that what is going on between us is not psychological or that one is right and the other is wrong. David was usually wrong…(laughter).
It is helpful to know there are energy differences between all of us. How we relate under stress is very different and it is not by choice. Under really heavy-duty stress we resort to and rely on one energy sensory system and our partner usually relies on another one. It's like you are on completely different train tracks. You can't jump tracks to get to the other because creation evolved each of us differently. We are totally unique and separate from each other. We love differently, we argue and fight differently, we fall apart differently, and we really cannot expect our partners to react as we do. In fact, they won't.
But you can shift the energy and it will shift you. It will shift energetically in your body and affect your mind so you can find one another. And if you understand it as an energy difference, then it also lifts any kind of judgment off it. You can't as easily get mad or upset when you know it's not because the other person is being obstinate and mean. The other person has gone into their own energy stance.
I would say that very few things in my life have brought me as much insight about my relationship to David or anybody I ever was in a relationship with as this understanding, because suddenly I could live with the irreconcilable differences on a practical realm. If you can shift your energy, then suddenly even the practical realm is harmonious. It also helps you drop more to your soul level and bond.
Carol Bedrosian: So those energy medicine exercises, what some people would call "woo woo," are not only physically effective but can also work on the mind, the emotions, or whatever is the cause of disturbances.
Donna Eden: The very same energy that healed me from multiple sclerosis, from a very damaged heart, from asthma and all my allergies, that same energy is the energy that cannot only heal your relationship, but it also heals you as you go forward. And makes better pathways to one another. The very things that made us irreconcilable early on are the things that, now, for the most part help us thrive, because we value that so much in each other — the differences.
Carol Bedrosian: Did you always know about these different energy strategies from the beginning of your relationship and, if not, how did the relationship survive?
Donna Eden: Well, for me, I was using energy therapies because I had gotten myself well from multiple sclerosis, so I was doing whatever I could do energetically for myself to stay in the relationship. But it was very hard because David wasn't. Here's the story. Do you want to hear the story?
Carol Bedrosian: Absolutely!
Donna Eden: A relationship is out of balance if one person holds the power or seems to hold the power and the decision-making process of deciding who is right and who is wrong and that is that. David is a person who doesn't lose his words when he gets stressed, but I do lose my words, so he was always winning arguments. I knew deep down it wasn't because he was right just that he was articulate and able to pull up a certain kind of logic that sounded good. But I knew my feelings were right even if I couldn't explain myself.
One day I decided I had to leave him. I no longer even had any words. He was going on and on, waxing eloquent with one of these arguments trying to show that I was wrong. So I got up and I was going to leave and I couldn't even say, "I am leaving you." I was just walking out the door. "I will call him on his voice machine," I thought, "and tell him that it was over and that I could not be talked out of it." I knew that I could not survive in this relationship.
But near the door there was a chair and instead of walking through the door, I sat down and did an exercise that always unscrambled me when I was confused or overwhelmed or falling apart or crying. I am a very feeling person and my feelings take over. So I sat down and did the exercise called the Wayne Cook posture.
That one saved our relationship. By the time I was through with that exercise I stood up. I was no longer crying, I wasn't falling apart. I was clear, I was grounded, I won the argument. And for David I think it was the beginning of him really seeing, "Wow, what happened?"
David Feinstein: It wasn't that she won the argument; it was that she came back and met my argument. She met me in a way that was different from the way she met me when she was caught in her sensory stress mode. So rather than being without words, she had words. I felt her substance. I felt her coming up with all of her intelligence rather than her being unable to talk. So that brought me back into the discussion in a much more collaborative way. And what a tremendous difference!
The key is to recognize when you have gone into your energetic stress mode. And once you recognize that, you can take steps so the conversation changes course and both partners have a chance to center themselves. That is one of the places where energy work far exceeds the value of most of the methods I learned as a psychologist in working with couples. Stopping the conversation and recognizing that both bodies have gone into a bitter fight-or-flight response, you can shift your response through energy techniques. Then everything that follows will be very different. Once you have done the energy techniques, you are getting yourself onto the same wavelength and can reengage the discussion. You will find that you come into it from a very different place.
Carol Bedrosian: Your personal examples from the book are extremely courageous in their honesty, and you even mention that you went into the deepest downward spiral of your relationship in writing this book. How did you get through that challenging time?
Donna Eden: We had to use these techniques, absolutely, but what happened in writing the book is that whatever happened in our long ago past that was long ago forgotten suddenly came up. So this book was a real healing of anything we hadn't completely handled in our past.
David Feinstein: Whatever was not resolved came up as we went deeper and deeper into the topics that we were addressing so we had lots of opportunities to use our own relationship to illustrate what we were talking about.
Donna Eden: Why this happens, first of all, is we are meant to choose a partner very different from ourselves so we can evolve. It's also important to understand that we haven't changed in a couple of million years in how we relate to stress. When we get stressed, we still lose blood from our forebrain. Up to eighty percent of the blood in your forebrain is diverted into your body to beat somebody up or run away. But most of us stop ourselves from doing that much; we don't beat anyone up and we don't run away. But then we are stuck with our stress hormones that start accumulating and if you don't have all the blood in your forebrain, let me tell you, all of your senses go out the window but one — your energetic stress mode.
For me, I see energy, but when I get very, very stressed, I suddenly cannot, because my primary mode is kinesthetic — a feeler. I feel, and for me I feel unbelievably lost when I can't see the energy as well. The person who brings up that heavy-duty stress is often your partner because we are meant to be challenged and evolve. David is a "digital," which means that even though he is a feeling, loving man, when he gets stressed he goes right up into his head and gets more logical. You just want to kill him.
Carol Bedrosian: I first became aware of your work about fifteen years ago, but I wasn't really aware of David being involved in the work with you at that time; it was more Donna Eden energy medicine and all the exuberance that is Donna. Gradually I noticed more of Donna Eden and David Feinstein together and how energy medicine was now being put into a larger system to apply not just to the body, but mind and relationship healing as well. The two energies of you putting that out together as a couple is so powerful.
Donna Eden: Thank you. It's been a really wonderful journey. David, can I say another private little thing about us?
David Feinstein (laughs): This is what you call a blank check.
Donna Eden: Many, many years ago when we weren't sure we could possibly make it, several different astrologers all said, "No, this relationship is a really bad idea." One, however, looked at our chart and said, "It is deeper. This is about a soul bond," which is exactly what it was. And she said very clearly to us, "You will never have children together. Your children will be the family of man." We had no idea at that point that we would ever work together. But that's exactly how it turned out. We love the healing community that has built up around us.
Carol Bedrosian: There are very few elders in the energy medicine field. While there are many elders in Asian energy medicine, acupuncture and other energy meridian systems, this new energy medicine field doesn't have a cultural tradition or long history behind it. When I realized that Donna is over 70 and you are all over the world stage together, I think it must be incredibly draining.
Donna Eden: You know what? That is funny you said "incredibly draining." I think we are so incredibly lucky because we have energy medicine that gives you your energy back. I don't feel drained at all.
Carol Bedrosian: Most of the book is about partners or spouses, romantic relationships. But there is a small part that addresses parenting. Do you see these concepts being applied to the parent/child relationship?
Donna Eden: Absolutely. These are concepts about all relationships that get thrown off and away from harmony. I had little girls that are now all grown up. We raise our kids the way we think is right and the way we think will be the very, very best. We love them and give them the best advice and guidance we can. But one day when my girls were little, I remember realizing, "Oh, they are both different energy sensory systems. They are different from each other, they are different from me," and I turned on a dime and began raising them differently.
I realized that my oldest daughter is what I call a "tonal," which means she hears things that are never said at all. She hears the tones of things more than the exact words, so if I said to her, for instance, "Honey, let's sit down and talk," that might terrify her because the words could mean, "Oh, this must be bad." She can hear sounds that no one else can hear and gets distracted by different sounds.
My other daughter is a real "visual" who saw what everybody else was doing wrong and I just knew to raise her differently because it had nothing to do with hearing for her; it had to do with seeing. Internal seeing — "I know you're wrong" — that kind of thing. So I raised them differently and I related to their teachers in school differently, depending on their energy systems. I used the language that perhaps would be on their wavelength. This awareness makes a difference and changes your life because your child's sensory system is his or her strength, but also a source of vulnerability.
In classes we often teach people how you can know how someone is reacting energetically even if you can't see energy. It's eye-opening to really get that it's not your partner's fault or anybody else's fault when you are seeing, feeling, thinking or making sense of what is going on in a relationship. What you need to do is find an energetic way to get on the same wavelength and then suddenly…It's really such a blessing to have that experience.
Carol Bedrosian: There must be at least 50, if not 100, energy exercises you provide in the book. The sex chapter is loaded with really simple, fresh ideas that will get your energy moving, and again, with a lot of honesty from you.
David Feinstein: We had a lot of fun writing that chapter.
Donna Eden: Whether we noted that or not in the book, I can't remember, but believe me there were a lot of laughs putting that one together. There may be a lot of stuff in the book that seems like theory, but the truth is these are tools that can truly help a relationship.
David Feinstein: One of the discoveries we made was that there are three aspects of a relationship at any moment in time, so that is how the book is organized. The first is that there are aspects of relationships that are inherited, and you can do nothing to change them. That is your basic biochemistry, your basic temperament, your gender….
Donna Eden: Your element…
David Feinstein: ….as well as the ways that you organize information, particularly when you are under stress, which is what we call the energetic stress style. So what you want to do around the inherited aspects of love is to recognize them, understand them, appreciate them, and learn how to build bridges around your differences because you are not going to change your partner in some of these fundamental ways.
A lot of effort in relationships gets wasted and frustration builds by trying to change partners in ways that cannot be changed. It's actually part of why you chose your partner, because of some of those differences. So rather than try to change your partner in ways that can't be changed, it is better to recognize fundamental differences by fully understanding and embracing them.
The second aspect of love is the learned elements, and these go back to childhood and to your attachment history. Your relationships with your parents were formative, as were those with your siblings, your early peers, your school, what your culture teaches you about love, relationships and how to nurture yourself or what to do when you are not being nurtured, and what you can hope for from a partner and how you get that, how you ask for that. All of these are deeply ingrained, learned patterns.
That is where the techniques of energy psychology can be so potent. Your arguments can help you to identify problem areas and trace them back to experiences you had that did not prepare you well for positive healthy relationships. You can then begin to make transformation in the ways that you process those experiences, providing you with a new repertoire of behaviors and attitudes in situations that used to hook you in a negative pattern. It's really more than learning how to bridge your differences; it teaches you how to make fundamental changes in the way that you have structured your inner world around relationships, allowing you to go much deeper with your partner.
The third aspect of love involves what you choreograph together, the mutually created aspects of love. This includes your sexual relationship, developing an ever-more conscious partnership, and recognizing that your relationship is a spiritual journey. In each of these areas, you take what you inherited, you take what you have learned, and you together create something entirely new on the planet.
The sexual odyssey between two people is quite different three months into a relationship than it is thirty years into it. When the biochemistry is no longer keeping sex hot, many couples let their physical relationship fade. While love can survive without passion, keeping passion alive through the years is possible, and it is desirable. But it requires different skills and understanding than what was needed in the early part of the relationship, and many people don't know how to update the software. Focusing on the energies in the physical relationship gives people a way to take a quantum leap, adding a powerful dimension to love. In fact, the title of the chapter discussing this is "Sex is Nature's Energy Medicine for Couples."
When we say conscious partnering, the question comes up, "Conscious partnering in contrast to what? Unconscious partnering?" Actually, yes. A lot of what we do in relationships involves reflexive reactions. To cultivate a conscious partnership takes the relationship to new levels where you co-create your journey together on the planet almost as a work of art.
The final chapter, relationship as spiritual journey, shows that every relationship is part of a larger story than your conscious mind understands. The choices are to recognize this or not recognize it. If you recognize it, you can cultivate it. You can embrace forces that are beyond the physical and psychological that will serve and strengthen your partnership immeasurably. We didn't know if we could put the topic of this chapter into words, but it turned into one of our favorite chapters.
Carol Bedrosian: As conscious as you are, you are the first to admit you are not a perfect couple, but your obvious success with the challenges offers hope and tools to work with.
Donna Eden: It is so wonderful to know that we not only survived, but we really thrive now. When things do come up, we know what to do and it's wonderful. Wonderful to be compatible with an incompatible mate!
Learn more about Donna Eden, David Feinstein and The Energies of Love book and video training course at Innersource.
Interviewer Carol Bedrosian is the publisher of Spirit of Change holistic magazine in New England. www.spiritofchange.org.
See also:
Musings: Vibrational Healing Is Logical and Elegant
How To Express Your Condolences To Someone You Love