The Folk Herbalism Resurgence: A Conversation With Kiva Rose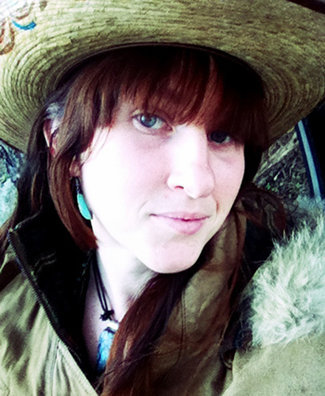 This interview was originally published on Numen Blog in 2012.
Kiva Rose needs no introduction from me. Her website/blog: The Medicine Woman's Roots is one of the most informative and beautiful sources for everything related to folk herbalism, bioregionalism and land-based living there is, a real celebration of all that plants awaken in us as individuals and as a community.
Kiva has brought this same vision, dedication and incredible attention to detail to the Traditions in Western Herbalism Conference, now in its third year, to be held in Arizona this September, and to Plant Healer: A Journal of Traditional Herbalism, which, among other things, offers those of us who can't make it to the southwest a taste of what the conference has to offer! Thank you, Kiva, for the amazing work that you and your partner Jesse Wolf Hardin are doing and for taking the time to share your thoughts with me.
Ann: I love how you write about working with the plants and how accessible you make this information. I also love your larger vision of a folk medicine revival (if you would call it that). Taking on the Traditions in Western Herbalism conference was a huge undertaking on top of everything else you are doing. Why did you and Jesse decide this was important to do? What does it offer that wasn't already being done?
Kiva: TWHC is indeed a huge labor of love for Jesse and me, but one we feel is a very important offering to the herbal community. Part of what Traditions in Western Herbalism aims to do is to provide a place for training in and celebration of herbalism in action. This encompasses both folk herbal traditions as well as cutting edge integrative clinical herbalism. The vital meeting point is the connection between plants and people. We want to help give people the resources to help each other, as well as forge ever-deeper alliances and relationships with plants, place, and their communities. Essentially, this is a place where we want to put healing back in the hands of the people!
TWHC has been called the folk herbalism resurgence because of the strong emphasis placed on grassroots work, local plants, and accessibility. We've also been termed a clinical herbalist's training center because of the amount of attention we give to hands-on skills, and how much intensive training we provide. For instance, this year we have multiple classes and workshops revolving around how to start your own herbal free clinic, case studies from community herbal clinics, working as a street medic, and patient compliance and clinical skills. We've also been told numerous times about the ripple effect we're having on other national and international conferences, provoking more diverse locations, classes, and a wider audience. All of these things keep Jesse and me super excited and motivated to help support the growing movement toward grassroots, accessible herbalism that springs from and support the local bioregion and community!
Ann: In your wildest dreams, what do you hope it will be?
Kiva: TWHC has, honestly, already surpassed my wildest dreams in its success, impact, and how this special community has embraced it with such love and loyalty. Each year it's a bit iffy to pull off such a large gathering given the economic downturn we're in the midst of. I know that it's incredibly difficult to put together the funds for travel and tickets, just as it's very challenging for Jesse and me to raise the money to set everything in motion each year, even before any tickets have sold. At this point, we hope to continue growing and fostering this community and celebration for as long as we can. Each year, we look for under-recognized teachers who can provide a new perspective of healing and practicing to the conference participants to help facilitate the continued resurgence of grassroots herbalism!
Ann: And also with Plant Healer: A Journal of Traditional Herbalism, the journal you and Jesse started. Another huge undertaking that also seems to fill an important niche that wasn't being filled. Can you say something about what led you to create that? And also how it is unfolding… Are you surprised by the incredible response you have received? Again, what do you hope it can offer and become?
Kiva: Part of what Jesse and I set out to do with Plant Healer was to provide a practical resource for those who want to practice herbalism. There are so many amazing teachers in the herbal community, but not everyone can make it to a conference or an herb school, and we wanted to put together something that would allow these many allied voices to come together to provide inspiration, information, and experiential knowledge without needing to leave home. The magazine has already far superseded that goal by being not only a resource but also a community of its own. The other element Jesse and I were excited to create was a representation of many facets of folk herbal culture, including art, literature, personal story, humor, and much more! Our goal is to communicate the vibrance, beauty, and relevance of folk herbalism to practitioners and beyond.
I know from personal experience that it can be easy to get burned out trying to treat clients on your own with no support system, inspiration, or new ideas, and I wanted to find accessible and affordable ways of providing that for other practitioners. What I like about sharing Plant Healer is that we do seem to be filling an important and unique niche rather than competing with the existing journals and magazines who already do important work in other parts of the herbal field.
Our original vision for Plant Healer was fairly small, seeing it as a way of keeping in touch and supporting the Traditions in Western Herbalism community throughout the year, and as an extension for my existing Medicine Woman's Roots herbal blog by creating something with a larger network of herbalists. Just as with the conference, Plant Healer has already exceeded anything I could have possibly imagined! The enthusiasm and support for it is incredibly heartening and inspires Jesse and me to continually improve upon what we've already done. Our amazing contributors have been a huge part of that, every quarter submitting insightful and timely work that makes the magazine what it is. We've also been able to create relationships with a growing number of artists with an affinity for the plant world that certainly adds a great deal to the beauty and impact of each issue.
Ann: It seems the time is really ripe to create a grassroots local medicine movement similar to the local food movement. But at screenings of Numen and in talking about the film to others I've found that people are either thinking about where there medicine comes from and already know about the work you and many other herbalists are doing or they're not thinking about these questions. They might buy food at the farmer's market or grow it in their garden but they're not ready to take the step of getting their medicine from that market or growing it and preparing it themselves. I found this even more strongly in a Global Health class I just finished teaching at Middlebury College. 'Traditional' or herbal knowledge was important only as a step to get compliance of biomedicine.
In any case, a long lead up to what is clearly a huge topic. But I'd love to hear your vision for grassroots healthcare in this country, given how deeply entrenched dependence on the biomedical model and a scientific approach? What are the steps you see we need to take to get there? What can a film like Numen, both in the film and in our outreach, do to help further this vision?
Kiva: I think this has always been a great difficulty within any part of the "alternative" field, that often it feels like we're just "preaching to the choir" because our audience tends to already know us and agree with us. Beyond that choir, the stereotypes surrounding herbalism can create barriers that are difficult to break through with education and communication. And yet, despite the great struggle for all of us that has come with the economic problems, more and more folks from the mainstream are looking toward a kind of healthcare that can't be purchased from a pharmacy. It's certainly a slow process, but in the last decade of my practice, I've seen a huge amount of population growth within the herbal community. Some are coming from a homesteading background who seek greater self-sufficiency and sustainability, and some from other fields of alternative medicine, like massage therapy, and are looking to expand their ability to help people.
Living as I do in an extremely conservative county, one wouldn't necessarily expect the local population to be open to something outside of conventional medicine, and yet every year I'm seeing a growing interest in local plants as medicine, alongside an increasing amount of dissatisfaction with pharmaceuticals and the media that promotes them. I see that films like Numen are spreading an awareness of local medicine and alternatives to industrial medicine. People ARE looking for more than pills, and they're specifically looking for the kind of connection to place that Numen speaks of in regards to herbalism. And especially with the growing regulation of herbal medicines by the FDA, I feel that education grows more important every single day! This is the beauty of what Numen has gifted the world with, a glimpse into something both ancient and new, and into a form of healthcare that not only looks at the whole person as an individual whole, but also is more sustainable for this precious planet.
This article was republished from Numen Blog.
Numen is an award-winning documentary film celebrating the healing power of the plants. Featuring stunning footage of medicinal plants and thought-provoking interviews with Drs. Tiearona Lowdog and Larry Dossey, the late Bill Mitchell, ND, author Kenny Ausubel, herbalists Rosemary Gladstar, Phyllis Light and many others, the film calls for a re-awakening of traditional knowledge about plants and their uses. Watch the trailer here.
See also:
Integrative Medicine: An Interview With Dr. Tieraona Low Dog
Garlic: An All-Star Winter Remedy