The Green Wall And Rockets of China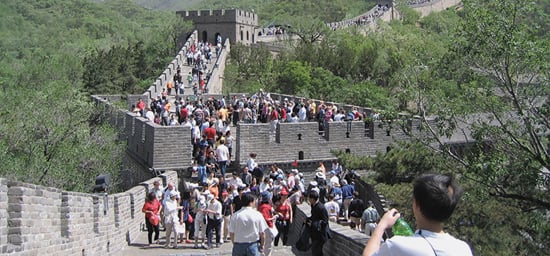 Each year as we travel to China to explore its many wonders, one cannot help but notice changes that are going on around the country. Some are good and some are bad.
During our trip in the fall of 2007, the city of Beijing was in crisis. The air was heavy with smog, with an estimated 1000 new cars entering the city each week. The construction of new buildings or renovation of old ones was 24/7 and I mean that! All the time, every day people were working to show Beijing's face to the world as a modern and powerful city for the Olympics.
To be fair, I remember when I first journeyed to Beijing in 1995 and it was even worse! After a day of sightseeing and people watching, my white sneakers and jacket would have black particles attached to them. My eyes would burn and my skin had to be exfoliated each night to feel clean. The large avenues of the city would be filled with street venders utilizing small coal stoves to cook food. Just about everywhere you looked there would be small carts filled with rounds of coal powered by a person on a bicycle to bring heating fuel to homes and businesses throughout the city.
Then one year, we found no venders on the avenues with coal stoves, very few bicycle carts filled with coal making their way through the streets and virtually no black particles were suspended in air. The government had made a law that heating would not be turned on in private homes until November 15th and the use of coal for heating or cooking would be outlawed, for the most part.
Even so, China still relies on coal for about 75 percent of its energy and coal-fired plants account for most of its pollution. China as it turns out is the world's second biggest producer of carbon dioxide. According to the International Energy Agency, only the United States is worse. In view of this, China has many new laws that will be implemented to use wind, solar and geo-thermal energy and not a moment too soon.
While visiting Beijing in 2007 we were not able to enter the Olympic Park, but our guide and friend, Sarah, allowed us a sneak peak at the Birds Nest being worked on. I'd seen some documentaries before leaving the U.S. but was amazed at the size and depth of the park. Huge is all I can say. Apartment buildings for the media and athletes and their families, and many buildings for the various events, as well as the Cube — China's National Aquatic Center — make their mark on this city. Traffic is heavy and seeing the sun is difficult under the haze of constant construction. So, how can a city which generates this much pollution play host to a world that is ever more demanding regarding it's commitment to the environment?
This was my question to our guide Sarah who is a bright and enthusiastic native of Beijing. She was not at all surprised by the question. I learned that Beijing had implemented many things in the Olympic park to save energy and water. The Bird's Nest used 110,000 tons of recycled, made- in-China steel that actually surpasses most steel used today and can withstand earthquakes and low temperatures. Steel gutters spread over the roofs of many buildings in the park collecting rainwater inside the gutters. This water will be recycled and used to irrigate the park's gardens and for the flushing of toilets and sewage management. It is said that there are 121 water saving projects in place which will collect over one million tons of water a year.
When asked about the pollution that is being generated daily in Beijing, Sarah explained, "Much like your country does in coal cities like Pittsburgh, we use rocket shells containing sticks of silver iodide. They shoot these rockets up into the air, which will result in heavy rainfall to wash and clear the air once most of the construction is complete, or if the air quality reaches level five, which is hazardous to the body. When you come back in November, all the construction will be over, the air will be clear and you will see my city with new eyes."
She also added that private cars will most likely be banned from the roads (except for emergencies) during the Games to keep pollution levels low. Even today, there is an every other day restriction on private car use, determined by registration numbers. I wondered how well that rule would work out here in the U.S.!
But China's plan to help with air quality and it does not end with the rockets. While on our way to the Great Wall I spied a row of tall evergreen trees planted very close together and running perpendicular to the road we traveled. It seemed endless so I asked Sarah what it was. She told us it is what China calls the Green Wall. It is a long-term project, scheduled to be completed in 2020, where trees are planted along the borders of the Great Wall and cities to help stop the Gobi desert from covering their country in sand.
Each April, sand storms loosen about 330,000 tons of sand onto Beijing alone. (Bad time to travel!) The desert has been expanding for decades and it is recorded that it moves about 3 km a year heading directly towards Beijing. Scientists from the U.S. have shown that the Gobi desert sands are pushed into the jet stream each year and travel over the Pacific, eventually landing in California. It is not just China's problem anymore!
Time will tell how well the Green Wall will stop erosion of their land and if the rockets that seed the clouds will bring relief from droughts and poor air quality in the future, but one thing is for sure. They are not standing still on these issues and they see the value of long-term projects to bring about great changes.
Laura Mignosa is the director of the Connecticut School of Herbal Studies in Wethersfield, CT. To learn more about this year's China Cultural Tour or to find out about their Chinese herbology treatment or certification programs, please call 860-666-5064 or visit www.ctherbschool.com.