The Indigenous Rituals That Heal Us
How the Medicine Wheel can guide us to transform communities that have suffered from racial injustice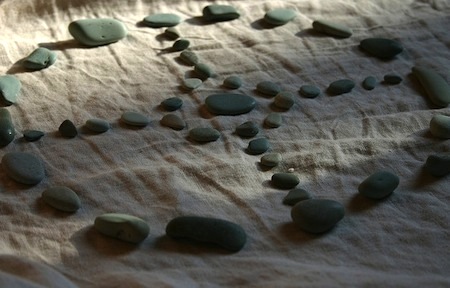 When she was three, my daughter Bre ran to me crying. We were in a park, and as I sat nearby reading a magazine, she was happily talking to herself in the sandbox. Another mom arrived with her two young children. A few minutes later, my bright-eyed baby had tears streaming down her face. "What's wrong?" I asked. "They won't play with me 'cause I'm brown," she said. My heart stopped. Then tears spilled out from my eyes, and my heart broke open.
What happens when the pain of the world breaks into our lives? In recent years, as I've watched the unfolding stories of the murders of unarmed people (overwhelmingly men, women, and children of color), the wounding is fresh with each one, and it sits on the scars of generations. Burned, lynched, force-marched, dying along the way. What heals the collective broken heart of a community that has experienced injustice?
The Medicine Wheel is a framework for communities and individuals that seek transformation. As we seek wholeness, we need to attend to our bodies, minds, hearts, and Spirits. Each direction of the Medicine Wheel has gifts to offer. Many indigenous traditions have unique frameworks for the Medicine Wheel. This is the framework that I use in my work as a consultant and coach, a framework I've developed from my background as a person of Mohawk descent.
In the East, the direction of Spirit, the work is to reimagine the world we want to live in. This work is being done by individuals and groups dedicated to social justice across the country. At the Full Harvest Urban Farm in Oakland, California, for example, people recently out of prison reimagine themselves in a living, sustainable, healing world as they work on the farm.
In the North, the direction of the body, the work is action. It's here that we resist destructive structures. This work is happening in movements like Black Lives Matter and Idle No More that resist oppression and racism.
In the West, the direction of the mind, the work is introspection. Here, we design alternative structures that move us toward the world we imagined in the East. When communities establish local currencies or municipal ID cards, for example, they are doing the work of re-designing structures.
And in the South, the direction of the heart, we attend to the work of healing and repairing relationships. Here, ceremony plays an important role.
For the healing work in the South, I turn to the condolence ceremony. The ceremony is rooted in the story of Aionwahta. There are many ways this story is told; this is how I remember it from Tom Porter, Mohawk of the Akwesasne community:
This story is about Aionwahta, whose wife and daughters were murdered. Heartbroken, he wandered the Earth until he came to a lake filled with quahog shells, white and purple. Here he began to string the shells onto a thread of sinew.
As he beaded it, he spoke his blessings of condolences for the sad and brokenhearted. He said: "If there is anyone in the world who feels as brokenhearted as I do, I will go see them. I will take an eagle feather and wipe the dust of death from their ears so they can hear the children talk, laugh, and sing. I will take a soft deer skin and wipe the tears from their eyes so they can see the beauty of Mother Earth and see the joy of their family. I would console them by taking the death from their eyes. And I will take medicine water and offer it to them so that when they drink, it will dislodge the grief and sadness so they will be refreshed, and can live again, and speak, eat, and be nourished."
Today, when someone loses a loved one, we use the condolence ceremony. As communities are devastated by the trauma of murder, police brutality, and climate destruction, we can dislodge the grief from our throats through shared ceremony.
On our land in East Oakland, we have a sweat lodge for healing rituals. When we enter the deep, dark belly of the turtle, we are cleansed by the heat, water, medicines, and prayers. In sharing ceremony with each other, we mend broken hearts, fragile bodies, troubled minds, and wounded souls.
To transform our communities that have suffered from racial injustice, work in all four quadrants of the Medicine Wheel is important. We move around the Medicine Wheel, resisting structural injustices, reimagining the world as healed, redesigning and building structures that support our vision, and repairing the damaged relationships that keep us from seeing ourselves and all beings as a part of one community.
Patricia St. Onge wrote this article for Make It Right, the Summer 2015 issue of Yes! Magazine. Patricia is founder of Seven Generations Consulting. She provides training and consulting in community organizing, social justice advocacy, and consensus building. She lives in East Oakland with her partner and six children.
See also:
Why Magical Thinking Is So Widespread – A Look At The Psychological Roots Of Common Superstitions
They Came For Our Children
Find New England holistic Ceremonies in the Spirit of Change online directory.