The Power of Receiving: A Revolutionary Approach to Giving Yourself the Life You Want and Deserve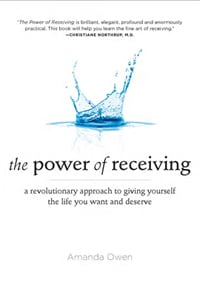 Amanda Owen
The Power of Receiving: A Revolutionary Approach to Giving Yourself the Life You Want and Deserve
2010. Tarcher/Penguin New York, New York
"When we give cheerfully and accept gracefully, everyone is blessed." Maya Angelou's sagely expresses the profound energy in both giving and receiving. Yet many of us are uncomfortable allowing ourselves to truly receive. The Power of Receiving: A Revolutionary Approach to Giving Yourself the Life You Want and Deserve reveals why we hesitate and shows us how to open to abundance through the practice of receiving. "When receiving is balanced with giving, you are not only healthier in mind, body, and spirit — you give yourself the key that unlocks the door to your goals, hopes, and dreams."
There is a distinct energetic difference between "taking" and receiving. Takers align with Doers. Feeling they "have to," instead of being motivated by a genuine desire to give, Doers put energy out, often repeatedly, with little or nothing coming back. Takers yank energy in. They manipulate, expecting others to cater to them. In this one-sided exchange, Doers get exhausted and Takers feel there's never enough. In contrast is the Giver and Receiver: energy travels out from the Giver as the Receiver acknowledges the giving with gratitude. There is recognition of the other. This acknowledgement is one way the Receiver returns energy to the Giver. There is a mutually gratifying sense of wholeness and an energetic connection.
The guide includes simple power-to-receive exercises, most of which take less than two minutes to complete. Learn to strengthen your receive muscles, attract your goal, and throw a monster celebration for someone who has always hated you but now wants to be your friend (yes, you're unleashing the monster part of you that you tried to ignore. But don't worry, you get to put the monster back in the closet at the end!).