The Rad History Book Every Girl (and Boy) Should Have On Her Bookshelf
A new feminist children's book honors 26 awesome women who changed the world.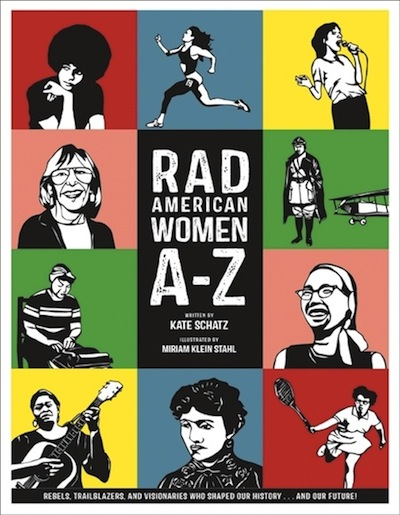 Three Iron Man movies. Five Spider Man movies. Eight Batman movies. Nine Superman movies. Movies starring Daredevil, the Hulk, Ant-Man, Captain America, Thor, Green Lantern, and Ghost Rider. Meanwhile millions of girls are left to wonder if there will ever be a Black Widow movie.
The hunt for women-centered movies, television, and books continues to be an uphill battle in the United States and across the world. After years of outrage over the lack of female representation in superhero films, all we got was the promise of a Wonder Woman movie for 2017 and a Captain Marvel movie for 2018.
In 2014, only 12 percent of the top-grossing films had female protagonists. All too often, women are told that stuff about girls doesn't sell. Or, at least, it doesn't sell to boys. So it's not worth it. And when women aren't happy with that (sexist) answer—or when we point out that media with small marketing budgets won't sell well regardless of gender—we're told to make our own movies. Code our own video games. Write our own books.
That's exactly what Kate Schatz and Miriam Klein Stahl set out to do with Rad American Women A-Z. The book profiles 26 different women in U.S. history, one for each letter in the alphabet—from Angela Davis to Zora Neale Hurston.
And guess what? Boys love it.
"Boys are psyched on this book!" says Schatz. "When I visit classrooms, the boys are equally as enthusiastic about it as the girls."
Boy, girls, men, and women are buying it up like crazy. It hit number five on The New York Times' best-seller list and is still going strong four months after its release.
Teachers are using the book in classrooms to supplement historically male-centric textbooks.
"On several occasions boys have asked why there aren't any men in the book, or whether I plan to write one about men," says Schatz about her experiences touring elementary schools across the country. "I don't. And it's led to really great conversations among the students."
Schatz says oftentimes girls in the classroom will take the lead in these conversations, explaining to their male peers how it feels to see so few women in their textbooks. According to Schatz, when their peers explain why they like the book, the boys seem more eager to listen and understand.
Surprisingly, Rad American Women hasn't received the harsh criticism that women-centered projects often get from anonymous "critics" online. When asked about the reaction to the book, Schatz says she's been pleasantly surprised with the positive response. In fact, she says most of the criticism she received was constructive. One important correction came from someone who worked on a documentary about the book's entry for the letter "W," Wilma Mankiller.
"He very kindly pointed out that I identity her as the 'first female chief of the Cherokee Nation' and that—while that's true by modern, Western notions of leadership—Cherokee women have been in leadership positions for many years," Schatz explains. "That was a really powerful point for him to make."
The success of their first book inspired Schatz and Stahl to make a second one, this time with an international focus. Rad Women Worldwide is slated to come out in 2016. Schatz hopes the series will continue to foster a more diverse perspective on U.S. and world history.
"[Textbooks] need to be written, edited, produced, and distributed by diverse people. As long as predominantly straight white men write the history books, the narratives of predominantly straight white men will prevail," says Schatz.
"As the wonderful Betty Reid Soskin says—at 94 years old, she's the oldest park ranger in the U.S.—'What gets remembered is determined by who's in the room doing the remembering.'"
Lindsey Weedston wrote this article for YES! Magazine. Lindsey is a Seattle-based feminist blogger with a creative writing degree that everyone told her would be useless. She spends her time writing about various human rights and social justice issues on her blog Not Sorry Feminism and dabbles in video game reviews and commentary. Find her on Twitter at @NotSorryFem.
See also:
One of These 4 Radical, Badass Women Could Be on the $20 Bill
Never Too Late To Change The World: Why I Became Vegetarian At Age 86