The Resurgence Of Local Food Swap Events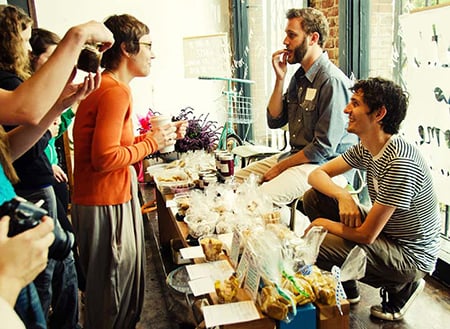 The food swap movement that began sprouting a decade ago from Portland to Philadelphia, is once again popping up in new incarnations around the country. Kate Payne, author of "The Hip Girl's Guide to Homemaking" and "The Hip Girl's Guide to the Kitchen," thinks the popularity of food swaps is based in the opportunity to connect with the community over something people are really passionate about.
Usually a recurring event, food swaps allow direct trades to take place between attendees — for instance, a loaf of bread for a jar of preserves or a half-dozen backyard eggs. Your special kitchen concoctions become your own personal currency, allowing you to diversify your pantry while getting to know members of your local food community.
The Food Swap Network website, which offers resources for people to start their own groups around the world, now gets several new account requests each month.
Payne, who launched a food swap in Brooklyn almost a decade ago and Emily Han, founder of the Los Angeles group, created the Food Swap Network in 2011. The duo discovered they were both passionate about making it easier for people to host in their own cities and towns.
In the early days of Payne's Brooklyn food swap, the sharing economy and DIY food projects were both on the rise. But Payne, who now lives in Austin and participates in the Austin Food Swap noticed a bit of a decline in action after the trend really blew up a few years ago.
However, more recently, there seems to have been a passing of the torch to new people who are ready to reinvigorate these swaps with new energy.
One recently rejuvenated swap is the Philly Food Swappers, which in June will be hosting its first event in two years. With new community energy and a free space to meet, the group is on track to quickly fill the 20 open trading slots.
The Philadelphia swap began in 2011 when Marisa McClellan, author of the "Food in Jars Kitchen," got together with fellow local foodies to start a series of free food swap events where like-minded DIY canners, bakers, and picklers could get together to swap their wares. McClellan and her friends started the Philly Food Swappers just as the food swap movement was picking up pace around the country. They started with 30 people in a church basement and did seasonal swaps until 2017 when loss of a good free space and other organizer commitments put the swaps on hiatus.
Back in the summer of 2012, I attended a Philly Food Swappers event in a greenhouse in Philadelphia's Fishtown neighborhood. I came armed with an amateur stockpile of homemade challahs and zucchini breads and left with the wares of two dozen other swappers including caramel apple bread, olive oil granola, cranberry chutney, fresh-picked tomatoes, pear vanilla jam, dill pickles, and pumpkin gnocchi.
McClellen says the best part about the events is the sense of community created when you get to taste each other's food, like homemade beet kvass, a fermented drink similar to kombucha she scored at a recent swap.
"People come together to share, and you just bring one thing and leave with so many interesting and new homemade items," McClellen says.
Payne echoes McClellan, noting, "You can showcase what you are really good at and trade for items you may not create as well. It's also a cool way to connect in a society where we are so hyper-connected but starved for actual in-person relationships."
You don't need to be a master chef to participate in a food swap. You can bring any handmade edibles – from baked goods to sauces and jams or even herbs and veggies from your garden.
Visit the Food Swap Network website to find a swap near you, to get tips on how to host a swap or to learn what to expect when you attend a swap.
Paige Wolf is an author, publicist, and advocate dedicated to creating meaningful progressive change locally and globally. Paige is the author of Spit That Out! The Overly Informed Parent's Guide to Raising Healthy Kids in the Age of Environmental Guilt and the owner of Paige Wolf Media and Public Relations, a B Corporation certified eco-friendly PR firm focused on sustainable clientele. She lives in Philadelphia with her husband, two children, and American Hairless Terrier. Visit www.spitthatoutthebook.com for her blog on making green living practical, manageable, and affordable.
This article was republished from Shareable.
See also:
How Sharing Can Help Change Consumption Culture