This Trailer Changes Everything: Epic New Naomi Klein Doc Will Have You Running For Your Kayak
The film inspired by Klein's book features the stories of everyday people standing up to climate change.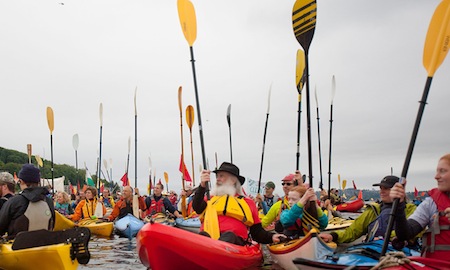 In her 2014 book, This Changes Everything: Capitalism vs. the Climate, Naomi Klein explored the grassroots actions of communities—often those of color and in the Global South, who are already experiencing climate change—on the frontlines of the battle to mitigate its effects.
"We in the Global North have built up an ecological debt," Klein told YES! last year. "Fossil fuels built the modern world. And the countries that have a 200-year head start on emitting carbon have a special responsibility."
The film inspired by Klein's book, also called This Changes Everything, will be released this fall and features the stories everyday people around the globe—from the Midwestern United States to Northern Greece and India. Together, they ask: Is this the moment that can change everything? The trailer below will have you running for your kayak.
Araz Hachadourian wrote this article for YES! Magazine. She is a web assistant at YES!
See also:
"You Fly To The Edge Of The Tar Sands, And … No Life": A Montana Professor On The Issue Of Our Time
'It is Our Duty': Grannies Arrested for Protecting Arctic from Oil Drillers