Threats to Real Organic Egg Production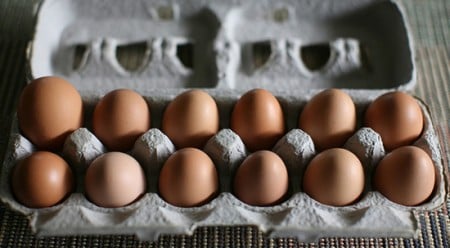 100,000 hens in a metal shed, 1% of which have access to a covered porch at any one time, is not what most consumers picture when choosing organic eggs at the grocery store. Yet the USDA is currently allowing operations with such conditions to be certified under the National Organic Program, according to a new Cornucopia Institute article.
A recently released Food and Drug Administration (FDA) draft guidance document offers suggestions to egg producers for complying with 2009 egg safety rules that aim to decrease salmonella contamination. The document confirms that the outdoor access requirement of organic standards can be met simply by providing access to covered porches for the hens, even though the USDA National Organic Program guidelines require that "organic poultry have year-round access to the outdoors. Birds must have access to the outdoors, shade, shelter, exercise areas, fresh air, clean water for drinking, and direct sunlight (7 CFR 205.239(a)(1))."
In addition to recognizing covered porches as "outdoor access," the draft guidance document also suggests measures to limit exposure to wild animals, which would encourage organic producers of eggs to operate more like conventional producers and discourage birds from using outdoor space.
The recently released FDA draft guidance as well as the decision by the USDA's National Organic Program not to develop standards to enforce the outdoor access requirement could lead to the elimination of real organic egg production in the US. Members of the public can offer input on the draft guidance during the FDA's 60-day public comment period.
Laurie Johnston is a graphic designer and the co-owner of Two Trick Pony. She advocates for animals and healthy food choices and blogs for Spirit of Change Magazine.
Related Articles
Making "Green" Food Choices
Meat, Land And Lifestyle: The Ethics of Eating