Time to Cut Wood: Discovering Mindfulness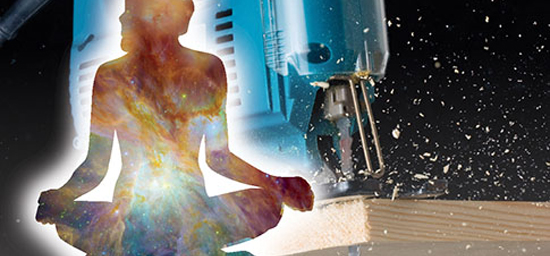 If you give yourself the freedom to explore, you may be able to find stillness in some unlikely places, and sometimes where you least expect it!
I would like to start my discussion with a quote from Tsai-Ken T'an, used in a book by Steven Cope entitled Yoga and the Quest for the True Self. The title of this chapter is "Meditation in Motion."
The stillness in stillness is not the real stillness
Only when there is stillness in movement can
The spiritual rhythm appear which pervades
Heaven and earth.
I first discovered my love for woodworking through building Adirondack chairs. Not only is it relaxing to sit in the chairs, but creating them puts me in a pure state of mindfulness. You may be wondering what cutting wood has to do with mindfulness. Even though I use power tools to cut wood, and they tend to be noisy, I have discovered stillness in this moving meditation. (Earplugs help tremendously!)
With tools like the table saw and miter saw, the blade is moving quite quickly, so it is necessary for me to be acutely aware of what I am doing. Although the band saw and scroll saw move more slowly, it is necessary to get my fingers closer to the blade when cutting more intricately shaped pieces. Paying attention to my work is essential in order for me to keep my fingernails, as well as my fingers.
So what is so relaxing about being so aware? It is that in those moments, focused awareness is all that there is. I put on my safety glasses, put in my earplugs, plug in the tool and turn it on. In a sitting meditation one might use the breath, a candle flame or music to go inside. When it is time to cut or sand wood, the smell of the wood and the rhythm of the tool act like the candle or music of the sitting meditator. If you have never smelled the aroma of fresh cut walnut, cherry or cedar wood, you have missed a wonderful olfactory experience. Gardeners tell me they love the smell of the earth and the texture of it, and that helps them go inside and find their stillness. There are many ways for you to go inside and find the stillness. It need not be done in formal sitting meditation practice, although that is one way to get there.
Mindfulness is about experiencing the flow, allowing something other than the ego and inner critic to be in control. So when I take the time to cut wood and begin my ritual of putting on my safety glasses, putting in the ear plugs and turning on the tool, I experience stillness right down to my core. Letting go of any responsibility — except to myself — in those moments, and letting the energy of my soul take over, allows me to find my center. There are no to-do lists in my head, no worries. It's just me, the wood and the power tools. It is stillness in the movement, being completely present and focused in the now. I experience a sense of elation and accomplishment when I cut the shape, sand down to the line and assemble something that is a joy to look at and a pleasure to enjoy. It does not mean that there haven't been any mistakes, but I look at them as another opportunity to learn and grow.
Since creating a project requires planning, thoughtfulness and patience, the steps before cutting wood are also part of the mindfulness and can help me get to the center. Looking at the wood to see its grain, knots and the straightness of the board involves patience and care. When I am really centered and looking at the wood, it speaks to me in the way the grain runs or where the knots are located that can help create a whole different feel to a project. Even these plans can send a message; sometimes the message is, "I'm not ready for this one yet." Or "Oh, yes this will be wonderful." The patience and care I give the project seems to carry to other parts of my life. When I take the time to cut wood, my roles as a therapist, wife, mother and friend seem to become easier. It is much easier to be there for someone else when you are there for your self.
I began woodworking in my midlife when I decided that I was going to do things I had always wanted to do, but either didn't have the money, time or guts to do them. In my junior high school days, girls were not allowed to take shop and I'd never had the opportunity to try woodworking. It always looked more fun to me than sewing. I was envious of those boys who got to do the fun stuff.
So at age 48 I knew it was time to try another adventure. I had already jumped out of planes, whitewater rafted and kayaked. Since my brother and his wife do woodworking together, I enlisted their advice as my coaches. They are both self taught at woodworking and Jenny is also an electrician. (You go girl!) At first my woodworking involved finishing the trim and doors in the basement room that Jenny and Eric built. Then I moved on to creating mosaic trays, needing to make trim handles and a base. One day I decided I wanted to make Adirondack chairs, the kind with curved backs that make them more comfortable. I found out from more experienced woodworkers that these chairs are not usually for the novice, but I felt compelled to make them. It was a calling that has been tremendously satisfying.
The first chairs were shaped with a hand held jigsaw and sanding drums on a drill, tedious at best. But I finished one and liked it so much that I wanted to build another and another. To date, I have built five Adirondack chairs, one rocking Adirondack chair, five Adirondack tables, a coat tree for my office and several cheese boards of various shapes, made from cherry, walnut and maple. My collection of tools has expanded with the help of Eric and Jenny, and Jenny will occasionally give me pointers on how to do things with our women-sized hands that makes it easier.
When you are able to find the stillness at your center, whether it be through gardening, woodworking, meditating or something else, life will feel just a little bit lighter and you will find that you are mindful more of the time no matter what you are doing. Discover what works for you. Be open to possibilities. Shalom.
Lori Miller-Freitas, LICSW, provides holistic psychotherapy and life coaching using EMDR, hypnotherapy, TAT, TFT and Reiki, specializing in issues related to trauma, loss, mind/body health and life transitions. Her office is located in Stoughton, MA and she can be reached at 781-297-2003 or on the web at www.eaglespirittherapies.com.