Town Halls Become 'Indivisible' Epicenters As Trump Resistance Grows
With help from activist manual written by former congressional staffers, Republicans face angry crowds in home states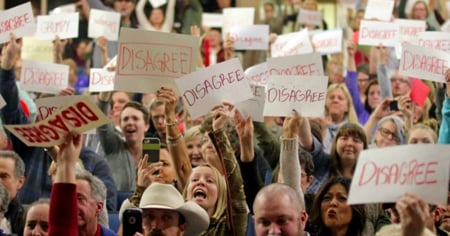 Rep. Jason Chaffetz (R-Utah) was confronted by angry crowds at a town hall in Salt Lake City on Thursday, over what they saw as his failure to properly investigate President Donald Trump's conflicts of interests, in another showing of a growing resistance to the new administration.
Almost 1,000 constituents were gathered inside the Brighton High School auditorium, many booing and shouting, "Do your job!" at Chaffetz, who is chair of the House Oversight Committee, as he claimed that presidents are exempt from conflict of interest laws. At another point, when Chaffetz said he wanted to get rid of Trump's recently-confirmed Education Secretary Betsy DeVos—indeed, he wants to eliminate the Education Department as a whole—an audience member shouted, "We want to get rid of you!"
Outside, another large crowd shut out of the proceedings despite available seats chanted "vote him out," and "Chaffetz is a coward." At least one woman was arrested.
Chaffetz ultimately left 40 minutes early and refused to take questions from the press.
Republican lawmakers are increasingly facing protests at town halls and other events, as communities have been taking up the call of numerous resistance factions that formed after the election—with some inspired by the Indivisible Guide, a manual written by former congressional staffers that helps activists organize at the local level using the same tactics that Tea Party conservatives used successfully against former President Barack Obama.
Indeed, constituents also showed up to Republican Rep. Diane Black's town hall in her home state of Tennessee, where an "Ask Your Rep" event in Murfreesboro saw at least 100 people asking impassioned questions about Republicans' plans to repeal the Affordable Care Act (ACA), or Obamacare.
Jessi Bohon, a 35-year-old high school teacher from Cookeville, asked Black how Congress could justify "punishing our sickest people" instead of expanding Medicare to be accessible to all people, a question which elicited loud applause from the audience.
"About 20 million people did actually come into the program who were uninsured," Black said. "You don't want to hurt one group of people to help the another. We can help both groups at the same time."
Bohon replied, "How many of those people were in states where they played a political game with people's lives?"
Black, who appeared flustered by the question, responded, "I'm going to pass on this one."
Black was joined at the event by two other Republican local officials. At one point, GOP State Rep. Mike Sparks told the audience, "I'll be honest with you. As a state representative, I got health insurance. I feel a little guilty."
Multiple attendees could be heard responding, "You should."
More than 600 people also turned up at a town hall in Grand Rapids, Michigan, where Republican Rep. Justin Amash stayed late to answer questions from a more temperate audience.
The large crowds and vocal protests were notable not just for their willingness to confront lawmakers, but also because they took place in the deep-red states of Utah and Tennessee—an indication to many that the Indivisible Guide, among other resistance movements, is succeeding.
This article was republished from Common Dreams.
See also:
Amid "Muslim Ban" Chaos, Van Jones Sends In His Love Army
Big Protests Are Fine, But Here's A To-Do List For Lasting Change