TPP Legislation Would Override GMO Labeling Laws In The US And Countries Around the World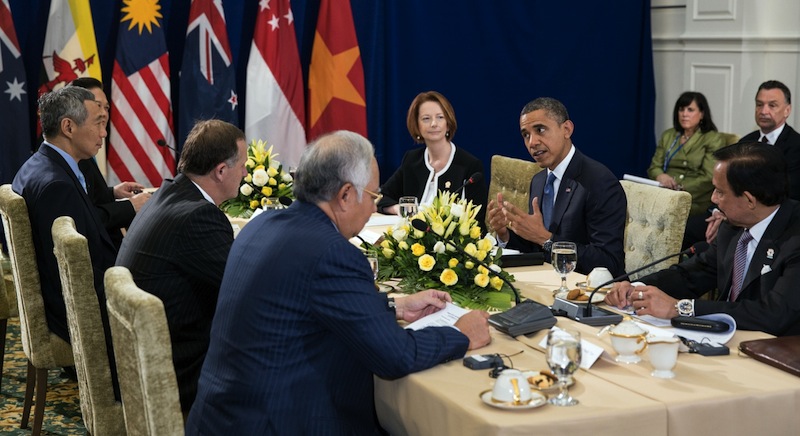 Rep. Peter DeFazio (D-OR) today spoke out against a provision buried in trade promotion authority (TPA) legislation that could help a government or multinational corporation attack state or national laws that require the labeling of genetically engineered foods. TPA, also known as "fast track" would give President Obama the authority to push through major trade deals with little to no input from Congress. The Obama administration is asking Congress for fast track authority in order to negotiate the Trans-Pacific Partnership (TPP) and the Transatlantic Trade and Investment Partnership (TTIP), a free trade agreement with the European Union.
"Call it the smoking gun," said DeFazio. "Proof that fast track and massive free trade agreements like the Trans-Pacific Partnership are written by and for multinational corporations such as agriculture giant Monsanto. Instead of using trade deals as an opportunity to protect and strengthen consumer rights by joining the countries which require genetically engineered food to be labeled, this administration wants to benefit wealthy corporations at the expense of the public."
The provision, included in Section 2, Trade Negotiating Objectives, requires that U.S. negotiators fight for rules in trade agreements that eliminate so-called "barriers" to markets such as the labeling of genetically engineered foods. Currently 64 countries require genetically engineered food to be labeled including some of our largest trading partners like Japan, China, Brazil, and the countries of the European Union.
Several consumer groups joined DeFazio in criticizing the fast track bill:
"Consumers coast-to-coast are fighting for the right to know what is in the food they are feeding their families, but fast track would make it even harder to get commonsense food labels," said Wenonah Hauter, executive director of Food & Water Watch. "This approach to trade could eliminate country of origin labeling and GMO labeling and weaken imported food inspection to satisfy the corporate interests who are writing these trade deals."
"At a time when Americans overwhelmingly want a right to know what they are buying and feeding their families, it is appalling that Congress would encourage stripping other countries of their right to label genetically engineered foods," said Colin O'Neil, Director of Government Affairs at Center for Food Safety. "Each country has justifiably required the labeling of GE foods; the only thing that cannot be justified is why consumers in the US don't have the same right to know as consumers in 64 other countries around the world."
See also:
Has Bill Nye Just Sold Us Down the River on GMO Labeling?
A Trade Rule That Makes It Illegal to Favor Local Business? Newest Leak Shows TPP Would Do That And More